Cyndi Lauper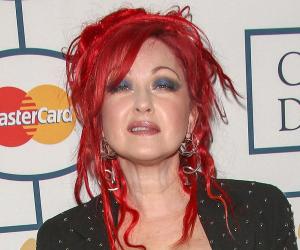 Quick Facts
Nationality: American
Famous: Quotes By Cyndi Lauper Actresses
Age: 65 Years, 65 Year Old Females
Sun Sign: Cancer
Also Known As: Cynthia Ann Stephanie Lauper
Born in: New York City
Famous as: Actress, Singer
Height: 1.6 m
Family:
Spouse/Ex-: David Thornton
father: Fred Lauper
mother: Catrine Lauper
siblings: Elen Lauper, Fred Lauper
children: Declyn Wallace Thornton Lauper
religion: Born-Again Christian
U.S. State: New Yorkers
Net worth: $
More Facts
education: Vermont College
Continue Reading Below
Cynthia Ann Stephanie "Cyndi" Lauper is an American singer-songwriter, activist, and film and television actress. Over the course of her 30-year career, she has firmly established herself as a pop culture icon. Her well-deserved success has its roots in a very tough childhood and youth. Escaping from an abusive stepfather, a 17-year-old Lauper first travelled to Canada and from there to Vermont, US, where she took art classes and did odd jobs to support herself. She began her singing career by performing with several cover bands and later teamed up with saxophonist John Turi to form 'Blue Angel'. In 1983, after the group's break up, she released her debut solo album 'She's So Unusual'. Since then, she has put out ten more albums and has sold over 20 million records and 50 million singles. She is one of the very few performers to win three out of four major American entertainment awards, registering two Grammy, one Tony, and one Emmy victories. Dubbed by AllMusic's Lindsay Planner as "an iconoclastic vocalist who revolutionized the role of women in rock and roll", Lauper has been inducted in both Songwriters Hall of Fame and Hollywood Walk of Fame. She is also credited with bringing punk music into the forefront of America's pop landscape. As an activist, she is a lifelong supporter of women and LGBT rights.
Recommended Lists:
Recommended Lists:
Continue Reading Below
Childhood & Early Life
Born on June 22, 1953, at Boulevard Hospital in Astoria, Queens, New York City, Cynthia Ann Stephanie "Cyndi" Lauper is the youngest daughter of Frederick A. Lauper, of Swiss-German descent, and Catrine Dominique Gallo, an Italian American. She has an older sister, Ellen, and a younger brother, Fred. The early part of her life was spent in Brooklyn but when she was four years old, she relocated to Ozone Park, Queens where she grew up in a railroad-style apartment. In 1958, her parents divorced. Gallo later remarried but it too ended in a divorce.

As a teenager, she, along with her sister, received rape threats from their stepfather who also used to spy on her when she took baths. This prompted her to leave home at 17 years of age. She has always been a social outcast and possessed an insatiable desire to rebel against what is viewed as conventional. This very mindset would later define her as an artist, as well as the legacy of her music.

Like any other adolescent with a penchant for defiance, she experimented with a variety of hair colours and eccentric clothing. On a friend's suggestion, she began to spell her name "Cyndi" rather than "Cindy". At 12, she started writing songs and playing the acoustic guitar she had received from her sister as a gift. However, her education suffered. She was expelled from her school, Richmond Hill High, but later she did earn her GED.

After leaving her home, she eventually ended up in Vermont where she enrolled at Johnson State College to study art. When she wasn't studying, she was working, be it as a waitress, an office assistant or a singer in a Japanese restaurant.

She was sexually assaulted in the early years of her career by a member of a cover band she was part of. During this period, she also became pregnant by a former boyfriend. Despite wanting to keep the child, this man pressured her to have an abortion.

Recommended Lists:

Recommended Lists:

Career

In the early 1970s Cyndi Lauper performed with a number of bands. In 1974, while performing Kiki Dee's 'I Got the Music in Me' at a venue in Queens, her voice started to fail when she hit the high notes for the first time. By 1977, her vocal cords were severely damaged, with the doctors telling her she that would never sing again. However, after working with voice coach Katie Agresta, she got back her voice.

Eventually she became a founding member of the band 'Blue Angel' which she formed with saxophone player John Turi. Besides her and Turi, the other members of 'Blue Angel' were Arthur "Rockin' A" Neilson (guitar), Lee Brovitz (bass guitar), and Johnny Morelli (drums). They released their first and only album, the self-titled 'Blue Angel' in 1980. While it got rave reviews, it performed poorly on the charts and the group subsequently split.

Following the band's breakup, Lauper went on to pursue a successful solo career. She has released 11 albums to date. They are: 'She's So Unusual' (1983), 'True Colors' (1986), 'A Night to Remember' (1989), 'Hat Full of Stars' (1993), 'Sisters of Avalon' (1996), 'Merry Christmas ... Have a Nice Life' (1998), 'At Last' (2003), 'Shine' (2004), 'Bring Ya to the Brink' (2008), 'Memphis Blues' (2010), and 'Detour' (2016).

Cyndi Lauper, more than anyone, personifies the defiance, the eccentricity, the nihilism, and even the naivety generally associated with punk music. This personality, which exists in perfect dichotomy with her childish voice, makes her an ideal representative of her generation, just like Madonna.

She has also appeared in multiple films and television shows throughout her career, be as herself or portraying a character. She was part of several World Wrestling Federation's 'Rock 'n' Wrestling Connection' events and was present at WrestleMania I (1985). She played Marianne Lugasso in NBC's sitcom 'Mad About You' (1992-99), co-starred with Christopher Walken in the crime-drama film 'The Opportunists' (2000), and competed in the season 3 of 'The Celebrity Apprentice' (2009), coming sixth.

In 2012, she wrote the music and the lyrics for Harvey Fierstein's Broadway musical 'Kinky Boots.'

Continue Reading Below

Recommended Lists:

Recommended Lists:

Major Works

Cyndi Lauper's album 'She's So Unusual' is listed among Rolling Stone's 500 Greatest Albums of All Time. Vh1 included the album's single 'Time After Time' in their list of the 100 Best Songs of the Past 25 years while Lauper herself was ranked at #58 on the list of the 100 Greatest Women of Rock & Roll.

She collaborated with journalist and author Jancee Dunn on her autobiographical non-fiction, 'Cyndi Lauper: A Memoir'. As controversial as it is honest, the book was published in September 2012 by Atria Books. It became a a New York Times Best Seller.

Recommended Lists:

Recommended Lists:

Awards & Achievements

At the 1984 Billboard Awards, Cyndi Lauper was conferred with the Best New Artist award and the Best Female Performance for the song 'Time After Time'.

In 1985, she won the Grammy Award for Best New Artist. She won her second Grammy for Best Musical Theatre Album in 2014 for 'Kinky Boots'.

For the track 'We Are the World', she was granted the People's Choice Award for Favourite New Song in 1986.

In 1995, she received the Emmy Award for Outstanding Guest Actress In A Comedy Series for 'Mad About You'.

Her work in 'Kinky Boots' also brought her Best Original Score accolade at the 2013 Tony Awards.

Personal Life

In past, Cyndi Lauper had dated Dave Wolff, her previous manager, for six and a half years. She met actor David Thornton on the set of the film 'Off and Running' (1991) and fell in love with him. They married on November 24, 1991. Their son, Declyn Wallace Thornton, Was born on November 19, 1997.

Her iconic cover and re-arrangement of Robert Hazard's 'Girls Just Want to Have Fun' has cemented her status as a feminist idol. According to journalist and music critic Sheila Moeschen, Lauper has come to be viewed as the embodiment of a different kind of aesthetics that celebrates the playfulness in self-expression, as opposed to the raw sensuality and edginess of her contemporaries such as Madonna and Joan Jett.

As a passionate supporter of LGBT rights, she is known to campaign for various charities and attend pride marches. She has cited her sister Ellen, who is a lesbian, as her reason to join the movement. One of her songs, 'True Colors', is widely recognised as an LGBT anthem, while another song, 'Above the Clouds' was written to honour Matthew Shepard, who was killed because of his sexual orientation.

Trivia

Along with being an inductee of Songwriters Hall of Fame (2015) and Hollywood Walk of Fame (2016), she is also one of the featured artists in the Rock and Roll Hall of Fame Museum's Women Who Rock exhibit.

1. Mrs. Parker and the Vicious Circle (1994)

(Drama, Biography)

2. Girls Just Want to Have Fun (1985)

(Romance, Comedy, Music)

---

3. The Opportunists (2000)

(Crime, Comedy, Romance, Drama)

4. Life with Mikey (1993)

(Family, Comedy)

---

---

5. Vibes (1988)

(Adventure, Romance, Comedy)

6. Dirty Movie (2011)

(Comedy)

---

---

---

| | | |
| --- | --- | --- |
| 1995 | Outstanding Guest Actress in a Comedy Series | Mad About You (1992) |

| | | |
| --- | --- | --- |
| 1984 | Best Female Video | Cyndi Lauper: Girls Just Want to Have Fun (1983) |

Translate Wiki

to Spanish, French, Hindi, Portuguese

Article Title

- Cyndi Lauper Biography

Author

- Editors, TheFamousPeople.com

Website

- TheFamousPeople.com

URL

-

https://www.thefamouspeople.com/profiles/cyndi-lauper-3731.php

Last Updated

- December 04, 2018

---

---

---