Chuck Jones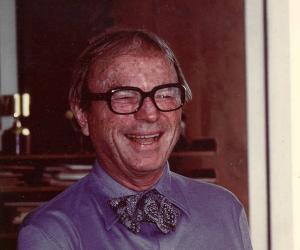 Quick Facts
Birthday: September 21, 1912
Nationality: American
Famous: Quotes By Chuck Jones Actors
Died At Age: 89
Sun Sign: Virgo
Also Known As: Charles Jones, Charles M. Jones, Charles
Born in: Spokane
Famous as: Animator, Filmmaker, Cartoonist, Author, Artist, & Screenwriter
Family:
Spouse/Ex-: Dorothy Webster (1935-1978), Marian J. Dern (1981-2002)
father: Jones
children: Linda Jones Clough
Died on: February 22, 2002
place of death: Corona del Mar
U.S. State: Washington
City: Spokane, Washington
Founder/Co-Founder: Chuck Jones Productions
More Facts
education: Chouinard Art Institute
Continue Reading Below
'Animation isn't the illusion of life, it is life!' was one of the famous quotes by Chuck Jones who carved a niche for himself outside the famous Walt Disney studios. He brought life to cartoons with his prolific animation skills. A young Jones started his endeavours by using the wasted stationery of his father and set out to make it big in the world of animation. He started off by washing cels and then tip-toed his way to turn Warner Bros. into a big animation studio and left behind a great repertoire of work. Later, he went on to produce the famous 'Tom and Jerry' series with MGM Studios and also adapted the Dr. Seuss books into animation films. He once said remarking on his cartoon creations that 'Bugs is an aspiration. Daffy is a realization'. The quote reflected how he drew from human traits and represented them in his cartoons. In his later years, he chose to pass on his skills through lectures and seminars and also inspired films like 'The Emperor's New Groove' and 'Lilo & Stitch'. Jones passed away leaving behind an unmatched legacy in the field of animation and cartoons.
Recommended Lists:
Recommended Lists:
Continue Reading Below
Childhood & Early Life
Born in Spokane, Washington, Charles Martin Jones was the son of Charles, an unsuccessful businessman and Mabel. He finally moved to Los Angeles, California with his parents and three siblings.

From a very young age, he started drawing, which initially gave him the push to pursue a creative field, later in his life.

He graduated from Chouinard Art Institute and took up several small jobs in the animation industry like washing cels and also as an assistant animator at the Walter Lantz studio.

Continue Reading Below

Recommended Lists:

Recommended Lists:

Career

In 1933, he started working for 'Leon Schlesinger Productions' as an assistant animator. The studio was famous for producing 'Looney Tunes' and 'Merrie Melodies' for Warner Bros.

He was promoted to the position of animator in 1935 and started working with director, Tex Avery.

In 1938, Jones directed his first cartoon 'The Night Watchman', followed by many slow and humourless works.

In 1942, Jones directed 'The Dover Boys', breaking the old norms of animation and moving away from the traditional styles of Disney cartoons. The film was the first to use stylized animation in America.

In 1944, he directed shorts like 'The Weakly Reporter', 'Hell- Bent for Election' and lesser known, 'Angel Puss'.

The late 1940s and 1950s marked the culmination of Jones career as he created some of his most acclaimed works during the period. This is the time he created characters like 'Claude Cat', 'Marc Antony and Pussyfoot' and 'Charlie Dog'.

In the 1940s and 1950s, he created some of his most popular works such as 'Marvin the Martian', 'Pepe LePew', 'the Road Runner' and 'Wile E. Coyote'.

Continue Reading Below

In 1950, Jones and his close associate Michael Maltese began to recreate Daffy Duck's character, in a short called 'Rabbit Fire'.

In 1953, he left Warner Bros. for a brief period to work with Ward Kimball on 'Sleeping Beauty' for Walt Disney pictures. However, he was rehired by Warner Bros. later.

Jones worked with his wife Dorothy on the screenplay 'Gay Purr-ee'. He then directed 'The Iceman Ducketh', after which the Warner Bros. Cartoons studio shut down, in 1963.

Jones and his partner Les Goldman from Warner Bros. formed their independent animation studio, 'Sib Tower 12 Productions'.

In 1963, the studio was asked to produce 'Tom and Jerry' cartoons and the following year, the studio was acquired by MGM. The new studio was called MGM Animation/Visual Arts.

In 1966, he collaborated with Theodor Geisel, famously known as Dr. Seuss, on adaptation of Seuss' famous book 'How the Grinch Stole Christmas!' to animated form.

After MGM shut down the animation division in 1970, he established his studio, Chuck Jones Productions. The following year, he produced a children's TV series 'The Curiosity Shop'.

Continue Reading Below

In 1973, Jones produced an animated version of the George Selden book, 'The Cricket in Times Square'.

In 1976, Warner Bros. rehired Jones and he started working on the animated TV adaptation of 'The Carnival of the Animals with Bugs Bunny and Daffy Duck'.

For the next two years, Jones worked on the comic strip 'Crawford' for the Chicago Tribune-NY News Syndicate.

The 1980s and 1990s saw Jones donning different hats. He sold his paintings and art through animation galleries of his daughter's company, Linda Jones Enterprises. He was also the creative consultant and character designer for different films.

In 1992, he directed the animated sequences, 'Stay Tuned' and 'Mrs. Doubtfire' the following year.

In 1996, 'From Hare to Eternity' was released, which was Jones' final Looney Tunes cartoon.

Jones took to teaching in his later years, passing on his skills and knowledge through lectures and seminars and inspiring many others.

Continue Reading Below

Recommended Lists:

Recommended Lists:

Major Works

'Looney Tunes' and 'Merrie Melodies' were Jones' masterpieces. The 'Road Runner', 'Bugs Bunny', 'Daffy Duck' and 'Wile E. Coyote' were his most famous cartoon creations.

Awards & Achievements

In 1950, Jones won the Academy Award for 'Documentary Short Subject' for his short documentary film 'So Much for So little'.

In 1965, 'The Dot and the Line: A Romance in Lower Mathematics', a short film directed by Jones, won the Oscar for 'Best Animated Short'.

Jones received a star on the Hollywood Walk of Fame at 7011 Hollywood Boulevard for his contribution to animation films.

Jones received an 'Honorary Academy Award' by the Board of Governors of the Academy of Motion Picture Arts and Sciences in 1996 in recognition to his contributions in the animation industry.

Personal Life & Legacy

He married Dorothy Webster in 1935, with whom he worked with at Iwerks.

He then married Marian Dern after Dorothy died in 1978. He has a daughter, Linda Clough.

At age of 89, he died due to a heart failure, leaving behind a great legacy of unforgettable, animation films.

In 2012, the grand opening of 'The Chuck Jones Experience' was held at the 'Circus Circus Las Vegas'.

Trivia

This famous animator and writer always wore his favourite bow-tie to the interviews and events.

| | | |
| --- | --- | --- |
| 1966 | Best Short Subject, Cartoons | The Dot and the Line: A Romance in Lower Mathematics (1965) |

Translate Wiki

to Spanish, French, Hindi, Portuguese

Article Title

- Chuck Jones Biography

Author

- Editors, TheFamousPeople.com

Website

- TheFamousPeople.com

URL

-

https://www.thefamouspeople.com/profiles/chuck-jones-3712.php

Last Updated

- November 02, 2017

---

---

---