Chuck Barris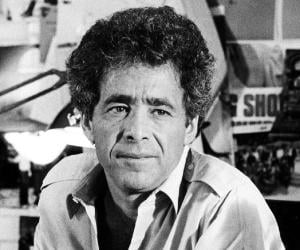 Quick Facts
Nationality: American
Famous: American Men Male Media Personalities
Died At Age: 87
Sun Sign: Gemini
Also Known As: Charles Hirsch Barris
Born in: Philadelphia, Pennsylvania
Famous as: Game Show Host
Height: 5'8" (173 cm), 5'8" Males
Family:
Spouse/Ex-: Lyn Levy (m. 1957–1976), Mary Rudolph (m. 2000–2017), Robin Altman (m. 1980–1999)
father: Nathaniel Barris
mother: Edith Barris
children: Della Barris
place of death: Palisades
U.S. State: Pennsylvania
Notable Alumni: Drexel University
City: Philadelphia
Founder/Co-Founder: Barris Industries
More Facts
education: Drexel University
Continue Reading Below
Charles Hirsch Barris, popularly known as Chuck Barris, was an American game show creator, producer, and host best known for creating 'The Dating Game' and 'The Newlywed Game', and hosting 'The Gong Show.' He worked as an assistant under the TV personality Dick Clark before he became popular. He developed 'The Dating Game' pilot for ABC on borrowed money, and the show became an instant hit. In 1966, 'The Newlywed Game' was developed after the success of the 'The Dating Game'. After a decade, he enjoyed massive success once again with 'The Gong Show'. He also created and sold three more shows—'The Family Game', 'Dream Girl', and 'How's Your Mother-in-Law?' In 1965, he launched Barris Industries (formerly Chuck Barris Productions) which produced many hit shows like 'The Game Game' and 'Operation: Entertainment'. However, by 1974, his game shows started losing viewership and finally, 'The Newlywed Game' was dropped. The last game he sold was in 1972; it was called 'The Parent Game'. Barris was also a songwriter, and wrote the song 'Palisades Park' for rock and roll singer Freddy Cannon. Director George Clooney made Barris' autobiography, 'Confessions of a Dangerous Mind' into a film of the same name.
Recommended Lists:
Recommended Lists:
Childhood & Early Life
Chuck Barris was born on June 3, 1929, in Philadelphia, Pennsylvania, to Jewish parents Edith and Nathaniel Barris, a dentist. His uncle was the actor, singer, and songwriter Harry Barris.

Barris attended the Drexel Institute of Technology, and graduated in 1953. He also wrote a column in the students' newspaper, 'The Triangle'.

Career

Chuck Barris started his career as a page in a television company, and later joined NBC in New York. He then worked backstage for a music show 'American Bandstand,' produced by ABC. Later, ABC promoted him to a responsible position in the daytime programming division.

He also produced pop music and wrote the song 'Palisades Park', which peaked at No. 3 on the Billboard Hot 100 and stayed there for two weeks in June 1962. He also wrote or co-wrote music for his own game shows.

In June 1965, he formed his own production company, Chuck Barris Productions, and became successful with the game show, 'The Dating Game', which aired on ABC. The show featured three bachelors or bachelorettes who competed for a contestant of the opposite sex. The show, hosted by Jim Lange, aired at 11pm for 15 years.

In 1966, he produced the game show 'The Newlywed Game', created by Nick Nicholson and E. Roger Muir. Aired on ABC, the show ran for 19 years, the longest lasting game show ever produced by his company.

In the 1960s and 1970s, he created several other game shows, which were short-lived. He also tried his hands at several non-game formats like ABC's 'Operation: Entertainment', a variety show staged at military bases; 'Your Hit Parade' at CBS; and 'The Bobby Vinton Show', a variety show for singer Bobby Vinton, which was his only successful non-game show.

In 1976, for the first time Chuck Barris hosted a talent show, 'The Gong Show. It was aired on NBC for two years, and then for four years in syndication. 'The Gong Show' was revived four times—in 1988-89, 2000, 2008, and 2017. In 1980, he directed and starred in 'The Gong Show Movie, which flopped at the box office.

By the mid-1970s, the audience had started losing interest in the genre of game shows. In fact, ABC cancelled the 'The Dating Game' and 'The Newlywed Game.' Only one of his shows, the weekly syndicated show, 'The New Treasure Hunt', was on. He also tried to revive 'The Gong Show' in 1976, and added a 'Beauty Show' to his syndications.

Continue Reading Below

In 1978, he hosted a primetime variety show—'The Chuck Barris Rah-Rah Show' on NBC, which was a short-lived one. Another short-lived show, 'Three's a Crowd' was aired in 1979. In the show, wives and secretaries competed to see if the wives knew more about their husbands or the secretaries knew more about their bosses. Feminists and socially conservative groups protested against the show.

In 1980, he made an attempt to launch another game show, 'Camouflage', but it was not successful. Finally, in September 1980, for the first time, he had no shows on air or in production. In fact, he was out of work for one year. In 1981, he tried to revive'Treasure Hunt' in partnership with producer Budd Granoff, but the show lasted for just one year.

In 1984, he revived Barris Industries, and added a distributor segment called Bel-Air Program Sales, and an ad-sales department called Clarion Communications. In 1985, he produced in syndication the 'The Newlywed Game' which was renamed as 'The New Newlywed Game'. 'The Dating Game'was also produced in syndication in 1986.

In 1987, he sold his shares in Barris Industries to Burt Sugarman, and moved to France. In September 1989, Barris Industries was renamed as the Guber-Peters Entertainment Company. Eventually, Sony Corporation acquired Guber-Peters Entertainment for $200 million, and revived 'The Dating Game', 'The Newlywed Game', as well as 'The Gong Show'.

Books

In his autobiography, 'Confessions of a Dangerous Mind' (1984), Chuck Barris claimed that he worked for the Central Intelligence Agency (CIA) in the 1960s and the 1970s as an assassin. Director George Clooney made a film in 2002, which was based on his autobiography. The film showed Barris' character killing 33 people while working for the CIA. However, the CIA denied that Barris had ever worked for them.

In 1993, he published his second autobiography, 'The Game Show King: A Confession,' and in 2004, he wrote a sequel to his autobiography, entitled 'Bad Grass Never Dies'.

In 2010, he wrote 'Della: A Memoir of My Daughter' in which he gave details about the death of his only child, who died due to an overdose of drugs. He had also written three novels, including 'You and Me, Babe' which was a New York Times bestseller.

Major Works

'The Dating Game', which started airing on ABC in 1965, was one of the most successful game shows created by Chuck Barris. After the show ended in July 1973, a new version, 'The New Dating Game,' was aired in syndication for another year. The show was revived thrice.

Barris became a popular TV personality when he started hosting 'The Gong Show' in 1976. The show, known for its absurdist humor and style, was a major hit. It was later made into a movie; however, the film was not as successful as the TV show.

Awards & Achievements

In 1977, Chuck Barris was nominated for the Daytime Emmy Award for Outstanding Talk, Service or Variety Series for 'The Gong Show'.

Personal Life

Chuck Barris married Lyn Levy in 1957. They divorced in 1976. They had a daughter, Della, who died in 1998 at the age of 36 due to cocaine and alcohol overdose. She was also HIV positive at the time of her death.

Barris married Robin Altman in 1980. They ended their marriage in 1999. He then married Mary Clagett in 2000 and remained with her till his death.

He was diagnosed with lung cancer in the 1990s, and underwent surgery to remove a part of his lung. He died of natural causes on March 21, 2017, at the age of 87.

Translate Wiki

to Spanish, French, Hindi, Portuguese

Article Title

- Chuck Barris Biography

Author

- Editors, TheFamousPeople.com

Website

- TheFamousPeople.com

URL

-

https://www.thefamouspeople.com/profiles/chuck-barris-9176.php

Last Updated

- April 11, 2018

---

---

---