Christine Riccio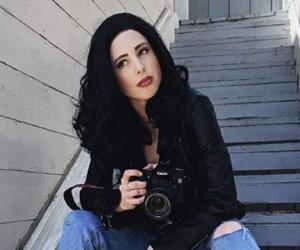 Quick Facts
Nationality: American
Age: 29 Years, 29 Year Old Females
Sun Sign: Leo
Also Known As: Christine xtineMay Riccio
Born in: Livingston, New Jersey
Famous as: YouTuber
Family:
siblings: Olivia, Paul
U.S. State: New Jersey
More Facts
education: Boston University
Continue Reading Below
Christine Riccio or 'PolandBananas' is an American YouTuber, author, and cosplayer, who gained fame for her two YouTube channels. Her primary channel focuses on book reading, storytelling, comedic reviews, and things related to popular book culture. Her second channel features comedic skits, vlogs, and generally funny videos. She has amassed a huge following between the channels and is one of the most popular book-related YouTubers of all time. Christine Riccio is also a founder of the YouTube book club 'Booksplosion' and admitted that 'The Shadowhunter Chronicles' and the 'Harry Potter' series are her favorite books of all time. She is also a trained dancer and has often posted her dance videos on her channels. 'Literal Book Titles', 'Favorite Book Series Of All Time', and 'Lady Gaga Judas Dance' are some of her most popular YouTube videos. In addition to being one of the most popular booktubers, she is also making her debut as an author with the novel 'Again But Better'.
Recommended Lists:
Recommended Lists:
Continue Reading Below
Career & YouTube Fame
Christine Riccio, who is often referred to as Xtinemay started her first YouTube channel 'PolandBananas20' on March 29, 2006. The channel was targeted towards hosting vlogs, dance videos, and just random funny videos. She came up with the name 'PolandBananas' from the Poland Springs bottled drinking water and the fruit, banana to keep her real identity safe from online stalkers. 'Backhandspring Failure' a vlog featuring her sister, Olivia was the first video on the channel.

Recommended Lists:

Recommended Lists:

She followed that up by posting dance videos like 'Lady Gaga – Poker Face' and 'Battlefield Music Video'. In 2009, she started getting a massive number of views for her comedic performances in the videos 'Love Me – Justine Bieber' and 'Lady Gaga – Telephone Dance'. Then, 'Forever And Always - Taylor Swift Music Video' became the first video on her channel to get over 245k views and her subscriber base grew exponentially.

Recommended Lists:

Recommended Lists:

Around the same time, she also started reviewing books and discussing plot points on her channel 'PolandBananas20'. Her reviews of Cassandra Clare's young-adult series 'The Shadowhunter Chronicles', brought in a whole new category of viewers. Her love for books, combined with the audience clearly liking the book reviews & discussions, led to the creation of her second channel 'PolandBananasBooks' on June 5, 2010. Alongside she continued posting vlogs, dance videos, and funny skits on her first channel. She also started featuring her brother, sister, and friends on videos like 'Siblings / The Sequel' and 'Baking With Christine & Katie | Pieing for 100,000' which have only boosted her popularity.

The creation of 'PolandBananasBooks' was a turning point for her social media career. Her first video 'The Short Second Life Of Bree Tanner by Stephenie Meyer: Booktalk With Xtinemay', posted on June 7, 2010, received more than 30k views. Mostly focusing on young-adult fiction, her book discussions started getting more and more views. This was largely due to her fun and often comedic way of presentation. Besides, being a teenager, she was able to pull in many viewers of her age.

Christine Riccio continues reviewing books and inspiring viewers to become readers through her 'booktalk with Xtinemay' series and her comedic videos like 'The Noob's Guide To Contemporary Reads' and 'Harry Potter Nerd Off With Brizzy Voices & Tessa Netting | Xtinemay'. She is also credited by many for starting a book revolution on YouTube by starting the YouTube book club 'Booksplosion' along with YouTubers JesseTheReader and Katytastic. With a combined number of 500k subscribers on both channels, Christine is undoubtedly one of the most popular booktubers on YouTube and her popularity is only on the rise.

Additionally, Christine Riccio has also ventured into writing. Her first essay, a reimagining of fairy tales from the villain's point of view was included in the young-adult anthology 'Because You Love To Hate Me'. Simultaneously, she started writing her own novel in 2016 and finally announced on August 7, 2018, that the book will be released on May 21, 2019. The debut novel entitled 'Again, But Better' is a coming of age story of the protagonist Shane, who finds happiness in her life through courage and a little touch of magic.

Continue Reading Below

Personal Life

Christine Riccio was born on August 4, 1990, in Livingston, New Jersey, USA. Not much is known about her parents on social media except that her father owns a copier-fax machine company. She has a younger sister, Olivia (born November 11, 1993) and a brother, Paul (born 1999). She went to Boston University. She admitted to dating someone in 2018, but his name is not known.

Last Updated : August 31, 2018

Translate Wiki

to Spanish, French, Hindi, Portuguese

---

---

---

Christine Riccio Fans Also Viewed