Chris Sacca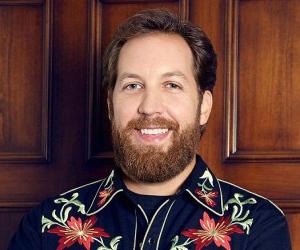 Quick Facts
Nationality: American
Famous: Investors American Men
Age: 43 Years, 43 Year Old Males
Sun Sign: Taurus
Born in: Lockport, New York, United States
Famous as: Venture Investor
Family:
Spouse/Ex-: Crystal English Sacca
siblings: Brian Sacca
U.S. State: New Yorkers
Net worth: $1.1 billion
More Facts
education: Georgetown University, Georgetown Law, School of Foreign Service
Continue Reading Below
Chris Sacca is a former American venture investor, a former lawyer, company advisor and entrepreneur who is best known for his successful early bets on technology companies such as Twitter, Uber, Instagram, Twilio, and Kickstarter. Starting investment during his student years, he initially incurred $4 million debt, but eventually paid off his creditors with a host of jobs he bagged through intelligent marketing via The Salinger Group that he had founded. He also played a crucial role in the early development of Google, where he worked as Head of Special Initiatives for four years. He later started the venture capital firm Lowercase Capital, which helped fund many emerging start-ups, as well as moderately established companies, and earned him recognition for being actively involved in the projects he invested in. His company has been lauded as one of the most successful venture capital funds in history, while he has been named to Forbes magazine's Midas list. He appeared as a guest shark on ABC's reality TV series 'Shark Tank', and had been the 4th richest Shark on the show.
Recommended Lists:
Recommended Lists:
Continue Reading Below
Childhood & Early Life
Christopher Sacca was born on May 12, 1975 in Lockport, New York to Gerald Sacca, an attorney, and Katherine Sacca, a professor at SUNY Buffalo State who also authored books in the field of education. He is of Italian descent on his father's side and of Irish descent on his mother's side.

He grew up in a suburb of Buffalo with his younger brother Brian Sacca, who later became an actor and comedian. Encouraged by their parents, the brothers did a number of creative projects in their childhood, and often went to science museums and or attended book-reading events.

While in the sixth grade at Lockport High School, he showed proficiency in math and later studied advanced mathematics for six years at the State University of New York at Buffalo.

He attended The Edmund A. Walsh School of Foreign Service at Georgetown University in Washington, D.C., where he became an Edmund Evans Memorial Scholar and a Weeks Family Foundation Scholar upon his graduation in 1997.

He then enrolled into Georgetown University Law Center, his father's alma mater, where, after skipping most classes, he threw a party to attain notes and graduated with a Juris Doctor cum laude. In university, he was a member of The Tax Lawyer law review and received the Philip A. Ryan and Ralph J. Gilbert Memorial Scholar honor upon graduation.

Recommended Lists:

Recommended Lists:

Career

While still in law school, Chris Sacca began his career by establishing a company with his student loans, but after the venture failed, he started trading on the stock market with the remaining money.

In 1998, he discovered a flaw in the software of online trading brokers, exploiting which he managed to earn $12 million in 18 months from just 10–20 thousand dollars. However, instead of redeeming his money on time, he took money from friends to invest and eventually found himself in $4 million debt after the market crashed. Realizing that filing for bankruptcy would ruin his prospects as a lawyer, he decided to create a repayment schedule with his broker.

Moving to Silicon Valley, he secured a job as an associate at the law firm Fenwick and West and also worked in the evenings to gather money to pay off his enormous debt. In late 2001, he was laid off as part of a wide scale cut at the law firm, following which he struggled to find work for a few years despite attending every networking event.

Frustrated, he eventually decided to rebrand himself by establishing The Salinger Group, which just consisted of a well-presented website without any contact details. He even got a name-card to go with the brand and, presenting himself as a company, was able to bag consulting jobs that earned him steady payments and incentives.

After briefly working at Speedera Networks, in November 2003, he used his Salinger Group profile to secure a job at Google as Corporate Counsel reporting to General Counsel David Drummond. As Head of Special Initiatives at Google Inc., he helped the company in creating data centers around the world, and with his group, created fictitious LLCs to hide its growth from Microsoft.

Soon, Chris Sacca was able to pay off his debt, and after looking for opportunities to work with small companies, he left Google in December 2007 to become an angel investor in Silicon Valley. Sacca, who lacked money unlike most venture capitalists, considered that being helpful would make up for it and became proactive with the firms he invested in to improve his odds.

He made his first angel investment on Photobucket, which was acquired by Fox's parent company News Corp, and then made an aggressive invest of $25,000 on Twitter, reportedly exhausting all his savings purchasing the shares. He also served as a professional advisor to companies like Octomatic and Omnisio, helping them with business strategy and in finding buyers.

Continue Reading Below

In December 2007, he founded the venture capital firm Lowercase Capital to fund and provide advice to start-ups, as well as companies in later stage. The firm became immensely successful, following which he partnered with Matt Mazzeo from entertainment and sports agency Creative Artists Agency in 2013.

On January 15, 2016, he appeared as a guest shark on the 14th episode of the 7th season of ABC's reality show 'Shark Tank' and made a number of investments throughout 7th and 8th seasons. In April 2017, he announced his decision to retire from venture investing and subsequently left the reality series as well.

Major Works

Chris Sacca is best known for recovering from a $4 million debt to become a billionaire through risky investments. His venture fund Lowercase Capital has been recognized as one of the most successful venture capital funds in history by both 'Forbes' and 'Fortune'.

Awards & Achievements

Chris Sacca was one of the first Google employees to received the company's highest honor, the 'Founders' Award'. He ranked No.3 on 'Forbes' Midas list and featured on the cover of the magazine in 2015.

Personal Life & Legacy

Chris Sacca is married to designer, artist, author and philanthropist Crystal English Sacca, with whom he has three kids. In October 2014, he bought a Mediterranean villa in the South Bay, Los Angeles community of Palos Verdes Estates for his parents to live.

He was a Telecommunications, Media, and Technology advisor and campaign surrogate during Barack Obama's 2008 presidential campaign and became co-chair of finance for the Presidential Inaugural Committee following his victory. He also supported Obama's reelection campaign in 2012 and Democratic Nominee Hillary Clinton in 2016.

He is involved with many charitable organizations and has invested in many funds run by women and people of color since Republican candidate Donald Trump came into power.

Along with many other prominent Silicon Valley investors, he was named in a 'New York Times' investigative report on sexual harassment in 2017, following which he apologized in a statement.

Trivia

Chris Sacca first bought his signature cowboy shirt at an airport in Reno on his way to an event as a speaker. The positive reaction he received during the trip convinced him to buy out half the store on his return.

Translate Wiki

to Spanish, French, Hindi, Portuguese

Article Title

- Chris Sacca Biography

Author

- Editors, TheFamousPeople.com

Website

- TheFamousPeople.com

URL

-

https://www.thefamouspeople.com/profiles/chris-sacca-34553.php

Last Updated

- November 06, 2017

---

---

---