Burt Reynolds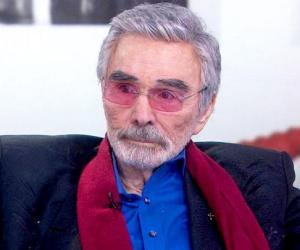 Quick Facts
Birthday: February 11, 1936
Nationality: American
Famous: College Dropouts Actors
Died At Age: 82
Sun Sign: Aquarius
Also Known As: Burton Leon Reynolds
Born in: Lansing
Famous as: Actor
Height: 5'11" (180 cm), 5'11" Males
Family:
Spouse/Ex-: Judy Carne (m. 1963–1965), Loni Anderson (m. 1988–1993)
father: Burton Milo Reynolds Sr.
mother: Fern H. Reynolds
children: Quinton Anderson Reynolds
Died on: September 6, 2018
place of death: Jupiter, Florida
U.S. State: Michigan
More Facts
education: Florida State University, Palm Beach Lakes Community High School, Palm Beach Community College
Continue Reading Below
Burton Leon 'Burt' Reynolds, Jr. was an American actor, director, producer, voice artist, ex-restaurant owner, and an ex-sports team owner. He was born and brought up in Michigan. He went to the Palm Beach High School and Florida State University where he played college professional football and dreamt of pursuing it further but could not see it through as he suffered from serious injuries twice during his youth. He instead went to the Palm Beach Junior, thinking that he will follow his father's profession. He got a scholarship to work at a theatre in New York. From there on he worked hard and featured in a series of plays, television shows, and movies. He was best known for his movies 'Deliverance,' 'Smokey and the Bandit,' and 'Boggie Nights.' Reynolds won an Emmy Award, Golden Globe Award, and was nominated for the Academy Award for his supporting role in 'Boggie Nights.' He was also honored with a star on the 'Hollywood Walk of Fame.' He was romantically linked with many actresses throughout his acting career and was married twice.
Recommended Lists:
Recommended Lists:
Continue Reading Below
Childhood & Early Life
Burt Reynolds was born in Lansing, Michigan, to Burton Milo Reynolds, Sr. and Fern H. Reynolds. His father was a police chief of Riviera Beach, and had also served in the US Army before the police service.

Reynolds studied at Palm Beach High School and after that attended the Florida State University on a college football scholarship.

He wanted to become a professional footballer but in the first season he was injured and had another injury in a car accident. This ended his hopes for a football career and after that he thought of becoming a police officer.

He went to the Palm Beach Junior in Lake Worth and it was there that one of his teachers asked him to take part in a play 'Outward Bound'. He won a Florida State Drama Award for it.

Continue Reading Below

Recommended Lists:

Recommended Lists:

Career

After getting his initial award in acting, Reynolds got a scholarship to work in Hyde Park Playhouse, a summer stock theatre, New York. He met with Joanne Woodward there who helped him finding an agent.

In 1953, he was cast in a play called 'Tea and Sympathy' at Neighborhood Playhouse, New York. He was critically appreciated for his performance and went on a tour to perform the play in various parts of the country.

In 1957, he got a part in the play 'Mister Roberts'. His performance fetched him an audition for a movie called 'Sayonara'. He was rejected for the role and was told to go and try in the Hollywood.

From 1959 to 1961, he starred in a television series 'Riverboat', an NBC series. He worked with Darren McGavin in it. This was offered to him right after he made his Broadway debut with 'Look, We've Come Through'.

In 1959, Reynolds did an episode, 'The Payoff', in the television series called 'The Lawless Years' which was a crime drama. His character was called 'Tony Sapio' and he starred opposite Ruta Lee.

Until 1961, he appeared in episodes of various TV shows like: 'Pony Express', 'The Brothers Brannagan', 'The Everglades', 'Gunsmoke', 'Perry Mason', 'The Twilight Zone', '12 O-Clock High', etc.

In 1961, Reynolds acted in his first movie called 'Angel Baby'. After this movie, he was advised by his good friend and actor Clint Eastwood to act in low-budget movies that are made overseas and he did 'Navajo Joe'.

Continue Reading Below

Around this time, while he was acting in the low-budget foreign movies, Reynolds worked on two cop television shows called 'Hawk' and 'Dan August'. But he was not happy with the limited creative scope of these shows.

In 1972, his breakthrough movie 'Deliverance' was released. It was an American Thriller movie directed by John Boorman, based on a novel written by American writer James Dickey, who also did a small role in the movie.

In 1973, he pursued his singing talent and came out with an album called 'Ask Me What I Am' and also sang a duet with Dolly Parton in 'The Best Little Whorehouse in Texas'.

In 1977, Reynolds starred in 'Smokey and the Bandit', along with Jerry Reed, Sally Field and Jackie Gleason. In the same year he turned down an offer to act in 'Star Wars'.

In 1989, he starred in a successful venture called 'Physical Evidence', which was a much relief for him from the stereotypical and unsuccessful movies that he was offered after the success of 'Smokey and the Bandit'.

He produced a television show 'Win, Lose or Draw' and appeared in one of its celebrity episodes. In 1989, he starred in a detective drama called 'B.L. Stryker' for the ABC Mystery Movie.

In 1990, he starred in a television series produced by CBC called 'Evening Shade'. His impeccable performance earned him an Emmy Award for it in the category of Outstanding Lead Actor in a Comedy Series.

Continue Reading Below

In 1996, after a long break from acting, Reynolds appeared in the successful 'Striptease' and in the following year, he gave another commercial hit 'Boggie Nights' for which he won a Golden Globe.

In 2002, he lent his voice to the character 'Avery Carrington' in a video game called 'Grand Theft: Vice City'. It was a controversial video game, which he did right after the creation and touring for 'Burt Reynolds' One-Man Show'.

In 2005, he starred in the remake of 'The Longest Yard' along with Adam Sandler, who played the part that Reynolds played in the original version of the movie. His performance was criticized and he received a Razzie Award for it.

In 2010, he starred in a small role in American version of 'Burn Notice'. He played an ex-CIA agent in the series. His performance was appreciated critically as it was a tough role to play for the complexity of the character.

In 2012, he guest starred on 'Archer', an animated production of FX TV and also did 'Saints Row: The Third' during the same time.

Recommended Lists:

Recommended Lists:

Family & Personal Life

Reynolds was romantically linked to many female artists, such as Tammy Wynette, Lucie Arnaz, Susan Clark, Dinah Shore, etc.

Continue Reading Below

In 1963, Reynolds got married to actress Judy Carne, but the marriage lasted only two years and they separated in 1965.

He made headlines for his relationship with Dinah Shore, as she was 20 years older to him. His relationship with Dinah lasted about five years in the early 1970s.

He was married to American actress Loni Anderson for over 5 years, from 1988 to 1994. The couple adopted a son, Quinton. This marriage failed because of his extra-marital affair with a waitress Pam Seals. His relationship with Seals ended with lawsuits, which the duo settled out of court.

Following his divorce from actress Loni Anderson, Reynolds filed for bankruptcy in 1996.

Burt Reynolds died of cardiac arrest on September 6, 2018, in Florida, at the age of 82.

Trivia

This famous Hollywood actor lost a lot of money in unsuccessful restaurant ventures in Florida.

In 1978, Reynolds earned his star on the 'Hollywood Walk of Fame.'

Continue Reading Below

He built a dinner theatre in Jupiter, Florida, which he had to eventually sell-off.

He declined the role of James Bond saying there could never be an American James Bond.

This famous actor had posed naked on the cover of Cosmopolitan in 1972.

Reynolds owned a nightclub called 'Burt's Place' in Atlanta, Georgia.

He co-owned a professional football team 'Tampa Bay Bandits.'

1. Deliverance (1972)

(Adventure, Thriller, Drama)

2. Smokey and the Bandit (1977)

(Comedy, Action)

---

3. The Longest Yard (1974)

(Drama, Sport, Comedy, Crime)

4. Boogie Nights (1997)

(Drama)

---

---

5. The Cannonball Run (1981)

(Comedy, Sport, Action)

6. Hooper (1978)

(Action, Comedy)

---

---

---

7. Sharky's Machine (1981)

(Drama, Crime, Action, Thriller)

8. White Lightning (1973)

(Crime, Drama, Action)

---

---

---

---

| | | |
| --- | --- | --- |
| 1998 | Best Performance by an Actor in a Supporting Role in a Motion Picture | Boogie Nights (1997) |
| 1992 | Best Performance by an Actor in a Television Series - Comedy or Musical | Evening Shade (1990) |

| | | |
| --- | --- | --- |
| 1991 | Outstanding Lead Actor in a Comedy Series | Evening Shade (1990) |

| | | |
| --- | --- | --- |
| 1991 | Favorite Male Performer in a New TV Series | Winner |
| 1984 | Favorite Motion Picture Actor | Winner |
| 1983 | Favorite All-Around Male Entertainer | Winner |
| 1983 | Favorite Motion Picture Actor | Winner |
| 1982 | Favorite Motion Picture Actor | Winner |
| 1982 | Favorite All-Around Male Entertainer | Winner |
| 1980 | Favorite Motion Picture Actor | Winner |
| 1979 | Favorite Motion Picture Actor | Winner |
| 1979 | Favorite All-Around Male Entertainer | Winner |

Translate Wiki

to Spanish, French, Hindi, Portuguese

Article Title

- Burt Reynolds Biography

Author

- Editors, TheFamousPeople.com

Website

- TheFamousPeople.com

URL

-

https://www.thefamouspeople.com/profiles/burt-reynolds-3695.php

Last Updated

- February 18, 2019

---

---

---