Brigitte Bardot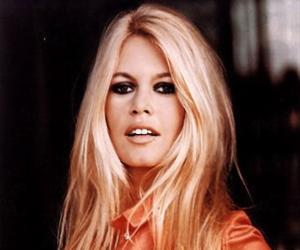 Quick Facts
Birthday: September 28, 1934
Nationality: French
Famous: Actresses Animal Rights Activists
Age: 84 Years, 84 Year Old Females
Sun Sign: Libra
Also Known As: Brigitte Anne-Marie Bardot
Born in: Paris
Famous as: Actress & Animal Rights Activist
Height: 1.70 m
Family:
Spouse/Ex-: Gunter Sachs, Jacques Charrier, Miroslav Brozek, Roger Vadim, Sami Frey
father: Louis Bardot
mother: Anne-Marie Bardot
siblings: Mijanou Bardot
children: Nicolas-Jacques Charrier
City: Paris
More Facts
education: Conservatoire de Paris
Continue Reading Below
Brigitte Anne-Marie Bardot is a French former actress and fashion model who later became an animal rights activist. She embarked on an acting career during the 1950s and before long became one of the best known sex symbols of that era. Blessed with radiant beauty, poise and grace, she was the epitome of femininity and gained a reputation for her free-flowing sensuality that made her famous not just in France but on an international level. She was introduced to dance as a young girl and developed a passion for it. Encouraged by her artistically inclined mother, she attended ballet classes by Russian choreographer Boris Knyazev and excelled at it. She also began modeling as a teenager and appeared on the cover of France's 'Elle' magazine at the age of 15. A chance encounter with the young film director, Roger Vadim ensured that she got the opportunity to enter filmdom as well. She made her acting debut in a comedy film and soon endeared herself to the audiences. Eventually she gained a reputation as a sex symbol because of her sensuous beauty and became one of the best known actresses of the 1950s and 1960s. Following her retirement from the show business, she became an active animal rights activist and established the Foundation for the Protection of Distressed Animals.
Recommended Lists:
Recommended Lists:
Continue Reading Below
Childhood & Early Life
Brigitte Bardot was born on 28 September 1934 to Louis Bardot and Anne-Marie. Her father was an engineer engaged in the family business. Her family was an upper middle-class Roman Catholic one.

As a child, she attended Cours Hattemer, a private school, and also received classes at home. Her mother enrolled her in dance classes when she was young and Brigitte realized that she was naturally talented at dancing.

She was accepted to the Conservatoire de Paris in 1947. She attended ballet classes by Russian choreographer Boris Knyazev for three years.

Beautiful and graceful, she began modeling as a teenager and appeared on the cover of 'Elle' in 1950. She came to the notice of the film director Roger Vadim who arranged for her to audition for a role in 'Les lauriers sont coupés'.

Brigitte got the role but the film was never made. However, this incident made her seriously consider acting as a career.

Recommended Lists:

Recommended Lists:

Acting Career

Brigitte Bardot made her debut in a 1952 comedy film, 'Le Trou Normand'. She was well liked by the audience who were taken in by her captivating beauty and she was soon flooded with more film offers.

During her early career she mostly appeared in light, romantic dramas. She could play the role of an innocent girl-next-door with the same aplomb she portrayed a sexy siren. She also played small roles in English language films in the 1950s.

She found success quite early on in her career and appeared in 17 films between 1952 and 1956. Married by now, she was encouraged by her husband to explore different types of roles.

In 1956, she was cast in 'And God Created Woman' opposite Jean-Louis Trintignant. It was a serious film about an immoral teenager in a respectable small-town setting. The film proved to be a great success and catapulted Bardot to international stardom.

In 1962, she appeared in the film 'A Very Private Affair', where she played the role of a young girl who falls in love with her friend's husband. It was a semi-biographical film of her life, and she earned much acclaim for this role.

By the early 1960s she had become a much sought after actress, widely appreciated for her natural beauty and admired for her raw sexuality. At the peak of her career, Brigitte found herself unable to cope with the pressures of stardom and often went into depression and even became suicidal.

Despite her mental health issues she continued appearing in films throughout the 1960s. Some of her best known movies of the era are 'Une ravissante idiote' (1964), 'Masculin, féminin' (1966), 'Histoires extraordinaires' (1968), and 'Les Femmes' (1969).

Continue Reading Below

Along with her film career, she also participated in musical shows and recorded many songs during the 1960s and 1970s. She often collaborated with the likes of Serge Gainsbourg, Bob Zagury and Sacha Distel in her musical career.

During the early 1970s, when Brigitte Bardot was still in her 30s, she decided to retire from her acting career. After appearing in movies such as 'Les Novices' (1970), 'Boulevard du Rhum' (1971), and 'Les Pétroleuses' (1971), she made her final appearance in 'L'histoire très bonne et très joyeuse de Colinot Trousse-Chemise' in 1973 and announced her retirement.

Recommended Lists:

Recommended Lists:

Animal Rights Activism

After retiring from show business Brigitte Bardot ventured into animal rights activism. She became a vegetarian in the 1980s and established the Brigitte Bardot Foundation for the Welfare and Protection of Animals in 1986. She auctioned off several of her personal belongings, including her jewelry, to raise funds for her foundation.

She strongly opposes the consumption of horse meat and condemned seal hunting in Canada during a visit to that country with Paul Watson of the Sea Shepherd Conservation Society.

She has a deep love for dogs and has donated more than $140,000 for a mass sterilization and adoption program for Bucharest's stray dogs. She also writes letters to well known authorities condemning practices that inflict unnecessary cruelty on animals.

Major Works

One of her most famous movies was 'A Very Private Affair', a semi-biographical film of her life. She portrayed a starry eyed teenager in the film who falls in loves with a married man and moves to Paris to become a model and dancer. Even though the film flopped at the box office, it earned her critical acclaim for her acting.

Continue Reading Below

Brigitte Bardot played Maria II in the comedy-adventure 'Viva Maria!' which revolves around the story of two women; both named "Maria", who became revolutionaries in the early 20th century. It was a commercial success and she was nominated for Best Foreign Actress at the 20th British Academy Film Awards.

Awards & Achievements

She won the David di Donatello Award for Best Foreign actress for her role in 'A Very Private Affair' (1962).

She was awarded the Legion of Honour in 1985 but declined to accept it.

Personal Life & Legacy

Brigitte Bardot has been married four times. Her first marriage was to film director Roger Vadim in 1952 when she was just 18. They divorced after five years but maintained professional relations even after that.

She married actor Jacques Charrier in 1959 and had a son with him. She was not a devoted mother and her son was raised by Charrier's family after Bardot divorced him in 1962.

She tied the knot for the third time with German millionaire playboy Gunter Sachs in 1966. The couple divorced three years later.

Several years later, she married her fourth and current husband, Bernard d'Ormale, former adviser of Jean-Marie Le Pen, former leader of the far right party Front National.

She was also involved in several affairs in between, and during her marriages.

1. Le mépris (1963)

(Drama)

2. Masculin féminin (1966)

(Romance, Drama)

---

3. La vérité (1960)

(Drama)

4. Le testament d'Orphée, ou ne me demandez pas pourquoi! (1960)

(Biography)

---

---

5. Bande-annonce de 'Le mépris' (1963)

(Short, Drama)

6. Si Versailles m'était conté (1954)

(History, Comedy, Drama)

---

---

---

7. Les grandes manoeuvres (1955)

(Comedy, Romance, Drama)

8. En cas de malheur (1958)

(Drama, Crime, Romance)

---

---

---

---

Translate Wiki

to Spanish, French, Hindi, Portuguese

Article Title

- Brigitte Bardot Biography

Author

- Editors, TheFamousPeople.com

Website

- TheFamousPeople.com

URL

-

https://www.thefamouspeople.com/profiles/brigitte-bardot-3690.php

Last Updated

- September 24, 2017

---

---

---