Bob Dole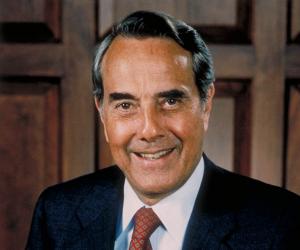 Quick Facts
Nationality: American
Famous: Quotes By Bob Dole Political Leaders
Age: 96 Years, 96 Year Old Males
Sun Sign: Cancer
Also Known As: Robert Joseph Dole, Robert Dole
Born in: Russell
Famous as: Politician, Lawyer
Height: 6'0" (183 cm), 6'0" Males
political ideology: Political party - Republican
Family:
Spouse/Ex-: Elizabeth Dole, Phyllis Holden
father: Doran Ray Dole
mother: Bina M. Dole
children: Robin Dole
U.S. State: Kansas
Ideology: Republicans
Founder/Co-Founder: Bipartisan Policy Center
More Facts
education: University of Kansas, 1951 - University of Arizona, 1952 - Washburn University, Washburn University School of Law, James E. Rogers College of Law
awards: World Food Prize
Continue Reading Below
Robert Joseph Dole, popularly known as Bob Dole, is an American politician, attorney and a World War II veteran. Nominated by the Republican Party, he entered the House of Representatives in 1961 and went on to represent Kansas in the United States Senate from 1969 to 1996. He is in fact, the longest running Republican Senator in the history of the United States. He retired from active politics after he lost the Presidential election in 1996; but remained associated with numerous domestic as well as international programs. The 'George McGovern-Robert Dole International Food for Education and Child Nutrition Program', which helps to fight child hunger and poverty in developing countries, is one of them. He also raised funds for erecting the National World War II Memorial and now his dream is to build another memorial for Dwight D. Eisenhower. At the same time, he has written many books and is currently working as Special Counsel to the well known law firm Alston & Bird. Presently, in spite of his failing heath he remains as witty and energetic as he was couple of decades ago.
Recommended Lists:
Recommended Lists:
Childhood & Early Years
Bob Dole was born on July 22, 1923 in Russell, one of the major cities in the Midwestern state of Kansas. His father Doran Ray Dole sold dairy products like cream and egg while his mother Bina M. Dole was a travelling salesperson selling sewing machines. Bob had three siblings; Kenny, Gloria and Norma.

When the Great Depression of 1930 set in, the financial condition of the family was severely affected. They had to move into the basement of their house and rent out the upper floors. To raise additional cash, Bob started working as a paper boy and a soda jerk in the local drug store. The drugstore owner later recalled him as a good worker.

The difficult time instilled the value of hard work and sacrifice in young Bob. He also learnt to trust God and continued his studies at Russell High School. During his school days, Bob was good in sports and won many matches for the school. He was also an active member of the Boys Scout.

Bob graduated from Russell High School in 1941 and enrolled at the Kansas University. There he joined a premedical course. Here too he excelled in sports and soon became a member of the basketball team, football team and track team. However, he left college as United States joined the Second World War.

Bob Dole enlisted in the army in 1942. In time, he became a second lieutenant in the 10th Mountain Division of the US Army and was sent to Italy in 1944. In 1945, while trying to rescue an army radioman, Bob was badly injured in a German machine gun attack.

His right shoulder was shattered and the vertebrae in his neck and spine were fractured. He had metal shrapnel throughout his body and was paralyzed from the neck down. Bob was subsequently brought back to United States, where he underwent treatment for three long years.

After an extensive treatment Bob recovered to a large extent; only his right arm and hand are paralyzed. Fortunately, he came across Dr. Hamper Kelikian, a Chicago orthopedist and himself a survivor of Armenian holocaust. He inspired Bob not to think about what he had lost, but to focus on what is left.

Encouraged by family and friends Bob decided to take advantage of G.I. Bill, which provided financial assistance to war veterans for education, and got enrolled in University of Arizona to study Art. However, after a year he came back to Kansas to study law at Washburn Municipal College in Topeka. He received his LLB degree in 1952.

Continue Reading Below

Recommended Lists:

Recommended Lists:

Career

Bob Dole entered politics while he was still in college. In 1950, he was elected to the Kansas House of Representatives on Republican ticket. By the time his term ended in 1952, he had secured his L.L.B. degree and was admitted to the bar. He then started practicing at Russell and soon became the County Attorney of Russell County.

In 1961, Bob entered the national political arena as a member of United States House of Representatives. He represented the Sixth Congressional District in Kansas, which subsequently merged with the Third Congressional District to form the First Congressional District. Dole was reelected from this district as well.

He won the seat twice more before opting for the Senate. In 1968, he defeated Kansas Governor William H. Avery to occupy the seat vacated by Senator Frank Carlson. He was reelected to the position in 1974, 1980, 1986, and 1992. On June 12, 1996, he resigned from his seat to take part in the Presidential elections.

During his long innings at the Senate, Bob Dole occupied many important positions. He was the Chairperson of the Senate Finance Committee from 1981 to 1985 and Minority Leader of the United States Senate from 1987 to 1995. He also became Majority Leader of the United States Senate twice; once from 1985 to 1987 and then from 1995 to 1996.

In addition, he held important position in the Republican Party. He became the Chairperson of the Republican National Committee from 1971 to 1973 and the Leader of the Republican Party in the United States Senate from 1985 to 1996.

Bob Dole was one of the few leaders who could bridge the gap between the conservatives and the moderates. He supported the civil right bills; yet voted against public housing subsidy and healthcare plans. However, he pleaded for the federal aid to the handicaps and for lowering eligibility for receiving federal food stamps.

Bob also became the Republican Vice presidential nominee in 1976, but failed to win. Then in 1996, he became the party's nominee for Presidential election. This time too he lost to President Bill Clinton.

Recommended Lists:

Recommended Lists:

Later Years

After losing the 1996 presidential election Bob Dole decided to retire. However, he continued with political activism and spent a great deal to his energy to his speaking engagements. He also concentrated on his career as a lawyer and dedicated a lot of his time and energy to his law firm.

Continue Reading Below

In 2003, Dole founded Robert J. Dole Institute of Politics in Kansas. It is a nonpartisan political institute aimed at bringing back bipartisanship back to politics. In addition, he became involved in many domestic as well as international programs aimed at combating hunger and poverty.

The 'George McGovern-Robert Dole International Food for Education and Child Nutrition Program' is another feather in his cap. The program, created by Bob Dole and George McGovern and funded largely by US Congress, provides free meals to more than 22 million children across 41 countries.

Presently, in spite of his failing health, Bob Dole remains forever active. He is often seen at the entrance of the National World War II Memorial, lobbying for the support for the National Eisenhower Memorial. Earlier he had singlehandedly raised more than $170 million for the privately funded WWII memorial.

Major Works

Bob Dole is involved in many domestic as well as international programs aimed at combating hunger and poverty. He also played an instrumental role in the construction of the privately funded WWII memorial and raised more than $170 million.

Awards & Achievements

Dole was decorated thrice for his valor in the WW II. He got 'Purple Hearts' for his injuries. He also received 'Bronze Star' with combat "V" for the valor he showed while rescuing the radioman.

In 1997, he received the Presidential Medal of Freedom by President Clinton for his service in the military as well as for his political career.

In 1997, Dole received the U.S. Senator John Heinz Award for Greatest Public Service by an Elected or Appointed Official.

In 2004, Dole received the American Patriot Award for his lifelong dedication to his country and also for his service in World War II.

On September 30, 2015, Bob Dole received Survivor's Gratitude Award from National Commemoration of the Armenian Genocide Centennial (NCAGC) for his efforts to raise attention to the Armenian Genocide.

Personal Life & Legacy

Bob Dole married Phyllis Holden, an occupational therapist, in 1948. However, he was rarely at home to make this marriage work. In spite of that, the couple had a daughter named Robin, born in 1954. Later in 1971, Bob Dole filed a divorce petition against his wife. According to grapevine, she was pretty stunned at the news. The divorce came through in 1972.

The same year, Bob met Elizabeth Alexander Hansford and the couple tied the knot in 1975. Elizabeth Dole was a United States Senator from South Carolina and had occupied many important posts in her long political career. The couple does not have any issue.

Percy Jones Army Hospital, where Bob Dole was treated after the war is now known as Hart-Dole-Inouye Federal Center. The hospital has been renamed in honor of the three patients who later became United States Senators: Dole, Philip Hart and Daniel Inouye.

Translate Wiki

to Spanish, French, Hindi, Portuguese

Article Title

- Bob Dole Biography

Author

- Editors, TheFamousPeople.com

Website

- TheFamousPeople.com

URL

-

https://www.thefamouspeople.com/profiles/bob-dole-6693.php

Last Updated

- October 04, 2017

---

---

---