Bill Walker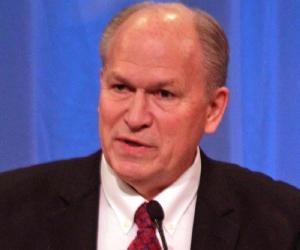 Quick Facts
Nationality: American
Famous: Political Leaders American Men
Age: 68 Years, 68 Year Old Males
Sun Sign: Aries
Also Known As: William M. 'Bill' Walker
Born in: Fairbanks, Territory of Alaska, U.S.
Famous as: 11th Governor of Alaska
Height: 5'6" (168 cm), 5'6" Males
Family:
Spouse/Ex-: Donna
father: Ed Walker
mother: Frances Park
children: Adam, Jordan, Lindsay, Tessa
U.S. State: Alaska
More Facts
education: Lewis and Clark College,, University of Puget Sound
Continue Reading Below
Bill Walker is an American politician and the current and the 11th Governor of Alaska. He won the gubernatorial elections held on November 4, 2014 on an Independent ticket. He contested on the 'Alaska First Unity Ticket' with his gubernatorial mate Byron Mallot who was from the Democratic Party. Walker forfeited his long-standing Republican Party membership to be able to contest on the consolidated ticket. He had contested earlier for the post of Governor on a Republican ticket but had lost the party's primary nomination to incumbent Governor Sean Parnell. He opted to contest as an independent so that he could avoid another tough primary against Parnell and won in a state which had preferred either a Republican or a Democrat as a Governor before. He is opposed to the construction of the 'Pebble Mine', and acknowledges that climate changes have occurred due to energy policies being followed by the government. He wants to adopt policies that would help mitigate the harmful effects of climate change but supports increasing the capacities of gas and oil production. He also supports new projects for drilling petroleum in the 'Arctic National Wildlife Refuge' area. He is in favor of gun rights and a greater degree of sovereignty for Alaska. He supported the expansion of Medicaid which was made possible by the 'Affordable Care Act'.
Recommended Lists:
Recommended Lists:
Childhood & Early Life
Bill Walker was born William M. Walker in Fairbanks, Alaska, USA on April 16, 1951 and grew up in Delta Junction and in the port city of Valdez on Prince William Sound.

His father, Ed Walker was a businessman while his mother was Frances Park. He was the fourth child of his parents.

At the age of 12 he had to work as a janitor to support his family which had lost most of its belongings in the 1964 earthquake in Alaska.

He did his schooling at the 'Valdez High School' from where he graduated in 1969. He had to work as a carpenter, laborer and teamster at the 'Trans-Atlantic Pipeline' construction company which was owned by his family to earn the money for his education.

He left his home state in 1969 and joined the 'Lewis Clark College' in Portland, Oregon, to study business administration. He received his B. S. degree in Business administration in 1973.

He joined the 'School of Law' of the 'University of Puget Sound', currently known as the 'Seattle University', and graduated from there with a J.D. degree in 1983.

Recommended Lists:

Recommended Lists:

Career

Bill Walker worked as a commercial fisherman for one year at the 'Price William Sound' in 1969

He also worked as a construction worker for the 'Trans-Alaska Pipeline' for four years from 1970 to 1974. He was a member of the 'Alaska Laborers', Carpenters' and Teamsters' Unions during that period.

In 1975 he founded his own construction company based at Valdez named 'Bill Walker Construction Company' which operated till 1980.

During his days at the law school he got involved in politics and ran for a seat on the 'Valdez City Council'. He was elected to the 'Valdez City Council' in 1977 for the first time and held the post of Council member till 1979.

Two years later in 1979 he was elected as the youngest mayor of Valdez at the age of 27 years only and held the post till 1980.

Before founding his own law firm with his wife, Walker was a managing partner of a law firm called 'Hughes, Thorsness, Gantz, Powell and Brundin' from 1983 to 1995.

He also served as Chairman of the 'Municipal Law Department' in Valdez.

In 1995 he founded the law firm 'Walker Richards Limited Liability Company' with his wife and practiced there till 2014 specializing in laws related to gas, oil and municipal affairs.

He also founded the 'Walker and Levesque Limited Liability Company' in 1995 and has been practicing law at the firm till now.

Continue Reading Below

He had provided counsel to the 'Alaska Gasline Port Authority' and many other municipalities spread over Alaska from 1995 till now.

On August 24, 2010, he challenged the incumbent Governor Sean Parnell in the 'Republican Party primary election' but finished second with 33.95 per cent of the vote. Parnell won with 49.49 per cent of the vote. In the general election held on November 2, 2010, Parnell defeated Ethan Berkowitz of the Democratic Party and held on to the post of the Governor of Alaska.

In 2013 Walker announced that he was going to run as a Republican candidate for the 2014 gubernatorial election. He finally decided to run as an Independent candidate on the advice of former Alaska governor Wally Hickle.

On September 2, 2014, Walker held a press conference with the Democratic Party nominee for governor, Byron Mallot, and declared the merging of both campaigns. He also announced that Byron Mallot would be his running mate instead of Craig Fleener whom he had chosen earlier.

After getting elected as Governor in the November 4, 2014 general election, Walker was sworn in as the Governor of Alaska on December 1, 2014.

On November 5, 2015 he signed the bill for buying out TransCanada's quarter share in the 'Alaska Liquefied Natural Gas (AKLNG)' project which will cost the state' exchequer approximately $12 to $18 billion dollars. It is estimated that this project will open up 10,000 jobs when construction begins in 2020 and will help the state earn about $1 to $1.2 billion dollars per year when the gas starts flowing.

On December 15, 2015 he proposed reinstating a statewide income tax and reducing the payments made annually from the 'Alaska Permanent Fund' to qualified state residents in order to reduce the approximately $3.2 billion deficit in the state budget. This was necessary due to the expected $4 billion deficit that the state had due the falling oil prices.

Personal Life & Legacy

Bill Walker married Donna in 1977, who attended the 'Puget Sound Law School' together with him. They have four children from their marriage - Lindsay, Tessa, Adam and Jordan.

Trivia

Bill walker loves fishing, skiing, snow-machining, boating, camping and ice-skating.

Translate Wiki

to Spanish, French, Hindi, Portuguese

Article Title

- Bill Walker Biography

Author

- Editors, TheFamousPeople.com

Website

- TheFamousPeople.com

URL

-

https://www.thefamouspeople.com/profiles/bill-walker-7788.php

Last Updated

- October 05, 2017

---

---

---