Bettie Page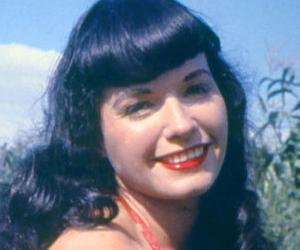 Quick Facts
Nationality: American
Died At Age: 85
Sun Sign: Taurus
Born in: Nashville, Tennessee, US
Family:
Spouse/Ex-: Billy Neal
father: Walter Roy Page
mother: Edna Mae Pirtle
Died on: December 11, 2008
place of death: Los Angeles, California, US
U.S. State: Tennessee
Diseases & Disabilities: Schizophrenia
Continue Reading Below
Bettie Page was cultural icon of the 1950s who forwarded an air of mystical mysterious around her. Popularly referred to as the Queen of Pinups, she was famous for her free spirited demeanour and unabashed sensuality. Her trademark short bangs, natural brunette hair, sparkling blue eyes and voluptuous figure was and is still influential to artists. She started her career as a pinup model and soon reached the zenith of success due to her no-inhibition personality and dare to bare attitude. She became a home name after the launch of her picture as the Playboy Playmate of the Month in the January 1955 issue of the magazine, Playboy. What made her different from the rest was that unlike other pinup models whose career lasted for just about a couple of months, she was in demand for years. She frequently posed nude but never made appearances in explicitly sexual scenes. However, the escalating career faced a somewhat back gear when Page became a born-again Christian. She turned to evangelic activities, vanishing from the public eye and working to serve at various missionaries. She regained fame in 1980s after a resurgence of her photographs from her shoots in 1950s. To know more about her life and career, read through the following lines.
Recommended Lists:
Recommended Lists:
Childhood & Early Life
Bettie Page was born to Walter Roy Page and Edna Mae Pirtle. She was the second of the six children born to the couple.

After her parents separated when she was ten, young Page took up the responsibilities of caring for her younger siblings. She got her father imprisoned for sexually molesting her and shifted to an orphanage for a year.

During her growing up years, she along with her siblings imitated her favourite star by trying on different makeup and hairstyles. These fun pastime acts eventually proved useful for her in her modelling career later on.

Academically, she attained her formal education from Hume-Goff High School, from where she graduated as a salutatorian with scholarship in June 1940. Scholastically proficient, she enrolled at the George Peabody College with an aim to take up a teaching profession.

It was while studying at the college that she first took to studying acting, with the hope of becoming an actor. Meanwhile, she secured a job for herself as a typist for author Alfred Leland Crabb.

She graduated from the college with a Bachelor of Arts degree in 1944.

Recommended Lists:

Recommended Lists:

Career

Following her graduation, she briefly worked in San Francisco before moving to Haiti. In 1949, she finally relocated to New York City to launch herself as an actress. However, to support herself financially, she worked as a secretary.

It was in 1950 that she chanced upon meeting Jerry Tibbs, an aspiring photographer who professionally was a police officer. Tibbs clicked various snaps for her thus coming up with her first pinup portfolio.

Soon she became a member of the camera club, mostly formed to skirt the restrictions caused upon photography. She started her glam career by posing as the model for Cass Carr. Her no-inhibition personality and dare to bare attitude made her a hit among the photographers and the camera club.

She soon gained popularity in the erotic photography industry and became the cover girl for various men's magazines, including Wink, Titter, Eyefull and Beauty Parade

From 1952 to 1957, she served as the model for Irving Klaw, who snapped her for mail-order photographs and short, black-and-white 8mm and 16mm 'specialty' films. In her shoots, she depicted various moods and scenarios for abduction, domination and slave training. She soon became the top pin-up model in New York.

Meanwhile, in 1953, she took up acting classes at the Herbert Berghof Studio. Following this, she made guest appearances on stage and television. She even starred in an Off-Broadway production.

Following year, while vacationing, she first met aspiring photographer Bunny Yeager. She finally agreed to shoot with him. The place of the shoot was iconic and extraordinary and so were the photographs, which went to to become her most celebrated pictures ever.

Keeping with the theme of the location which was a wildlife park, Yeager shot her in leopard costume and nude shots with a pair of cheetahs. Most of the outfit for her shoot with Yeager was designed by her.

After the shoot, Yeager sent the photographs to Playboy founder Hugh Hefner who selected one of the pictures as the Playmate of the Month centerfold for the January 1955 issue.

Continue Reading Below

It was a service attended at the Key West Baptist Church that proved to be a turning point in the life of this ultra-glamorous pinup model. She experienced a religious inclination and said to have been born-again Christian.

She soon started attending bible colleges. She studied at Bible Institute of Los Angeles, Multnomah School of the Bible and Bibletown, a Christian retreat in Boca Raton, Florida.

It was due to her being a divorcee that she could not become a Christian missionary. However, this did not deter her from taking up religious activities as she started working for various Christian organizations.

In 1963, she settled in Nashville and took up full-time duties with Rev Billy Graham. Her remarriage with her first husband gave her admission to take up missionary work.

In 1979, she relocated to South California. However, therein she was diagnosed with schizophrenia. For eight years, she was under state supervision at Patton State Hospital and finally released in 1992.

Meanwhile, in the world of modelling, her name started to resonate with popularity and admiration as people reckoned her as the icon of erotica of the bygone era. Her name featured in the list of artists who once famous had vanished from public eye.

There were books written about her and photobooks launched that contained her photographs from the shoots carried out between the 1950s and 1960s. Several artists started painting her images and she became the cover face for Italian jean manufacturer Fiorucci. What's more, comic book artists Dave Steven had his female love interest based on her.

In 1987, Greg Theakston started a fanzine which gave readers a glimpse on the life of her and her camera club days. No sooner she gained a cult star status with women imitating her style and signature looks, men candidly eyeing her and fans awaiting her. The media caught on the hype and started writing articles on her.

In 1993, after more than a decade-long self-hiatus, she zoomed back on television, giving interviews to various media organizations. She was clueless as to what caused the resurgence of her popularity.

Continue Reading Below

Shortly thereafter, she started the second innings of her life. She influenced the titular characters of various magazines and comic books. In 1996, she came up with an autobiography, 'Bettie Page: The Life of a Pin-up Legend' which gave a detailed report of her life and her days in obscurity.

Same year, she gave a one-on-one interview for the NBC morning magazine program, Real Life, in which she reminisced her career and gave anecdotes about her personal life. She even showed photographs from her personal collection.

Her last interview was with E! True Hollywood Story in which the location of the interview and her face was blackened out on her request and not revealed

Personal Life & Legacy

In 1943, she tied the nuptial knot with her classmate Billy Neal. The marriage did not work out for long and the two separated, with her filing for divorce in 1947.

After the dissolution of her first marriage, she went into a romantic relationship with industrial designer Richard Arbib and Armond Walterson. She tied the knot with the latter in 1958 but divorced five years later.

For a brief duration, she married Billy Neal yet again but separated shortly. In 1967 she went into the wedlock with Harry Lear, but separated in 1972.

She suffered a major stroke and was hospitalized in a critical condition on December 6, 2008. She was in coma and was released from the life support system.

She breathed her last on December 11, 2008 and was interred at Westwood Village Memorial Park Cemetery.

Trivia

A pinup model and sex symbol, she served as the Playboy Playmate of the Month in the January 1955 issue.

Translate Wiki

to Spanish, French, Hindi, Portuguese

Article Title

- Bettie Page Biography

Author

- Editors, TheFamousPeople.com

Website

- TheFamousPeople.com

URL

-

https://www.thefamouspeople.com/profiles/bettie-page-4666.php

Last Updated

- October 15, 2017

---

---

---