Bebe Rexha
Quick Facts
Famous as: Singer
Nationality: American
Age: 28 Years
Sun Sign: Virgo
Height: 1.65 m
Born in: Brooklyn, New York, U.S.
City, States, Provinces & Districts: New Yorkers
Net worth: $ 700,000 as in 2017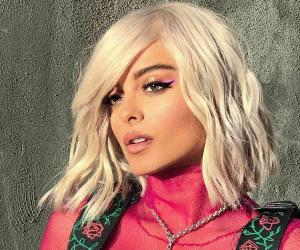 Image Credit
https://www.pinterest.com/pin/345088390178038585/

Bebe Rexha is an American multi-talented composer, singer-songwriter and record producer. She has written chart-topping songs for famous artists like Tinashe, Pitbull, Nick Jonas, and Selena Gomez. Bebe has co-written the hit song 'The Monster' with stars like Eminem and Rihanna and has collaborated with Nicki Minaj and released the single 'No Broken Hearts'. She always wanted to be an artist from her early childhood. Bebe's parents were very supportive of all her creative endeavours. She decided that she would first try to establish herself in the industry by performing behind-the-scenes as a songwriter and instantly became well-known in the industry. The recognition she received as a writer opened huge opportunities for her and gave a big push to her singing career. Bebe Rexha has collaborated with celebrities like The Chainsmokers, Pitbull, and Lil Wayne etc. to release popular albums and is famous for her singles, albums and EP'S.
Recommended Lists:
Recommended Lists:
Continue Reading Below
Childhood & Early Life
Bebe Rexha was born Bleta Rexha to ethnic Albanian parents on 30th August, 1989 in Brooklyn, New York. The meaning of Bleta in Albania is 'bumble bee' and deriving from this Bleta gave herself the nick name 'Bebe' which she also uses as her stage name.

Her father, Flamur Rexha, immigrated to USA when he was 21 years old and his birth place is Debarwhich, a city in the western part of the Republic of Macedonia. Her mother, Bukurije 'Bukie' Rexha, was born in the USA to an Albanian family who were from Gostivar region of Macedonia.

Bebe stayed in Brooklyn for 6 years and then shifted with her parents to Staten Islands, New York. She attended Tottenville High School there. She played the trumpet in elementary school for 9 years and also knew how to play the piano and guitar. Later, she took part in several musicals and in high school she became a member of the choir and found her voice to be coloratura soprano.

Rexha always wanted to be a part of the pop-culture and took to song-writing in her teens. She won the 'Best Teen Songwriter' award for her written song to be performed at the 'National Academy of Recording Arts & Sciences' annual 'Grammy Day' event. She won the song writing competition after beating 700 entrants. As a result of this, Samantha Cox, a talent scout encouraged her to attend song writing classes in New York.

Recommended Lists:

Recommended Lists:

Career & Later Life

Bebe Rexa came in contact with Pete Wentz, bass guitarist of the 'Fall Out Boys' band while she was recording demos at their studio in New York city. In 2010, Wentz and Rexha formed a duo experimental band named 'Black Cards' where he wrote the lyrics and played the guitar and Bebe performed as lead vocalist. The band went on to release some remixes and singles on YouTube and iTunes and performed various live shows in many venues. However, Bebe left the band on January 13, 2012 stating that she wanted to work on establishing her solo career.

Bebe now started to upload acoustic covers and demos on YouTube. The biggest breakthrough in her career came when she got signed by the Warner Brothers Records in 2013. She wrote chart topping songs for Nikki Williams (Glowing) and Selena Gomez (Like a Champion) but was most acclaimed for her song 'Monster' sung by Rihanna and Eminem. This track reached top 1st position on Billboard's 'Hot 100' and 'Hot R&B Hip-Hop Songs'. She wrote and featured in the single 'Take Me Home' with Cash Cash electronic music group in the same year.

On 21st March 2014, Bebe released her debut single 'I Can't Stop Drinking About You' written and sung by her and the music video got published on 12th August. This single hit the number 22 position in Billboards 'Top Heat seekers' chart. In the same year she released two more singles titled 'Gone' and 'I'm Gonna Show You Crazy', showcasing her song writing and vocal skills. Rexa collaborated with rapper Pitbull for the song 'This Is Not A Drill' on November 2014.

Rexha went on to release her first debut EP on 12th May, 2015 titled 'I don't Wanna Grow Up' with Warner Brothers Records. She co-wrote and featured in the David Guetta's song 'Hey Mama' with Afrojack and Nicki Minaj and it reached 8th position on Billboard's Hot 100, 2015. In the same year, she wrote and sang the song 'Cry Wolf' which was very captivating. Rexha collaborated with G-Eazy for the song 'Me, Myself and I' and it reached 7th position in Billboards 'Hot 100' and 1st position on 'Pop songs' charts.

Bebe next released a single with Nicki Minaj titled 'No Broken Hearts' on March 2016 and uploaded the official video on April 2016. The video was directed by Dave Meyer and it amassed more than197 million views as of 2017 on YouTube.

Her next collaboration with record producer and DJ, Martin Garrix, was for the single titled 'In the Name of Love' which released on 29th July, 2016. It reached the 4th position on US Hot 'Dance and Electronic Songs' and got entry in the top 10 charts in many countries like Canada, Italy, Australia, Canada and United Kingdom. On 31st January 2016, she uploaded her LYRICS video 'Sweet Beginnings' and it received 1.8 million views as of 2017.

Rexa released her single 'I Got You' on 28th October, 2016. The single was from her second EP 'All Your Fault: Pt. 1' released in early 2017 and it scored 17th position on U.S.A Billboard 'Pop Songs'. The EP featured stars like G- Eazy, Stargate and Ty Dolla $ign. The single has accumulated more than 153 million views as of now. The EP has songs like 'Atmosphere', 'Small Doses' and 'Gateway Drug' self -composed and sung.

Continue Reading Below

Bebe next went on a concert tour called 'All Your Fault Tour' beginning from 1st March, 2017 and it continued to 1st May. This tour was held in places like Dallas, Brooklyn, Dubai, Antwerp and London. She was the solo lead vocals and star of the show and the tour was attended by millions of fans.

She also released another EP 'All Your Fault Part 2' on May, 2017 with the single titled 'The Way I Are (Dance with Somebody)' with Lil Wayne. She gained so much popularity that MTV aired a documentary on her life and journey to stardom called 'Bebe Rexha: The Ride' in May 2017. Rexha won the Victoria's Secret Sexiest Rising Songstress' award in 2017.

Recommended Lists:

Recommended Lists:

Personal Life & Legacy

Bebe Rexha is in a steady relationship with her boyfriend, Martin Garrix, who is a Disc Jockey and a hit musician. She has confirmed that both of them are truly in love.

Recommended Lists:

Recommended Lists:

Net Worth

Rexha is popular for R&B and pop style of music and her estimated net-worth is $ 700,000 as in 2017.

Trivia

Bebe Rexha stated in MTV Threads Style Secrets that her style of dressing is inspired from the late 1990s which she has made more eclectic.

Translate Wiki

to Spanish, French, Hindi, Portuguese

Article Title

- Bebe Rexha Biography

Author

- Editors, TheFamousPeople.com

Website

- TheFamousPeople.com

URL

-

https://www.thefamouspeople.com/profiles/bebe-rexha-32993.php

Last Updated

- June 22, 2017