Ashley Diaz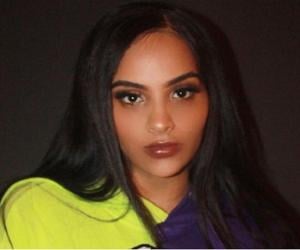 Continue Reading Below
Ashley Diaz is an American reality television star who became famous after appearing on the eighth season of VH1's reality series 'Love & Hip Hop: New York'. She joined the cast of the popular series in 2017 along with her boyfriend, celebrity lawyer and manager Navarro Walker Gray, and her elder sister Ayisha Diaz, who is a famous model. During the season, her conflict with her boyfriend's client, Dominican singer Anaís Martínez, and her pregnancy were in focus. Ashley has been dating Navarro Gray for a long time, and she is also his business partner in his talent management company 'Foreign Styles'. The couple manages Ayisha's modelling career, apart from representing several other celebrities. Ashley co-owns a women's trendy clothing shop called 'Jamila' at the Garden State Plaza, New York, with her sister Ayisha. The sisters reportedly started selling the first eco-friendly cork glasses through their company 'Dia Lenses', which promotes ancient French art. Ashley is also the owner of the fashion accessories company 'Pretty By Ashley', which sells eyelashes and other products through its online store.
Recommended Lists:
Recommended Lists:
Continue Reading Below
Rise to Stardom
Ashley Diaz first gained popularity after appearing on the eighth season of the reality television series 'Love & Hip Hop: New York' in late 2017. She was seen in seven episodes of the series, including reunion specials. On the show, she accompanied her boyfriend Navarro Gray, who featured as the manager for celebrities from the music and entertainment industries, including Anaís Martínez and Ayisha Diaz. Throughout the season, Ashley drew attention for her apparently rocky relationship with Gray, with whom she was expecting a baby; and her constant conflicts with his clients. She was introduced on the second episode of the show and was instantly frustrated after seeing Martínez flirting with her man. When Gray failed to fix the problem, Ashley took the initiative and in doing so, she almost has a showdown with Martínez.

Later in the series, her ambitious sister Ayisha asks Gray to fire her. Martínez, who overhears the conversation between the model and the celebrity manager, informs Ashley about it. In another episode called 'Bad Reputation', Ashley was seen accusing Gray of cheating on her and throws water in his face after discovering a text message communication between him and another woman. However, he claims that the messages were related to something special that he was planning for her. It turns out to be her baby shower, which they later celebrated with their families and friends and shared pictures on social media. Ashley is also on her way to become an Instagram star, and she already has a following of 226k.

Recommended Lists:

Recommended Lists:

Continue Reading Below

Family & Personal Life

Ashley Diaz was born on May 20, 1992 in Omaha, Nebraska, United States, to Dominican parents of Latin American and African descent. She has two sisters and a brother. Her sister Ayisha Diaz is a famous model, writer and Instagram star, who has over 3 million followers. Her second sister's name is Ashik Diaz.