Asa Butterfield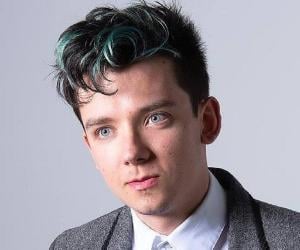 Quick Facts
Nationality: British
Famous: Actors British Men
Age: 21 Years, 21 Year Old Males
Sun Sign: Aries
Also Known As: Asa Maxwell Thornton Farr Butterfield
Born in: Islington
Famous as: Actor
Height: 1.83 m
Family:
father: Sam Butterfield
mother: Jacqueline Farr
siblings: Loxie Butterfield, Marlie Butterfield, Morgan Butterfield
City: London, England
Continue Reading Below
Asa Maxwell Thornton Farr Butterfield is a British actor who is most popular for portraying Hugo Cabret in Martin Scorsese's drama film 'Hugo'. A native of London, Butterfield got introduced to acting at the age of seven when he began going to the Young Actors' Theatre Islington on Friday afternoons. He made his screen debut in 2006 in the television film 'After Thomas'. His first cinematic appearance came about a year later, in the action-drama 'Son of Rambow'. In 2008, he earned much critical praise for his outing as the main character Bruno in the Holocaust film 'The Boy in the Striped Pyjamas'. He was also cast as the young Mordred in BBC's 'Merlin' and Norman in the fantasy film 'Nanny McPhee and the Big Bang'. After the release of 'Hugo', Butterfield emerged as one of the most talented and popular young actors on the international scene. The film not only garnered him multiple awards but also led to him being cast as Ender Wiggin in 'Ender's Game', Nathan Ellis in 'X+Y', Jacob "Jake" Portman in 'Miss Peregrine's Home for Peculiar Children', and Gardner Elliot in 'The Space Between Us'. Besides acting, Butterfield is active as a musician and music producer and has co-designed a video game for Apple.
Recommended Lists:
Recommended Lists:
Continue Reading Below
Childhood & Early Life
Asa Butterfield was born on April 1, 1997 in Islington, London to Jacqueline Farr and Sam Butterfield. He has three siblings, one brother named Morgan and two sisters named Loxie and Marlie. While at birth, Butterfield was given the nickname "Maxwell Thornton", he later changed it to "Bopp" on his passport (after the Hale-Bopp comet).

He attended the secondary school Stoke Newington School & Sixth Form. After attending school on Friday afternoons, he would act at the Young Actors' Theatre Islington.

Recommended Lists:

Recommended Lists:

Career

At the age of eight, Asa Butterfield was spotted at the Young Actors' Theatre Islington by a talent spotting casting director. He began his professional acting career in 2006 with the telefilm 'After Thomas'. Butterfield played the small role of Andrew in the film.

In 2007, he worked in his debut feature, the comedy film 'Son of Rambow'. In the following year, he guest-starred in BBC One's crime-drama 'Ashes to Ashes'.

In 2008, he played one of the two leading roles in Mark Herman's 'The Boy in the Striped Pyjamas', with the other role being portrayed by Jack Scanlon. Based on John Boyne's novel of the same name, the film was a holocaust drama in which Butterfield played Bruno, the young son of a Nazi officer, who befriends Scanlon's Shmuel, a Jewish boy who had been put in a concentration camp. Butterfield's sombre, poignant, and powerful performance made the critics notice him for the first time.

He was cast in the recurring role of Mordred in the popular fantasy-adventure series 'Merlin' in 2008. His next important role came about in 2010 when he was cast opposite Emma Thompson, Maggie Gyllenhaal, Maggie Smith, and Ewan McGregor in the fantasy comedy family film 'Nanny McPhee and the Big Bang'.

In 2013, Butterfield starred as Andrew "Ender" Wiggin in the film 'Ender's Game.' While the film received mixed to positive reviews, his performance as the hero earned him much critical praise.

In the British film 'X+Y' (2014), which was released in the US under the name of 'A Brilliant Young Mind', Butterfield portrayed a socially awkward English mathematics prodigy who is picked to represent his country at the International Mathematical Olympiad (IMO).

In 2015, he starred as the protagonist in the drama 'Ten Thousand Saints'. Also starring Ethan Hawke, Hailee Steinfeld, and Emile Hirsch, the film premiered at the 2015 Sundance Film Festival on January 23. The next year, he was cast in the dark fantasy film 'Miss Peregrine's Home for Peculiar Children' as Jacob "Jake" Portman.

Continue Reading Below

In 2017, he was part of three films, and guest-starred in the animated science fiction series 'Thunderbirds Are Go'. Butterfield portrayed Gardner Elliot, a boy who was born and raised in Mars, in the romantic science fiction film 'The Space Between Us'; Sebastian Prendergast in 'The House of Tomorrow'; and Second Lieutenant Raleigh in the film adaptation of the play 'Journey's End' by R. C. Sherriff.

He is set to appear in films, such as 'Time Freak', 'Departures', and 'Slaughterhouse Rulez'.

In 2004, Butterfield produced a mashup of the songs "Teenage Dirtbag" by Wheatus and "Making Plans For Nigel" by XTC. He worked alongside his father and brother on 'Racing Blind', a turn-based video game for iPad, which was released in April 2013.

Major Works

Asa Butterfield is best known for his role in the 2011 epic historical adventure drama 'Hugo.' The film was based on Brian Selznick's book 'The Invention of Hugo Cabret' and narrates the story of a boy, Hugo (Butterfield), who lives by himself at the Gare Montparnasse railway station in Paris in the 1930s after the death of his father. Butterfield received critical acclaim for his performance and also won numerous awards.

Awards & Achievements

In 2008, Asa Butterfield received a nomination for the British Independent Film Award in the category "Most Promising Newcomer" for 'The Boy in the Striped Pyjamas' but eventually lost to Dev Patel ('Slumdog Millionaire'). For the same role, Butterfield was also nominated for the London Film Critics Circle Award for Young British Performer of the Year.

For 'Hugo', he won the Young Hollywood Award for Breakthrough Performance – Male. The film also garnered him the Sierra Award for Youth in Film at the 2011 Las Vegas Film Critics Society Awards event and the 2012 NFCS Award for Best Child Actor.

Butterfield received the CinemaCon Rising Star Award in 2013 and the Savannah Film Festival Rising Star Award in 2014.

Personal Life

Asa Butterfield had previously been in a relationship with fellow English actress Ella Purnell. They began dating in 2015 but it ended soon after. There are rumours that he is presently dating Bulgarian-Canadian actress Nina Dobrev, but nothing has been confirmed by either party as of yet.

Trivia

Butterfield is an ardent supporter of the Arsenal football club.

1. The Boy in the Striped Pyjamas (2008)

(War, Drama)

2. Hugo (2011)

(Fantasy, Romance, Mystery, Family, Drama, Adventure)

---

3. A Brilliant Young Mind (2014)

(Drama, Romance)

4. Son of Rambow (2007)

(Family, Action, Comedy, Drama, Adventure)

---

---

5. Ender's Game (2013)

(Action, Fantasy, Sci-Fi)

6. Miss Peregrine's Home for Peculiar Children (2016)

(Family, Adventure, Drama, Fantasy)

---

---

---

7. The Space Between Us (2017)

(Romance, Adventure, Sci-Fi, Drama)

8. Nanny McPhee and the Big Bang (2010)

(Comedy, Family, Fantasy)

---

---

---

---

Translate Wiki

to Spanish, French, Hindi, Portuguese

Article Title

- Asa Butterfield Biography

Author

- Editors, TheFamousPeople.com

Website

- TheFamousPeople.com

URL

-

https://www.thefamouspeople.com/profiles/asa-butterfield-36294.php

Last Updated

- March 22, 2018

---

---

---