Adam Levine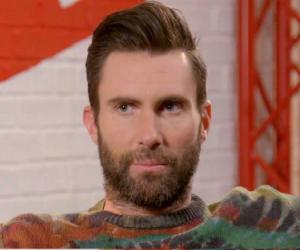 Quick Facts
Nationality: American
Famous: Pop Singers Rock Singers
Age: 39 Years, 39 Year Old Males
Sun Sign: Pisces
Also Known As: Adam Noah Levine
Born in: Los Angeles
Famous as: Singer, Songwriter
Height: 1.82 m
Family:
Spouse/Ex-: Behati Prinsloo
father: Fred Levine
mother: Patsy Noah
siblings: Julia Milne Levine, Liza Levine, Michael Levine, Sam Levine
children: Dusty Rose Levine
religion: Judaism
Net worth: $60 million
More Facts
education: Five Towns College, Brentwood School
Continue Reading Below
Adam Noah Levine is an American singer, songwriter, actor and the lead vocalist for the pop rock band Maroon 5. The first album of the rock band 'Maroon 5' catapulted a little known singer onto the center stage of American music and entertainment. Very few knew about him before he came into the limelight. When he was just out of school, he formed a rock band with his classmates and brought out an album which did not do very well. The band broke up and he formed it again later with a new name and asked some new singers to join in. Since then the band has released five albums which have become great hits. He has served as a basketball judge/coach in a reality show and had some of the greatest basketball players of all time in his team on the reality show. He has starred in a horror series on television and has acted in a film as well. He has also shown his talent as an entrepreneur by giving his name to a fragrance line and a collection of men's clothing which has earned him millions of dollars each year.
Recommended Lists:
Recommended Lists:
Continue Reading Below
Childhood & Early Life
Adam Noah Levine was born on March 18, 1979 in Los Angeles. His mother was an admissions counselor named Patsy Noah Levine, and his father was Fred Levine, the owner of the retail chain named 'M. Fredric'. His uncle was Timothy Noah who was a journalist and an author and his two older brothers were Sam and Michael.

When he was only seven, his parents got divorced. He had to undergo therapy for hysteria when he learned about the divorce.

He joined 'Brentwood School' where he met Mickey Madden, Ryan Dusick and Jesse Carmichael who would join his band later.

He attended high school but was more interested in music than his studies. He took drugs during adolescence.

After graduating from school he went to New York and joined the Five Towns College, Long Island, but dropped out after the first semester.

Continue Reading Below

Recommended Lists:

Recommended Lists:

Career

Adam Levine formed the band 'Kara's flowers' in 1995 with his schoolmates Jesse Carmichael, Mickey Madden and Ryan Dusick and appeared for the first time at a West Hollywood night club named 'Whisky a Go Go'.

Tommy Allen, an independent producer, discovered them in 1997 when they were playing at a Malibu beach party. They joined 'Reprise Records' and recorded their first 11-track album with the help of Tommy Allen and John DeNicola.

In 1997, the first album titled 'The Fourth World' was released by 'Kara's Flowers'. They played in an episode of 'Beverly Hills, 90210' in the same year.

After dropping out of the Five Towns College in New York, he joined his earlier band mates to start a band for the second time.

He came in contact with Ben Berkman, David Boxenbaum and James Diener who worked for 'Octone Records'. James Valentine was inducted into the band and its name was changed to 'Maroon 5'.

During this period a family friend named Barbara Hill, producer of 'Judging Amy' on CBS Television gave Levine an assistant writer's job.

While working for the show he started writing songs in memory of his ex-girlfriend Jane, which came out with the first album of 'Maroon 5' under the title 'Songs About Jane' and was released in 2002 and became an instant hit.

Continue Reading Below

He was featured in a song 'Live again' by a hip-hop duo in 2005 and in the same year sang a single 'Heard 'Em Say' for Kayne West's album. .

The band under Levine started to record their songs again by 2006. The band released their second album 'It Won't Be Soon Before Long' in 2007. The same year, he appeared on TV in the show "Saturday Night Live'.

In 2008, he performed in the TV show 'Night of Too Many Stars'. He recorded a single 'Gotten' in 2009 for the album 'Slash'. The same year the band collaborated with songwriter and record producer Robert John "Mutt" Lange to start recording again.

He was one of the 80 musicians who sang 'We Are The World 25 for Haiti' in 2010.

Levine and his band released their third album 'Hands All Over' in 2010 which was moderately successful.

In 2011, he came out with the single 'Moves Like Jagger' which was very successful and sold millions of copies in 2011 and 2012. The same year Levine appeared in the song 'Stereo Hearts' and started serving as a judge/coach for the reality show 'The Voice'.

He appeared in the horror show 'Asylum' and was cast in the film 'Begin Again' in 2012.

Continue Reading Below

In 2013, he collaborated with 'ID Perfumes' for a line of fragrances for men and women and partnered with 'Sear's Holdings' for developing apparel and accessories for men.

The band's next album 'Overexposed' was released in 2012 and the band went on a world tour in 2012-2013.

The fifth album of the band 'V' was released in 2014 and was followed by a world tour in 2015.

Recommended Lists:

Recommended Lists:

Awards & Achievements

Adam Levine and 'Maroon 5' won the first Grammy Award in 2005 for 'Best New Artist'.

In 2006, Levine and his band won the second 'Grammy Award' for 'Best Pop Performance by a Duo or Group with Vocals'

In 2013, he was declared 'Sexiest Man Alive' by the 'People' magazine.

Recommended Lists:

Recommended Lists: