Aaron Eckhart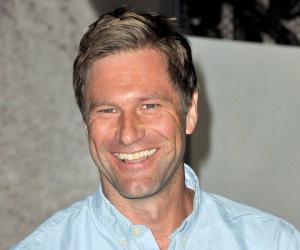 Quick Facts
Nationality: American
Famous: Quotes By Aaron Eckhart Actors
Age: 50 Years, 50 Year Old Males
Sun Sign: Pisces
Also Known As: Aaron Edward Eckhart
Born in: Cupertino
Famous as: Actor
Height: 1.83 m
Family:
father: James Conrad Eckhart
mother: Mary Martha Eckhart
Net worth: $25 million as of Mar 18, 2017
More Facts
education: Brigham Young University
Continue Reading Below
Aaron Eckhart is an American film and stage actor who shot to international fame with his performance in the highly successful film 'Erin Brockovich' in 2000. He gained further prominence following his portrayal of Nick Naylor in 'Thank You for Smoking.' A very popular star today with numerous critically acclaimed performances under his belt, it is hard to imagine that he was once a struggling, unemployed actor who could hardly make ends meet. Interested in acting from his school days, he left school to take up a job with the Warringah Mall movie theater. He eventually resumed his education to earn a Bachelor of Fine Arts degree in film. Despite being good-looking and talented, he was unable to build a successful acting career for years. His fortunes changed for the better when he was offered the role of George in the film 'Erin Brockovich' which gave his failing career a much needed boost. Having gained notice for his striking looks and impressive talents, he was flooded with film offers and before long established himself as a respected character actor in Hollywood. One of his recent performances was in the 2016 film 'Sully' in which he portrayed Jeff Skiles.
Recommended Lists:
Recommended Lists:
Continue Reading Below
Childhood & Early Life
Aaron Edward Eckhart was born on March 12, 1968, in California to Mary Martha, a children's book author and poet, and James Conrad Eckhart, a computer executive. He has two elder brothers, and hails from a family of mixed ancestry.

He was raised as a member of the Church of Jesus Christ of Latter-day Saints church, and served a two-year LDS mission in France and Switzerland before moving to England.

At England, Eckhart attended the American Community School. It was during his years at the school that the bug of acting bit him. He was first introduced to acting, in his school production.

In 1985, he moved to Sydney. There he attended the American International School of Sydney where his love for acting found further impetus. He appeared in the school's stage productions and honed his acting skills. However he did not have any interest in studies and thus dropped out to take up a job at the Warringah Mall movie theater.

He eventually realized the value of a formal professional degree and enrolled as a film major at Brigham Young University–Hawaii upon his return to the US in 1988. He later transferred to Brigham Young University (BYU) from where he graduated in 1994 with a Bachelor of Fine Arts degree. He had appeared in a number of theatrical productions during his university years.

Continue Reading Below

Recommended Lists:

Recommended Lists:

Career

Following his graduation Aaron Eckhart moved to the New York City where he initially struggled to find meaningful acting jobs, ending up with only small roles in television series or commercials. To make ends meet, he worked in a string of other jobs as a bartender, bus driver, and construction worker.

He found a minor breakthrough in 1997 when the director/writer Neil LaBute, who was already acquainted with Eckhart, offered him a role in a film adaptation of LaBute's stage play 'In the Company of Men.' Eckhart's portrayal of a frustrated office worker in his debut film was well-received.

In 1998, he appeared in another one of LaBute's black comedies, 'Your Friends & Neighbors' as a sexually-frustrated man trapped in an unhappy marriage. The same year, he also acted as Nick in 'Thursday.'

It was only in 2000 that Aaron Eckhart got his first taste of mainstream success. He played the role of George in the much acclaimed biographical movie 'Erin Brockovich' which had Julia Roberts in the lead role. Following this role, he began to get meaningful offers more easily.

Over the next few years he appeared in several movies like 'The Pledge' (2001), 'Possession' (2002), 'The Missing' (2003), and 'Suspect Zero' (2004). In 2004 he also appeared in David Mamet's 'Oleanna' at the Garrick Theatre. His performance in the stage production earned him much appreciation.

The year 2006 was a highly productive one for Aaron Eckhart. He portrayed Nick Naylor in the comedy-drama 'Thank You for Smoking', and Sgt. Lee Blanchard in the crime thriller film 'The Black Dahlia.' His performance in the former earned him a nomination for the Golden Globe Award for Best Actor – Motion Picture Musical or Comedy.

Aaron Eckhart landed the role of Harvey Dent in the 2008 superhero crime thriller film 'The Dark Knight' which also had Christian Bale as Bruce Wayne and Heath Ledger as The Joker. Producer Christopher Nolan had specifically chosen Eckhart for the role of Dent as he was much impressed with the actor's extraordinary ability to play "gray" characters.

Continue Reading Below

He shared the screen space with Nicole Kidman in the drama film 'Rabbit Hole' in 2010 wherein he played Howie, a young father who has to deal with the death of his little son. The movie was a critically acclaimed one. For this movie, Kidman herself had selected Eckhart to play the character of her husband.

In 2011, Aaron Eckhart appeared in the epic military science fiction war film 'Battle: Los Angeles' directed by Jonathan Liebesman. He played the role of a retiring Marine Staff Sergeant USMC SSgt Michael Nantz who must go back into the line of duty to lead a platoon of U.S. Marines and a U.S. Air Force sergeant during a global alien invasion.

His more recent films include 'Olympus Has Fallen' (2013), 'I, Frankenstein' (2014), and 'My All American' (2015). In 2016, he appeared in the film 'Sully' which was a critical as well as commercial success. The same year, he also acted in 'Bleed for This' as Kevin Rooney.

Major Works

Aaron Eckhart rose to mainstream recognition with the role of George in the award-winning movie 'Erin Brockovich' which established him as a character actor.

His portrayal of a tobacco industry lobbyist Nick Naylor in the movie 'Thank You for Smoking' was much appreciated. Acclaimed for his skills in portraying dark characters with a streak of goodness, he once again proved his mettle with this role.

Awards & Achievements

In 1997, Aaron Eckhart received the Independent Spirit Award for Best Debut Performance and the Satellite Award for Outstanding New Talent for playing the role of Chad in 'In the Company of Men.'

For his movie, "Thank You For Smoking", Eckhart was nominated by the Independent Spirit Award for Best Male Lead and St. Louis Gateway Film Critics Association Award for Best Actor

In 2008, he was awarded the Central Ohio Film Critics Association Award for Best Acting Ensemble People's Choice Award for Favorite Cast for 'The Dark Knight.' The same year, he was nominated by Broadcast Film Critics Association Award for Best Cast, Saturn Award for Best Supporting Actor and Scream Award for Best Villain for the same film.

In 2010, he was nominated by the Independent Spirit Award for Best Male Lead and San Diego Film Critics Society Award for Best Actor for his role in the film 'Rabbit Hole'.

Personal Life & Legacy

Aaron Eckhart likes to maintain his privacy and is reluctant to speak publicly about his personal relationships. He once dated country music songwriter Kristyn Osborn in the mid-2000s. Prior to that, he was engaged to actress Emily Cline in the 1990s though their relationship did not culminate in marriage.

1. The Dark Knight (2008)

(Action, Crime, Drama, Thriller)

2. Sully (2016)

(Drama, Biography)

---

3. Erin Brockovich (2000)

(Drama, Biography)

4. Thank You for Smoking (2005)

(Drama, Comedy)

---

---

5. In the Company of Men (1997)

(Comedy, Drama)

6. Thursday (1998)

(Crime, Thriller, Drama, Comedy, Mystery, Action)

---

---

---

7. My All-American (2015)

(Sport, Biography, Drama)

8. Rabbit Hole (2010)

(Drama)

---

---

---

---

| | | |
| --- | --- | --- |
| 2009 | Favorite Cast | The Dark Knight (2008) |

Translate Wiki

to Spanish, French, Hindi, Portuguese

Article Title

- Aaron Eckhart Biography

Author

- Editors, TheFamousPeople.com

Website

- TheFamousPeople.com

URL

-

https://www.thefamouspeople.com/profiles/aaron-eckhart-572.php

Last Updated

- February 06, 2017

---

---

---