Aaliyah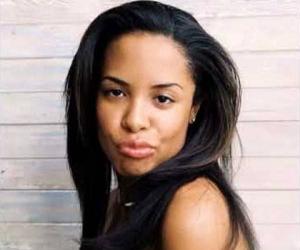 Quick Facts
Birthday: January 16, 1979
Nationality: American
Famous: Quotes By Aaliyah Died Young
Died At Age: 22
Sun Sign: Capricorn
Born in: New York City
Famous as: Singer, Dancer, Actor & Model
Family:
Spouse/Ex-: R. Kelly
father: Michael Haughton
mother: Diane
siblings: Rashad Haughton
place of death: Marsh Harbor
U.S. State: New Yorkers
Cause of Death: Plane Crash
Net worth: $10 million
More Facts
education: Detroit High School for the Fine and Performing Arts, Detroit, MI
Continue Reading Below
Aaliyah was an American singer best known for her debut album 'Age Ain't Nothing but a Number' which sold three million copies in the United States. Her second album was also a resounding success and she soon became one of the hottest youth icons in the 1990s. Interested in music from an early age, she had inherited her singing talents from her vocalist mother. The recording artist Gladys Maria Knight was her close relative and played a major role in introducing young Aaliyah to the show business. She travelled often with Gladys and began auditioning for commercials and television programs. She got lucky and signed a deal with Jive Records and her uncle Barry Hankerson's Blackground Records, at the young age of 12. Her debut album, recorded when she was just 14 proved to be a sensational hit and is said to have defined R&B in the 1990s. A phenomenally successful singing career followed and she soon ventured into films as well, making her debut as an actress in 'Romeo Must Die' starring opposite martial artist Jet Li. She also served as an executive producer of the film's soundtrack, where she contributed four songs. The rising star met an abrupt end in an aircraft crash in 2001, aged just 22.
Recommended Lists:
Recommended Lists:
Continue Reading Below
Childhood & Early Life
Aaliyah Dana Haughton was born on January 16, 1979, in Brooklyn, New York, to Diane and Michael Haughton. She had one brother who she was very close to. She was very family oriented, and had close relations with her parents and grandmother also.

Her mother was a vocalist and young Aaliyah began singing when she was a little child, performing at weddings, church choir and charity events. Her uncle Barry Hankerson was married to recording artist Gladys Knight who played a major role in introducing Aaliyah to the show business.

With support from Gladys, Aaliyah auditioned for commercials and television programs, and also for several record labels. She started appearing in concerts alongside Gladys when she was 11.

Continue Reading Below

Recommended Lists:

Recommended Lists:

Career

Aaliyah signed with Jive Records and her uncle Barry Hankerson's Blackground Records when she was just 12. Her debut album, 'Age Ain't Nothing but a Number', recorded when the singer was just 14, was released in 1994.

In its very first week, the album sold almost 74, 000 copies. Soon it reached from the 24th to the 18th position in Billboard 200, eventually selling over three million copies in the United States, where it was certified double Platinum by the RIAA.

The tremendous success of the album catapulted Aaliyah to international stardom. During this time, rumors of her illegal marriage to her mentor and recording artist and producer R. Kelly began circulating.

In order to silence the rumors, Aaliyah left Jive Records and signed a contract with Atlantic Records, under which she released her second album 'One in a Million' in 1996. This album was also a major success. It peaked at No. 18 on the Billboard 200, and sold over 3.7 million copies in the United States and over eight million copies worldwide. It too, was certified double platinum by the RIAA.

During this time she also attended the Detroit High School for the Fine and Performing Arts, where she majored in drama and graduated in 1997. Following her graduation she began her acting career with the television series 'New York Undercover'.

In 1997, she contributed on the soundtrack album for the animated feature 'Anastasia', performing a cover version of 'Journey to the Past'. She then performed the song at the 1998 Academy Awards ceremony and became the youngest singer to perform at the event. The song 'Are You That Somebody?' featured on the 'Dr. Dolittle' soundtrack and earned Aaliyah her first Grammy Award nomination.

In 1999, she was selected to play her first film role in the action movie 'Romeo Must Die', starring opposite martial arts star Jet Li. The film, released in 2000 was a huge commercial hit. Along with acting, she also served as an executive producer of the movie's soundtrack and performed the hit single 'Try Again' among others.

Continue Reading Below

Her third album, 'Aaliyah', released in July 2001, reached No. 2 on the Billboard album chart. The album sold more than 190, 000 copies in the first week itself. Within five weeks it was certified Gold and later double platinum by RIAA.

Recommended Lists:

Recommended Lists:

Major Works

Aaliyah's debut album 'Age Ain't Nothing but a Number' spawned the hit singles 'Back & Forth' and 'At Your Best (You Are Love)', both of which were certified Gold by the RIAA. The album went on to sell over six million copies worldwide.

Recommended Lists:

Recommended Lists:

Awards & Achievements

At the American Music Awards of 2002, Aaliyah won two posthumous awards: Favorite Female R&B Artist and Favorite R&B/Soul Album for 'Aaliyah'.

She was ranked in the VH1's 2003 The Greatest series as one of the "Top 40 Women of the Video Era".

Aaliyah was ranked at No.70 on Billboard magazine's Top Artists of the Decade, while her eponymous album stood at the 181th position on the magazine's Top 200 Albums of the Decade in December 2009.

Billboard has listed Aaliyah as the 10th most successful female R&B artist of the past 25 years, and 27th most successful R&B artist overall.

Recommended Lists:

Recommended Lists:

Personal Life & Legacy

It was once rumored that Aaliyah had wed R. Kelly in an illegal marriage that was later annulled. The pair, however, denied marriage allegations. She was dating Damon Dash, co-founder of Roc-A-Fella Records, at the time of her death.

Aaliyah, along with her crew, flew to Bahamas on August 25, 2001, to shoot the music video for the song, 'Rock the Boat'. Completing the shoot early, the crew, eager to return to Florida instead of waiting for the next day as per schedule, boarded a small private airplane.

The designated plane was smaller than the one the crew had arrived in, but the whole party and all of the equipment were accommodated on board, overloading the plane with a surplus of 320 kg and one excess passenger. The plane crashed soon after take-off, killing everyone on board.

Credited with redefining R&B and hip hop in the 1990s, Aaliyah was paid tribute at the 2001 MTV Video Music Awards.

Recommended Lists:

Recommended Lists:

1. Romeo Must Die (2000)

(Crime, Thriller, Action)

2. Queen of the Damned (2002)

(Drama, Horror, Fantasy)

---

| | | |
| --- | --- | --- |
| 2000 | Best Female Video | Aaliyah: Try Again (2000) |
| 2000 | Best Video from a Film | Aaliyah: Try Again (2000) |
| 2000 | Best Video from a Film | Romeo Must Die (2000) |

Translate Wiki

to Spanish, French, Hindi, Portuguese

Article Title

- Aaliyah Biography

Author

- Editors, TheFamousPeople.com

Website

- TheFamousPeople.com

URL

-

https://www.thefamouspeople.com/profiles/aaliyah-558.php

Last Updated

- March 30, 2017

---

---

---