Will Keith Kellogg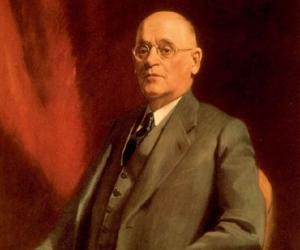 Quick Facts
Nationality: American
Famous: Philanthropists American Men
Died At Age: 91
Sun Sign: Aries
Born in: Battle Creek
Famous as: Founder of the Kellogg Company
Family:
siblings: John Harvey Kellogg
place of death: Battle Creek
U.S. State: Michigan
Founder/Co-Founder: W. K. Kellogg Foundation, Kellogg's
Continue Reading Below
Will Keith Kellogg (W.K. Kellogg) was an American industrialist best known as the founder of the Kellogg Company which produces a wide variety of popular breakfast cereals. The company which originally made only toasted cornflakes enjoyed great success which motivated Kellogg to expand the range of breakfast products the company manufactured and sold. He was an astute businessman blessed with great entrepreneurial and marketing skills. Through his hard work and unrelenting determination he made his company the market leader in the packaged breakfast food market in America for most of the first half of the 20th century. Born into a large family in Michigan, Kellogg dropped out of school as a teenager and helped his father in his business. He realized that he was naturally gifted with a keen business sense that would greatly aid him in his future endeavors. He later joined his brother John Harvey Kellogg in running the Battle Creek Sanitarium where the brothers pioneered the process of making flaked cereal. Following a dispute with his brother, Will went his separate way and formed the Battle Creek Toasted Corn Flake Company which later became the Kellogg Company. Along with being a highly successful businessman Kellogg was also known to be a large-hearted philanthropist who played an instrumental role in the founding of California State Polytechnic University, Pomona.
Recommended Lists:
Recommended Lists:
Continue Reading Below
Childhood & Early Life
Will Keith Kellogg was born on April 7, 1860, in Battle Creek, Michigan, to Ann Janette and John Preston Kellogg as the seventh of their 16 children. His father had a broom-manufacturing business and both his parents were staunch Seventh Day Adventists who believed Christ's Second Coming was imminent.

Will was interested in business affairs from a young age and by the time he was 13, he was frequenting local grocery stores selling his father's brooms. He dropped out of school in his mid-teens and joined his father's business.

Recommended Lists:

Recommended Lists:

Career

Will Keith Kellogg worked with his father until 1880. Then he went on to complete a three-month program at Parson's Business College in nearly Kalamazoo. By this time his elder brother John had graduated from medical school and had taken over the Adventist Health Reform Institute which was renamed the Battle Creek Sanitarium. John Kellogg advocated a lifestyle that relied on a vegetarian diet, fresh air, and plenty of exercise.

W.K. Kellogg joined his brother at the sanitarium. The sanitarium was a popular one, and since John did not have time for its routine operations, he appointed Will as the business manager. The younger Kellogg diligently performed the routine operations of the health centre and put in long hours of hard work. However, he did not receive the recognition he deserved and his pay was also low.

At this time Dr. John Kellogg was experimenting with new foods and was trying to develop healthy vegetarian foods to serve to his patients. In 1894, Will accidentally discovered the method of making toasted wheat flakes which proved to be a nutritious breakfast product. The brothers were delighted at this discovery and soon realized that the process worked just as well with oats, rice and corn.

The Kellogg brothers started the Sanitas Food Company around 1897 which promoted their whole grain cereals as a healthy and convenient breakfast option. W.K. Kellogg had great persuasive skills and he helped market the cereals to the target consumers.

W.K. Kellogg realized that the process of making cereals held great commercial potential and faced the threat of being copied by others, so he asked his brother to keep the process of making the cereals a secret. John however disagreed and took no steps to guard the secret.

One of John's patients, a man named C. W. Post observed the cereal-making process closely and quickly opened his own business called Postum Cereals which went on to become highly profitable. This incident angered Will a lot and his relations with his brother John soured to such an extent that he left the sanitarium to start his own business.

W.K. Kellogg founded the Battle Creek Toasted Corn Flake Company in 1906 which later became the Kellogg Company. Initially the company sold only corn flakes, but gradually expanded to include other types of breakfast cereals also. Kellogg worked long hours, and focused on marketing his products as unique and healthy. His advertising tactics worked and before long Kellogg Company was one of the market leaders in breakfast cereals in the United States.

Continue Reading Below

He also had a long time interest in Arabian horses. He established an Arabian horse ranch in 1925 in California. The ranch became popular for its horse breeding program and for its entertaining weekly horse exhibitions which were open to the public. These exhibitions were also frequented by Hollywood celebrities. Kellogg donated the ranch to the University of California in 1932.

Major Works

W. K. Kellogg is best known as the founder of the Kellogg Company which produces a variety of cereal and convenience foods, including cookies, crackers, toaster pastries, cereal bars, and fruit-flavored snacks. The company's products are manufactured in 18 countries and marketed in over 180 countries.

Philanthropic Works

He was a well-known philanthropist who used his personal wealth to fund many worthy causes. In 1930, he formed the W. K. Kellogg Foundation to help families pay for the care of their injured and sick children. Eventually the foundation broadened its focus, contributing to a wide range of charitable causes.

The California State Polytechnic University, Pomona (Cal Poly Pomona) was founded on the land donated by Kellogg while the Kellogg College in England was founded with financial assistance from the W.K. Kellogg Foundation.

Personal Life & Legacy

His first marriage was to Ella Davis in 1880. The couple had five children, three of the children predeceased him. Ella died in 1912.

He tied the knot with Carrie Staines Kellogg in 1918.

He lived a long life, and spent most of his later years engaged in philanthropic endeavors. W. K. Kellogg died at the age of 91 in Battle Creek, Michigan, on October 6, 1951.

Translate Wiki

to Spanish, French, Hindi, Portuguese

Article Title

- Will Keith Kellogg Biography

Author

- Editors, TheFamousPeople.com

Website

- TheFamousPeople.com

URL

-

https://www.thefamouspeople.com/profiles/will-keith-kellogg-6624.php

Last Updated

- October 30, 2017

---

---

---