Walter Duranty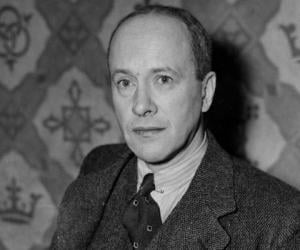 Quick Facts
Nationality: British
Famous: Journalists British Men
Died At Age: 73
Sun Sign: Gemini
Born Country: England
Born in: Liverpool, United Kingdom
Famous as: Journalist
Family:
Spouse/Ex-: Jane Cheron
father: William Steel Duranty
mother: Emmeline
place of death: Orlando, Florida, United States
Notable Alumni: University Of Cambridge
More Facts
education: Bedford College, London, Emmanuel College, University of Cambridge
awards: Pulitzer Prize for Correspondence
Continue Reading Below
Walter Duranty was an English-born Anglo-American journalist who worked with 'The New York Times' from 1922 to 1936. In 1932, he was awarded with a Pulitzer Prize for the reports he wrote on the Soviet Union. Born in a middle-class household to a merchant, Duranty attended Harrow, one of the most popular schools in Britain. After his family faced a financial collapse, he transferred to London's Bedford College. He later gained a scholarship to complete his education at Cambridge's Emmanuel College. During his college years, Duranty enjoyed his life thoroughly. Following his graduation with a first-class degree, he joined 'The New York Times' as a reporter. As a journalist, he covered the Great War. Between 1918 and 1921, Duranty earned a good reputation for preparing reports on the Russian Revolution. Following the war, he became the Moscow Bureau Chief for 'The New York Times,' a post he held for fourteen years. Duranty died in 1957 at the age of 73.
Recommended Lists:
Recommended Lists:
Childhood & Early Life
Walter Duranty was born on 25 May 1884, in Liverpool, England, to Emmeline and William Steel Duranty.

He attended the renowned public school, Harrow. He later transferred to London's Bedford College before attending Emmanuel College, Cambridge, on a scholarship.

After completing his education, he flew to Paris where he met magician Aleister Crowley with whom he participated in several magic rituals.

Recommended Lists:

Recommended Lists:

Career

Walter Duranty started his career as a reporter for the American newspaper 'The New York Times.' With them, he covered First World War. Following the war, he moved to Russia to report on the Civil War. He then travelled to Finland and reported on the Red Army's defeat by the White Guards.

He was against the Bolsheviks and described Bolshevism as a force that's utterly brutal in conception and implementation.

In March 1920, the journalist prepared reports on the communist rebellion in Rhineland. The following year, 'The New York Times' asked him to report on Russia's new policy of war communism.

In 1921, Walter Duranty moved to the Soviet Union. He then reported on the New Economic Policy (NEP) but his articles failed to receive attention.

His 1929 interview with Soviet politician Joseph Stalin increased his popularity as a journalist. He then settled in Moscow where he stayed for twelve years.

Duranty�

In 1931, Walter Duranty prepared several reports on the Soviet Union and earned the 1932 Pulitzer Prize for the same.

In his report, he argued that the Russians were "Asiatic" in their thoughts. According to them, private enterprise and individuality were alien concepts that were unacceptable just like communism to the western world.

The journalist said that Joseph Stalin scrapped the NEP because he had no fear of political competition. Duranty also believed that Stalin had initially drafted the five-year plan to improve the life of Russian people.

He stated that the Soviet Union's mindset during this time contrasted with Karl Marx's ideas.

Continue Reading Below

The journalist stated that people who were sent to the labor camps had two options – either to rejoin the Soviet society or become underprivileged foreigners. He also said that death could be the only fate for individuals who stood against the system.

Although Duranty admitted the Stalinist government was harsh, he defended the government by saying that dictatorship was indeed necessary. He also praised Stalin and compared him to Ivan the Terrible. In 1933, he earned appreciation from Stalin for telling the truth about their nation.

Reporting the Famine of 1932�

On 31 March 1933, Walter Duranty attacked the British journalist Gareth Jones through his reports in 'The New York Times.' He criticized him for saying that the Soviet Union was experiencing a famine.

He admitted that although there had been food shortages in the country, there was no actual starvation. He further added that there had been mortality due to malnutrition.

On 23 August 1933, Duranty wrote in 'The New York Times' that the report on a famine is just an exaggeration. He admitted that the food shortage which affected the country, particularly the grain-producing areas like Ukraine, did result in heavy loss of life.

Sally J. Taylor, author of Duranty's biography argues that his reporting from the USSR was the major factor that prompted American President Franklin D. Roosevelt to grant official acknowledgement to the Soviet Union.

Later Career

In 1934, Walter Duranty left Moscow. He, however, continued working for 'The New York Times,' this time as a special correspondent.

In 1935, the journalist wrote his autobiography titled "I Write as I Please".

After 1940, he wrote many books on the Soviet Union, including "USSR: The Story of Soviet Russia" and "Stalin & Co.: The Politburo, The Men Who Run Russia".

Calls for Revocation of Duranty's Pulitzer Prize

Walter Duranty's reporting on the Soviet Ukraine's famine earned him a Pulitzer Prize in 1932. However, several calls for revocation of the award were made after his death.

'The New York Times' asked one of their editors Karl Meyer to write an editorial about Walter Duranty's work for the newspaper. Meyer criticized Duranty and called his work "some of the worst reporting to appear in this newspaper."

In 1990, The Pulitzer Board reconsidered the prize. However, they decided not to revoke it. Again in 2003, the board renewed an inquiry after an operation by the Ukrainian Canadian Civil Liberties Association.

'The New York Times' hired Russian history professor Mark von Hagen to review Duranty's work. Hagen, who found his reports uncritical, asked the Pulitzer Board to take away the award. However, the board once again declined to revoke the prize.

Family & Personal Life

According to Sally J. Taylor's biography, Walter Duranty married magician Crowley's mistress, Jane Cheron.

He died in Florida on 3 October 1957, and was interred at New York City's Greenwood Cemetery.

Translate Wiki

to Spanish, French, Hindi, Portuguese

Article Title

- Walter Duranty Biography

Author

- Editors, TheFamousPeople.com

Website

- TheFamousPeople.com

URL

-

https://www.thefamouspeople.com/profiles/walter-duranty-3155.php

Last Updated

- January 08, 2020

---

---

---