Christiane Amanpour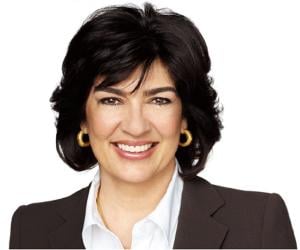 Quick Facts
Birthday: January 12, 1958
Nationality: Bosnian, Iranian, British, American
Famous: Journalists British Women
Age: 61 Years, 61 Year Old Females
Sun Sign: Capricorn
Born Country: England
Born in: London
Famous as: Journalist
Height: 1.71 m
Family:
Spouse/Ex-: James Rubin (m. 1998)
father: Mohammad Amanpour
mother: Patricia Amanpour
siblings: Lizzy Amanpour
children: Darius John Rubin
religion: Christianity
City: London, England
More Facts
education: University of Rhode Island (1983), New Hall School, Holy Cross Convent School
awards: Commander of the Order of the British Empire
Peabody Award
George Polk Award

Alfred I. duPont–Columbia University Award
Edward R. Murrow Award

Continue Reading Below
Christiane Amanpour is a renowned British-Iranian journalist and a television host. She currently works for CNN as the chief international correspondent. She also hosts the program 'Amanpour' where she speaks to powerful leaders on issues of the world. She began her career as an entry-level assistant for CNN in Atlanta and soon climbed the ladder to become a reporter and later a correspondent. Her reportage during times of conflict in war-ridden nations made her immensely popular with the audiences. She has reported on the Gulf War, the trial of Saddam Hussein, and the siege of Sarajevo. She has also covered events and wars in Afghanistan, Bosnia, Iraq, Rwanda, and Saudi Arabia. Apart from this, she has reported on several humanitarian crises as well, including the earthquake in Haiti and Hurricane Katrina. She is the recipient of several journalism awards and is a UNESCO Goodwill Ambassador for Freedom of the Press and the Safety of Journalists. She actively fights for the rights of the downtrodden and the innocent. She has been honored with a CBE by the Queen, named among the 100 most powerful women by Forbes, and has been included in the Cable Hall of Fame.
Recommended Lists:
Recommended Lists:
Continue Reading Below
Childhood & Early Life
Christiane Amanpour was born on January 12, 1958 in London to Mahmoud Amanpour and Patricia Hill. Her family soon moved to Tehran but she returned to England when she was 11 to attend the Holy Cross Convent School in Buckinghamshire; she later went to the New Hall School.

After the Islamic Revolution began in Iran, the Amanpour family left Iran and settled in England. Christiane moved to the United State to study journalism at the University of Rhode Island and graduated summa cum laude and Phi Beta Kappa in 1983.

Christiane Amanpour was clear early in her life that she wanted to be a journalist. Her first reporting experiences happened through internships at the university radio station and the local commercial TV station. She also briefly interned at BBC and her work was presented on Radio 4's The World Tonight.

Recommended Lists:

Recommended Lists:

Career

Christiane Amanpour started her career as an NBC affiliate in Rhode Island but was hired by CNN as an entry-level assistant for the international news desk in September 1983. She soon worked for the New York City bureau and later shifted to Frankfurt as a reporter when a slot was open.

Her move to Frankfurt played a great role in shaping her career. She reported on the democratic revolutions sweeping across Europe and soon became the go-to reporter for CNN.

She covered the Gulf War in 1990 and became a familiar face as she covered it from the Iraqi invasion of Kuwait to the victory of the U.S. coalition. Her groundwork and grit was recognized and she was soon asked to cover other countries. She also reported on the Kurdish uprising in Iraq.

In 1992, she went to Bosnia and Herzegovina to cover the war. Her fearlessness and courage was lauded and she was promoted as CNN's chief international correspondent. She calls her visit and coverage of Bosnia the high point of her career.

From 1992 to 2010, Amanpour continued to report from the field in several countries, including Iraq, Afghanistan, Iran, Israel, Pakistan, Somalia, and Rwanda. She managed to secure exclusive interviews with world leaders.

She was contacted by Don Hewitt to come up with four or five in-depth international news reports from 1996 to 2005 each year as a special contributor. Her reportage not only made her more successful but garnered her more awards.

She was the first correspondent to interview Tony Blair, Pakistani president Pervez Musharraf and Afghan President Hamid Karzai after the 9/11 attacks. During the Arab Spring, she interviewed Libya's former leader 'Colonel' Muammar Gadhafi. She was also the last journalist who interviewed Egypt's President Hosni Mubarak.

Continue Reading Below

Among her other coverage and exclusives are the interviews with President Nicolas Maduro, President Dilma Rousseff, Constantine II of Greece, Ameera al-Taweel, Tom Hanks and Meryl Streep. She considers her interview with Sudan's President Omar Hassan al-Bashir her toughest.

She has to her credit several award-winning documentaries, including 'Where Have All the Parents Gone?' (2006) which focused on Kenyan children orphaned because of AIDS. The documentaries 'In the Footsteps of bin Laden' (2006) and The War Within (2007) covered the atmosphere of Islamic unrest in the United Kingdom.

In March 2010, Amanpour announced that she would be working with ABC News and leave CNN after a long stint of 27 years. She anchored 'This Week' at ABC. However, the ratings for the show dipped when she was the anchor.

She announced in December 2011 that she would quit her post and return to CNN International. However, she continues to be a reporter for ABC News. She remains a part of both the networks. She is a global affairs anchor for ABC news and the chief correspondent for CNN International.

In 2012, her show 'Amanpour' was brought back on air. It was previously aired between 2009 and 2010. The show is CNN International's flagship global affairs interview program where issues pertaining to today's world and the consequences of human action are discussed at length.

Recommended Lists:

Recommended Lists:

Major Works

Christiane Amanpour is the host of the show 'Amanpour', which has been running for over 5 years. She discusses and argues with global leaders and decision makers on the issues affecting the world today and its impact in the future. The show is currently aired on PBS.

Recommended Lists:

Recommended Lists:

Awards & Achievements

Christiane Amanpour has won several prestigious awards in her illustrious career as a journalist, including The Fourth Estate Award, two George Foster Peabody Personal Awards, Goldsmith Career Award, and the Paul White Award.

Continue Reading Below

She has several honorary degrees and accolades, including an Honorary Doctor of Humane Letters degree from Emory University, an Honorary doctorate degree from the University of Michigan, and Honorary doctorate of humane letters from the University of Southern California.

In 2007, she was named a Commander of the Order of the British Empire (CBE) by the Queen for her contributions to journalism. Her journalism and reportage was considered hard-hitting and insightful.

She was announced as the 2015 TV Personality of the Year by Association for International Broadcasting. Aside from these honors, she is also the Director on the board of the Committee to Protect Journalists and a Fellow for Society of Professional Journalists. Personal Life & Legacy

Personal Life & Legacy

Christiane Amanpour married James Phillip Rubin, the Assistant Secretary of State for Public Affairs, in 1998. The couple met in 1997 in Bosnia. She was on an assignment and he was traveling with Secretary of State. They have a son, Darius John Rubin. They are currently settled in London.

She previously dated Luc Delahaye, a combat photographer and Paul Marchand, a radio journalist.

Trivia

She has appeared in an episode of 'Gilmore Girls' as herself. She also made appearances in the movies 'Iron Man 2' and 'Pink Panther 2.'

She is an accomplished equestrian and competed as a jockey when she was a child.

Translate Wiki

to Spanish, French, Hindi, Portuguese

Article Title

- Christiane Amanpour Biography

Author

- Editors, TheFamousPeople.com

Website

- TheFamousPeople.com

URL

-

https://www.thefamouspeople.com/profiles/christiane-amanpour-9855.php

Last Updated

- July 17, 2018

---

---

---