Vani Ganapathy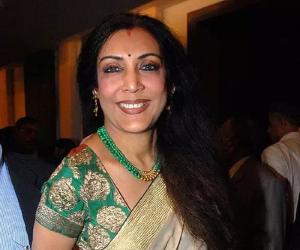 Quick Facts
Nationality: Indian
Famous: Classical Dancers Indian Women
Also Known As: Vani Ganpati
Born in: Kolkata, India
Famous as: Classical Dancer
Height: 1.70 m
Family:
Spouse/Ex-: Kamal Haasan (ex-husband)
father: Ganapathy K V
mother: Indubala Ganapathy
siblings: Meera (sister)
Continue Reading Below
Vani Ganapathy (also spelt Vani Ganapati) is an Indian practitioner of Bharatanatyam, a classical dance form that originated in the Indian state of Tamil Nadu. By far its foremost exponent in the recent times, she has played an integral part in its rise to international recognition. It was her mother who indoctrinated her to the dance form at the age of four. Under the tutelage of Guru T. A. Rajalakshmi, she learned the initial steps of her chosen craft and by the time she turned seven, she had already performed her "arangetram" (first public performance). In later years, she also trained under the likes of Mahalingam Pillai, Govindaraja Pillai and Kalyanasundaram. In the 1970s, Ganapathy became involved with a program called 'The Rich Heritage', which was one of the flagship shows of Doordarshan in its early days. Around 1994, she founded Sanchari, her own dance school. For her illustrious career and contribution to Indian art and culture, Ganapathy received the Excellence Award from then Chief Minister of Tamil Nadu, MG Ramachandran.
Career
Vani Ganapathy was introduced to the world of dance by her mother, Indubala Ganapathy. The family then lived in Calcutta, the cultural capital of India, and she was raised in a household that encouraged artistic pursuits. At four, she began training under Bharatanatyam guru T. A. Rajalakshmi and only after three years, she danced her arangetram, the debut on-stage performance of a former student. The outing helped her form a deeper connection with the dance form.

A few years later, she and her family moved to Bombay (now Mumbai) and Ganapathy had the opportunity to be taught by nattuvanars of the same bani (tradition): Gurus Mahalingam Pillai, Govindaraja Pillai and Kalyanasundaram. During this period, she and her sister Meera began dancing together and took the world by storm with their spirited and emotive performances. Those outings were further enhanced by the choreography by their guru Kalyanasundaram and their mother's vocal support. They garnered tremendous popularity and often were asked to perform at Bombay's Raj Bhavan for Indian and foreign dignitaries.

Ganapathy became a presenter for the mid-1970s Doordarshan show 'The Rich Heritage', which focused on the four main classical forms of dance. The program received the honour of being Doordarshan's official entry at the Blue Danube Festival in Vienna, Austria and was later shown on B.B.C.

Her decision to move to Chennai came at a critical point in her professional life. The capital of Tamil Nadu is known as the Mecca of Bharatanatyam and there, she was able to assert herself as a prominent figure in a highly exclusive community of talented individuals associated with the dance form. In 1986, she had her debut solo performance. She relocated to Bengaluru sometime later and the change in surroundings prompted her to bring about several changes in her dance and choreography.

As a professional performer, she has travelled all over the world, from the Middle East to Australia to Singapore to Malaysia to England, demonstrating her passion and skills to her ardent audience.

When she set up her dance academy, 'Sanchari', in around 1994, it signalled the beginning of a new chapter in her life. As a teacher, she has introduced hundreds of young hopefuls to Bharatanatyam and in the process, played an important role in securing the art's future survival.

Continue Reading Below

Controversies & Scandals

After their divorce in 1988, Haasan was ordered to pay alimony of an undisclosed amount to Ganapathy. Years later, in 2015, in a joint interview with his daughter Shruti, Haasan stated that the divorce had left him completely bankrupt and compelled him to live out of a rented apartment where he had to start his life afresh.

Ganapathy had previously maintained a dignified silence about their relationship and the subsequent deterioration of it. Understandably, she was upset and gave her own version of the story, for first time in 27 years since the divorce. She dismissed Haasan's claims as efforts to gain sympathy from his daughter and remarked, "... he (Haasan) was never the type who took the blame on himself — be it about his films or his personal life. He's just looking for somebody to blame all the time."

Personal Life

Vani Ganapathy was born in Calcutta (present-day Kolkata) to parents Ganapathy K. V. and Indubala Ganapathy. Her mother was a renowned vocalist for dance. She has a sister named Meera.

Ganapathy married actor, writer, and filmmaker Kamal Haasan in 1978. The union did not produce any children. The relationship fell apart when Haasan began an extra-marital affair with Sarika, a former child actress who had made the successful transition to mature roles and had a thriving film career. Ganapathy and Haasan went through a bitter divorce in 1988. She currently resides in Bengaluru, Karnataka, India.

Trivia

Besides being a dancer, Ganapathy is a well-respected interior designer. In the last few years, she has achieved remarkable success in the field.

Translate Wiki

to Spanish, French, Hindi, Portuguese

Article Title

- Vani Ganapathy Biography

Author

- Editors, TheFamousPeople.com

Website

- TheFamousPeople.com

URL

-

https://www.thefamouspeople.com/profiles/vani-ganapathy-34965.php

Last Updated

- December 26, 2017

---

---

---