Tommy Lee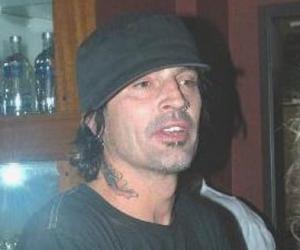 Quick Facts
Nick Name: T-bone
Age: 56 Years, 56 Year Old Males
Sun Sign: Libra
Also Known As: Tommy Lee Bass
Born Country: Greece
Born in: Athens
Famous as: Musician
Height: 6'2" (188 cm), 6'2" Males
Family:
Spouse/Ex-: Elaine Bergen (m. 1984), Heather Locklear (m. 1986–1993), Pamela Anderson (m. 1995–1998)
father: David Lee Thomas Bass
mother: Vassiliki
siblings: Athena Kottak
children: Brandon Thomas Lee, Dylan Jagger Lee
City: Athens, Greece
Founder/Co-Founder: Mötley Crüe, Methods of Mayhem
More Facts
education: Royal Oak High School, South Hills High School
Continue Reading Below
Tommy Lee, fondly known as 'T-bone' for his tall and athletic physique, propelled to fame as the drummer for the heavy metal bad, 'Mötley Crüe'. Although he is still considered one of the most talented heavy metal artists today, much of his career was dwarfed by his bizarre behind the scenes behavior and his tumultuous personal life, including one scandalous tape that went viral on the internet. Apart from the 'Mötley Crüe', he also founded the rap-metal band, 'Methods of Mayhem', along with pursuing other solo projects. When Lee was a young boy, he was heavily influenced by the works of artists like 'Deep Purple', 'Led Zeppelin', 'Judas Priest', 'Kiss' and 'Queen'. Just as his bands began to gain momentum in the world of music, he used several on-stage and off-stage gimmicks to promote his works, which to his hard luck, often backfired. He 'mooned' his fans and almost always turned up for his shows with licentious behavior that left his fans disappointed. Apart from his music career, he had a brief stretch in the television industry and has appeared in episodes of 'Tosh.0.' and 'Californication' and is also an ardent animal rights activist.
Recommended Lists:
Recommended Lists:
Continue Reading Below
Childhood & Early Life
Thomas Lee Bass was born on October 3, 1962 to David Oliver Bass and Vassiliki Papadimitriou in Athens, Greece. He has a younger sister, Athena Lee and he is of American-Welsh descent.

When he was just a year old, the family moved to West Covina, California.He was presented his first drum at the tender age of 4 and his first drum kit when he was a teenager. He quit high school to pursue a career in rock music.

As a teenager, he was highly inspired by the bands, 'Queen', 'Kiss', 'Judas Priest' and 'Led Zeppelin'. He was also influenced by the works of the drummer, Peter Criss.

Continue Reading Below

Recommended Lists:

Recommended Lists:

Career

After he quit school, he debuted with the band 'Suite 19' in the 1970s, where he met future band members for 'Mötley Crüe'. On January 17, 1980, 'Mötley Crüe' was formed with members, Nikki Sixx, Mick Mars and Vince Neil.

The band released their first album, 'Too Fast for Love' in 1981 under their very own record label, Leathür Records. However, Elektra Records decided to sign on the band and recirculated their debut album the following year.

Through the 1980s, the 'Mötley Crüe' released a sequence of hit albums including, 'Shout at the Devil', 'Theatre of Pain', 'Girls, Girls, Girls' and 'Dr. Feelgood', establishing the band as one of the most versatile hard rock/metal bands at the time.

During the 1990s, Tommy Lee became involved in turbulent relationships and was even imprisoned once for being accused by Pamela Anderson for hitting her in front of their children.

In 1999, when he was still in prison, he left his band 'Mötley Crüe' and created another band, 'Methods of Mayhem'. However, the partnership with this band was short-lived.

In 2002, he released his debut solo album, 'Never a Dull Moment', which was a mix of electronica and rap metal. Two years later, he reunited with his former band for a brief period of time and released the double-disc album, 'Red, White &Crüe'. The same year, he published his autobiography, 'Tommyland'.

In 2005, he appeared in a reality television show, 'Tommy Lee Goes to College', where he was up to his usual frolics, except this time, he was to be found in a college site. The same year, he went on a reunion tour with 'Mötley Crüe' to support, 'The Red, White & Crüe Tour 2005: Better Live Than Dead'.

Continue Reading Below

In 2006, he formed a new band, 'Rock Star Supernova' and released their debut self-titled album on November 21st the same year. Two years following the release of 'Rock Star Supernova', he appeared in the reality show, 'Battleground Earth' opposite Ludacris. The same year, he also got back with his band 'Mötley Crüe' to release their latest album, 'Saints of Los Angeles'.

In 2010, he appeared on an episode of 'Tosh.0.' aired on Comedy Central. He also agreed to appear on one episode of 'Californication' as a singer.

More recently, he has appeared with artists like dedmau5 and DJ Aero in the Meowington Hax tour, in 2011.

Recommended Lists:

Recommended Lists:

Major Works

'Too Fast for Love', Mötley Crüe's debut album released in 1981 and re-released in 1982, reached platinum status by the RIAA in the United States and reached the number 77 position on the Billboard 200. The album features the band's first hit single, 'Live Wire'.

'Shout at the Devil', released in 1983, featured a number of singles including, 'Looks That Kill', 'Shout at the Devil' and 'Too Young to Fall in Love'. This album was considered the band's breakthrough success album, which appeared in the Mainstream Rock chart and the Billboard Hot 100. The album was also awarded 4x Platinum by the RIAA.

'Never a Dull Moment', released on May 21, 2002, is his first solo album which features the hit single, 'Hold Me Down'. This single charted the Mainstream Rock chart the same year and was also featured at the number 39 position of the Billboard 200.

Awards & Achievements

He was chosen as 'Best Drummer' by Reader's Choice Awards in 'Metal Edge' magazine, in 1986 and 1987, consecutively.

Personal Life & Legacy

Tommy Lee married model, Elaine Margaret Starchuk on November 24, 1984 and divorced her in 1985.

In 1986, he married Heather Locklear, an actress and divorced her in 1993.

In 1995, he married the popular pin-up girl and Playboy Playmate, Pamela Anderson, who created headlines by wearing a bikini on her wedding day. They have two sons together.

While he was on a vacation with Anderson, the couple's sex tape was stolen and was released on the internet. She sued the video distribution company but the company (Internet Entertainment Group) and Anderson got into a mutual agreement where they agreed that the video could only be viewable by the subscribers of the website.

Pamela Anderson accused Lee of physically abusing her in front of her sons, for which he was imprisoned. They split in 1998, reunited once more and then split again in 2001. They reconciled and split again in 2008.

On June 16, 2001, a four-year-old boy drowned in Lee's swimming pool during Lee's son's birthday. He was sued for negligence by the parents of the deceased boy.

In 2007, he was thrown out of the MTV Video Awards ceremony after he allegedly got into a fight with the artist, Kid Rock.

In 2008, he announced that he was back with Anderson and the couple was living together with their children.

In 2010, he started dating Sofia Toufa, a singer and announced in February 2014 that the two were engaged.

Trivia

This popular American drummer married Pamela Anderson, three days after they met for the first time.

In 1998, this famous American musician from the 'Mötley Crüe' fame faced a lawsuit when he displayed a right-facing Nazi Swastika tattoo on his arm.

Translate Wiki

to Spanish, French, Hindi, Portuguese

Article Title

- Tommy Lee Biography

Author

- Editors, TheFamousPeople.com

Website

- TheFamousPeople.com

URL

-

https://www.thefamouspeople.com/profiles/tommy-lee-4175.php

Last Updated

- September 28, 2017

---

---

---