Pamela Anderson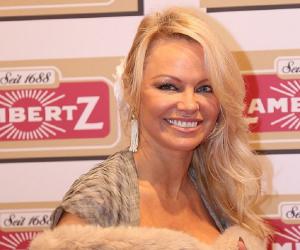 Quick Facts
Nationality: Canadian
Famous: Vegans Humanitarian
Age: 51 Years, 51 Year Old Females
Sun Sign: Cancer
Also Known As: Pamela Denise Anderson
Born in: Ladysmith, British Columbia, Canada
Famous as: American-Canadian actress
Height: 1.7 m
Family:
Spouse/Ex-: Kid Rockm. 2006–2007, Rick Salomonm. 2007–2008, Rick Salomonm. 2014–2015, Tommy Leem. 1995–1998
children: Brandon Thomas Lee, Dylan Jagger Lee
Personality: ISFP
Ideology: Environmentalists
Net worth: $8 million
Continue Reading Below
Pamela Anderson is a Canadian model, actress, producer and activist famous for being a former playboy playmate and for her role as coast guard in the television series, 'Baywatch'. She is also an animal rights activist who is actively involved with People for the Ethical Treatment of Animals (PETA). She became a model by chance when she was spotted wearing a figure-hugging Labatt's Beer t-shirt in a football stadium and was promptly hired by the company for modeling for their commercials. Suddenly famous, she received an offer from Playboy magazine to appear as the cover girl on an issue, and was subsequently chosen as a 'Playboy Playmate of the Month'. Her first major television appearance was as lifeguard C.J. Parker in 'Baywatch', an action drama series. She went on to become one of the most popular faces of the series. She got her first movie break with 'Raw Justice', and was immediately noticed by the critics for her steamy love scenes in the film. She again appeared on the covers of 'Playboy' and cemented her image as a sexy blonde bombshell. But, there is more to Anderson than just her sex appeal—she is an active campaigner for animal rights and is involved with PETA.
Continue Reading Below
Childhood & Early Life
Pamela Anderson was born to Barry, a furnace repairman and his wife Carol in Canada. She is of mixed ancestry.

She attended Ecole Highland Secondary School and worked as a fitness instructor after graduation.

Recommended Lists:

Recommended Lists:

Career

She was spotted wearing a tight fitting Labatt's Beer t-shirt during a football match and her image was shown on the stadium's huge video screen, which created publicity for the brand. She received an offer to model for the brewery's commercials which she accepted.

She moved to Los Angeles to pursue her modeling career and in 1989, she got a chance to appear as the cover girl on Playboy magazine's October issue.

She was subsequently chosen as the Playmate of the Month in their February 1990 issue.

She got her first major role in a television series in 1992 when she was chosen to play the role of C. J. Parker on 'Baywatch', a drama series dealing with the lives of lifeguards who patrol the beaches of Los Angeles County, California. She was with 'Baywatch' till 1998.

She landed her first film role in 1994, when she got a chance to star as Sarah in 'Raw Justice'. The steamy sex scenes in the movie ensured that she got enough attention for her role.

In 1996, she played the role of Barbara Rose Kopetski in the action film 'Barb Wire', but the film was a commercial failure. In 1997, she again appeared on the cover of an issue of Playboy.

She acted in the television series V.I.P that ran for four seasons from 1998 to 2002. Her character, Vallery Irons, was often shown as poking fun at Anderson's tabloid image.

Continue Reading Below

After successfully portraying C.J.Parker in the series 'Baywatch', she reprised the role in the movie 'Baywatch: Hawaiian Wedding' in 2003.

She created a sensation in May 2004 by appearing naked on the cover of Playboy magazine for the first time ever. She went on to pose naked for other magazines like Stuff and GQ, establishing herself as a sex symbol.

She also turned an author in 2004 by co-writing a book titled 'Star' with Eric Shaw Quinn. The sequel of the book, 'Star Struck' was published in 2005.

In 2008 she starred in 'Pam: Girl on the Loose', a documentary series based on her life as an actress, model, activist and sex symbol. The show received mostly negative reviews from critics.

She appeared on the eighth season of the reality show 'Big Brother Australia', on a three day visit in 2008 and on season four of 'Bigg Boss', the Indian version of 'Big Brother' in 2010. Her presence increased the viewership of the show on both the occasions.

She participated in the tenth season of 'Dancing with the Stars' (2010), where she was partnered with professional dancer Damian Whitewood and was eliminated after seven weeks.

In 2011, she appeared on the Argentinian version of the same show.

Continue Reading Below

Recommended Lists:

Recommended Lists:

Major Works

Anderson is well known for playing the role of lifeguard C.J.Parker in the television drama series 'Baywatch'. The show was very successful and became one of the most watched television programs in the world.

She is most famous as a sexy bombshell who has appeared on several covers of Playboy magazine and has appeared nude in many of its issues. She also wrote the foreword in the Playboy coffee table book, 'Playboy's Greatest Covers'.

Other than being a model and actress, she is also a prominent member of the animal protection organization, People for the Ethical Treatment of Animals (PETA) and has famously campaigned against Kentucky Friend Chicken (KFC) and the annual seal hunting in Canada.

Recommended Lists:

Recommended Lists:

Awards & Achievements

She won the first Linda McCartney Memorial Award for animal rights protectors in 1999 in recognition of her campaign.

She received a star on Canada's Walk of Fame in 2006, for her contribution as a model and actress becoming the second model ever to receive a star.

Continue Reading Below

Recommended Lists:

Recommended Lists:

Personal Life & Legacy

She married singer Tommy Lee in 1995 and divorced him in 1998. The couple had two children.

She married singer Kid Rock in 2006 but that marriage also ended in divorce.

She began a relationship with, and married socialite Rick Salomon in 2007, but the couple soon separated and annulled the marriage in 2008.

Recommended Lists:

Recommended Lists:

Trivia

She was born on Canada's Centennial Day and was named as the country's 'Centennial Baby'.

She has appeared on more Playboy covers than anyone else.

She has often been involved in sex tapes controversies.

1. Baywatch (2017)

(Crime, Action, Comedy)

2. Scary Movie 3 (2003)

(Horror, Comedy)

---

3. Chto tvoryat muzhchiny! 2 (2015)

(Comedy)

4. Superhero Movie (2008)

(Action, Thriller, Sci-Fi, Comedy)

---

---

5. Pauly Shore Is Dead (2003)

(Comedy)

6. The Institute (2017)

(Thriller)

---

---

---

7. Snapdragon (1993)

(Thriller, Mystery)

8. Barb Wire (1996)

(Action, Sci-Fi)

---

---

---

---

Translate Wiki

to Spanish, French, Hindi, Portuguese

Article Title

- Pamela Anderson Biography

Author

- Editors, TheFamousPeople.com

Website

- TheFamousPeople.com

URL

-

https://www.thefamouspeople.com/profiles/pamela-anderson-3364.php

Last Updated

- July 26, 2017

---

---

---