Svetlana Alexievich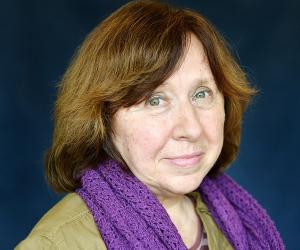 Quick Facts
Nationality: Belarusian
Famous: Nobel Laureates In Literature Journalists
Age: 70 Years, 70 Year Old Females
Sun Sign: Gemini
Also Known As: Svetlana Alexandrovna Alexievich
Born in: Ivano-Frankivsk
Famous as: Write and Nobel Prize Winner in Literature
Family:
father: Aleksandr Alexievich
mother: Yevgeniya Alexievich
More Facts
education: Belarusian State University
awards: 2015 - Nobel Prize in Literature
2005 - National Book Critics Circle Award for General Nonfiction - Voices from Chernobyl
Continue Reading Below
Svetlana Alexandrovna Alexievich is an eminent Belarusian journalist and writer. Born in Stanislaviv, Ukraine during the Soviet era, she had the passion to write since a young age and began to nurture this interest by contributing to the school newspaper. Later, after completing her graduation, she began her career as a journalist and simultaneously pursued writing. In her writing career she has been able to document experiences and memories related to several events like the World War II, Downfall of the Soviet Union, The Afghan War, Chernobyl disaster etc. She believed in creating a history of human feelings rather than a mere account of the events and associated facts. A number of her works have been converted into theatre scripts and feature films. Svetlana Alexievich has received numerous awards from the government and private bodies, in appreciation for her literary work. She was the recipient of the 2015 Nobel Prize in Literature.
Recommended Lists:
Recommended Lists:
Continue Reading Below
Childhood & Early Life
Svetlana Alexievich was born on 31 May 1948, in Stanislaviv in Ukraine. Her father was an ex-service man and after his discharge from the army, both her parents worked as school teachers in Belarus.

During her school days, she is known to have written poetry and features for the school paper. After completing her school education, she worked as a reporter with a local newspaper in Narovl as experience in the field was a pre-requisite for higher studies during the time.

In 1967, Svetlana Alexievich enrolled in the Department of Journalism at the Minsk University and completed her graduation in 1972.

Recommended Lists:

Recommended Lists:

Career

Post her graduation, Svetlana Alexievich was assigned work with a local newspaper at Beresa, and here she engaged in tutoring at the local school simultaneously. The next year she received an offer to work with a newspaper at Minsk.

In 1976, she got the opportunity to work with the magazine Neman in Minsk as a correspondent, and was soon promoted as the head of the non-fiction section.

During her career in journalism she has experimented in different genres like short stories, essays, news reportage and so on. Her writing style is considered unique; Svetlana Alexievich's works include interviews with real people during the main events of that period. She believes this helps the reader to get a closer understanding of the reality along with preserving the originals.

In 1983, she finished the writing of her first book titled 'The Unwomanly Face of the War'. However, it was not published until 1985 as she faced many hurdles with accusations in connection with the pacifism, naturalism, de-glorification of the heroic Soviet woman.

With the change in power in 1985, her first book was published in Moscow and Minsk and approximately 2 million copies were sold. She calls the book as a 'novel-chorus'; as it is a collection of monologues of women speaking about many unknown aspects of the World War II.

In 1985, her second book 'The Last Witnesses: 100 Unchildlike Stories' was released. The book was written from the viewpoint of children and women and thus led to a new category in war literature.

In 1989, Svetlana Alexievich's book 'Zinky Boys: Soviet Voices from the Afghanistan War' was published. The book is about the officers and soldiers who took part in the ten year long Soviet-Afghan war and died. The book is a compilation of 100 interviews from widows and mothers of the deceased.

Continue Reading Below

In 1993, she published her book 'Enchanted with Death'. This book based at a time when the Soviet Union had disintegrated, and documented stories of attempted and successful suicides of that time period. During the downfall of the Soviet Union, a large number of people were negatively affected due to their inability to forego their communist ideologies. This book was later adapted into a film titled 'The Cross'.

In 1997, she came up with the book, The Chernobyl Prayer: the Chronicles of the Future'. Contrary to the title, the book is less about the Chernobyl disaster and more about how are people adapting to the new reality.

After 1993, no state owned publisher in Belarus published her book while private publishing houses have published only two of her works: 'The Chernobyl Prayer: the Chronicles of the Future' (1997) and 'Second- Hand Time' (2013). As a result, she is more popular in the rest of the world than in Belarus.

Her other works include the book 'The Wonderful Deer of the Eternal Hunt', an assortment of 100 stories on people's aspiration and failure in finding happiness.

Recommended Lists:

Recommended Lists:

Major Works

Her book, 'The Unwomanly Face of the War', explores the unknown aspects of the Second World War that had never been related before. The book was hailed by the critics and was a big hit with more than two million copies sold.

Her book, 'The Last Witnesses: 100 Unchildlike Stories' viewed war through the perspective of women and children; this was something that was not done before and opened up a new area of feelings and ideas

Awards & Achievements

She received the Order of the Badge of Honour (USSR) in 1984. In the same year, she also received the Oktyabr Magazine Prize and the 'Nikolay Ostrovskiy literary award'.

Continue Reading Below

She was awarded the Lenin Komsomol Prize in 1986.

In 1987, she won the Literaturnaya Gazeta Prize.

In 1997, she won the Andrei Sinyavsky Prize.

Svetlana Alexievich was awarded the Herder Prize in 1999.

In 2005, she won the National Book Critics Circle Award for her work 'Voices from Chernobyl'.

In 2011, the Ryszard Kapuściński Award for literary reportage was awarded to Svetlana Alexievich.

She was the recipient of the 'Peace Prize of the German Book Trade' and the 'Prix Médicis essai', in 2013.

In 2015, Svetlana Alexievich was awarded the Nobel Prize in Literature "for her polyphonic writings, a monument to suffering and courage in our time"

Personal Life & Legacy

Svetlana Alexievich came from a family of teachers; her parents were school teachers and her paternal grandfather was also a teacher. She herself took up tutoring in her early days.

During the dictatorial regime of Alexander Lukashenko, she was politically persecuted and this made her leave Belarus in 2000. The following decade she lived in Paris, Berlin and Gothenbur under the protection of the International Cities of Refuge Network. In 2011, she shifted back to Minsk.

Since 2003, Svetlana Alexievich has been a member of the advisory committee for the 'Lettre Ulysses Award for the Art of Reportage'.

Trivia

She is the first writer from Belarus to receive the Nobel Prize in Literature.

Translate Wiki

to Spanish, French, Hindi, Portuguese

Article Title

- Svetlana Alexievich Biography

Author

- Editors, TheFamousPeople.com

Website

- TheFamousPeople.com

URL

-

https://www.thefamouspeople.com/profiles/svetlana-alexievich-7008.php

Last Updated

- July 25, 2017

---

---

---