Sir Garfield Sobers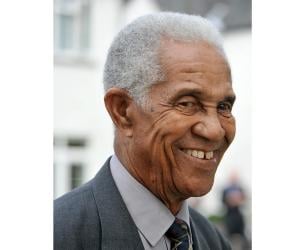 Quick Facts
Nick Name: Garry Sobers
Nationality: Barbadian
Famous: Cricketers Australian Men
Age: 82 Years, 82 Year Old Males
Sun Sign: Leo
Also Known As: Sir Garfield St Aubrun Sobers, Gary Sobers
Born in: Bridgetown, Barbados
Famous as: One of the finest all-rounders in cricket
Height: 1.8 m
Family:
Spouse/Ex-: Pru Kirby
father: Shamont Sobers
mother: Thelma Sobers
Net worth: $4 Million as of Jan 26, 2017
Continue Reading Below
Sir Garfield Sobers is a former West Indian cricketer, regarded as the finest all-rounder ever in the cricketing history. He was left-handed batsman and bowler and such was his popularity that Bradman himself called Sobers the "five-in-one cricketer". He was an all-rounder not only in the general sense of the term, but apart from being an outstanding batsman, he was an exceptional bowler who could bowl in every conceivable style, from medium pace to left arm spin. He was also a brilliant fielder at any position but particularly adept in close-to-the-wicket fielding. As a child he and his brother Gerald used their cricketing talent to help their boys' school team to win the Inter-school Cricket championship for three consecutive years. This cricketing talent eventually took him to international fame. He played some unforgettable innings in his career astonishing everybody with his extraordinary skills. His Test career lasted for about 20 years, and he captained for his country 39 times. As a result of his numerous skills and records in the game, he has long been viewed as a cricketing genius. He is still regarded as the one of the greatest cricketers ever to have graced the game and certainly the greatest all-rounder in the history of cricket.
Recommended Lists:
Recommended Lists:
Continue Reading Below
Childhood & Early Life
He was born on July 28, 1936 in Bridgetown, Barbados to Shamont and Thelma Sobers. He was the fifth of the six children in his family.

In January 1942, his father died at sea when his ship was torpedoed by a German U-boat. At birth he had two extra fingers, one on each hand, which he removed himself in childhood.

He received his early education at Bay St. School, Barbados. He was a talented kid and excelled in many sports such as cricket, football and basketball.

At the age of 13, he was recruited to play for two cricket teams where he gained useful experience by bowling to Wanderers batsmen during net practice and soon developed his great skill as a left arm spin bowler.

Career

In 1953, he made his first-class debut at the age of 16 against the Indian touring team at Kensington Oval, Bridgetown. He did not score much in batting but made an instant impression as a bowler, taking a total of seven wickets in the match.

At the age of 17, he made his international test debut against England at Sabina Park in Kingston, Jamaica. He took four wickets in the match and made a good impression as a pace bowler.

From 1954 to 1957, he played in several test series, domestic as well as overseas, against Australia, New Zealand and England. He was able to register his presence in some of the matches but failed to convert good starts into high scores.

One of his earlier mature performances was seen in the 1957 Oval test against England, where his team was bundled out for 89 and 86 in the successive innings of the match but he managed to score 39 and 42. No other West Indian player was able to reach an individual score of 30 in the match.

During the period of 1958–1965, he showcased his true talent and made more than a dozen centuries against various teams including India and England. But, his most memorable batting performance was his maiden Test century which he scored against Pakistan in Kingston. He went on to convert his century in an unbeaten 365, breaking the world record Test score of 364 set by England's Len Hutton in 1938.

He captained West Indies for the first time in the 1964–65 home series against Australia and won the series 2-1. West Indies also won test series against England in 1966 and against India in 1966–67 under his captaincy.

During his captaincy, he also faced criticism for his controversial declaration against England in 1967–68 home series. Because of his declaration, West Indies lost the test match, which was clearly headed towards a draw.

Continue Reading Below

He also captained the 'Rest of the World XI' team in the 1970 test series against England and 1972 test series against Australia.

He also played in English league cricket, domestic first class competitions in Australia, and county championships in England. He played his only ODI in 1973 against England, took one wicket in the match.

He played his last Test match against England at Queen's Park Oval, Port of Spain, Trinidad and Tobago, in 1974. Overall, he took 235 wickets at an average of 34.03 and made 8032 runs, with 26 centuries and 30 half-centuries, in his career of 93 Tests.

Awards & Achievements

In 1958, he became the youngest player to break the individual scoring record in Tests with his unbeaten 365 against Pakistan and still remains the youngest triple-centurion.

He was named the 'West Indian Cricket Cricketer of the Year' (1958–59).

In 1964, he was conferred the title of 'Wisden Cricketer of the Year'.

In 1968, while playing for Nottinghamshire against Glamorgan at Swansea, he became the first cricketer to hit six sixes in an over in first class cricket. Malcolm Nash was the poor bowler who was at the receiving end.

When he retired from test cricket in 1974, he held the record for the most runs in test cricket.

In the 1975 New Year Honours, he was knighted by Queen Elizabeth II for his services to cricket.

He was honored as the 'Wisden Cricketer of the Century' in 2000.

In 2004, the International Cricket Council (ICC) inaugurated the Sir Garfield Sobers Trophy which is awarded to the ICICI's 'Player of the Year' annually.

Personal Life & Legacy

On his 1966-67 tour to India, he met the Indian actress, Anju Mahendru and was engaged to her for a brief period.

In September 1969, he married Pru Kirby, an Australian woman. They were blessed with two sons, Matthew and Daniel. They also have an adopted daughter, Genevieve. But the couple got separated in 1984 and eventually divorced each other in 1990.

Translate Wiki

to Spanish, French, Hindi, Portuguese

Article Title

- Sir Garfield Sobers Biography

Author

- Editors, TheFamousPeople.com

Website

- TheFamousPeople.com

URL

-

https://www.thefamouspeople.com/profiles/sir-garfield-sobers-5431.php

Last Updated

- November 13, 2017

---

---

---