Sable Starr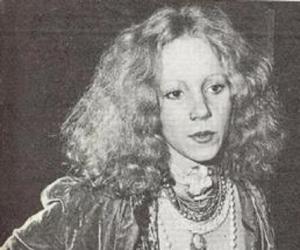 Quick Facts
Nationality: American
Famous: Socialites Celebrities
Died At Age: 51
Sun Sign: Leo
Also Known As: Sabel Hay Shields
Born in: Palos Verdes, Los Angeles, California
Famous as: Socialite, Groupie
Family:
siblings: Corel Shields
children: Allie Shields, Christian Sharpsteen
place of death: Reno, Nevada
U.S. State: California
City: Los Angeles
More Facts
education: Palos Verdes High School
Continue Reading Below
Sable Starr was a famous American groupie who was known as the "queen of the groupie scene." She ruled the world of rock music in California during the 1970s. A "groupie," back then, was a term used to signify an ardent follower of a musician or a musical group. Groupies attached themselves to renowned musicians and built intimate relations with them. Sable Starr was linked to several famed musicians, such as Iggy Pop, Mick Jagger, and David Bowie. Starr was born into a rich family and enjoyed all the privileges of wealth. Since her childhood days, she was rebellious and loved breaking rules. She got acquainted with the world of rock at an early age, when a friend invited her to the nightclub 'Whiskey a Go Go.' Soon, she established herself as a star groupie. Starr grabbed attention with her outrageous way of dressing wherever she went. In an interview to the celebrity magazine 'Star,' she claimed that she was the best among the local groupies in Los Angeles. Sable Starr and her friends were often referred to as "baby groupies," as they were quite young. At the age of 16, Starr left home to live with musician Johnny Thunders. He was the leading guitarist of the rock band 'New York Dolls.' However, the relationship turned sour, as Thunders was addicted to drugs. He was extremely possessive about Starr and abused her in many ways. Soon, Starr put an end to the relationship and moved back to Los Angeles. She continued to be an active groupie for a few more years but quit the scene later. She then moved to Nevada and became a card dealer at a casino. She later suffered from brain cancer and died at the age of 51.
Recommended Lists:
Recommended Lists:
Continue Reading Below
Childhood & Early Life
Sable Starr was born Sabel Hay Shields, on August 15, 1957, in Palos Verdes, Los Angeles, California. She was born into a wealthy family. There is no public information available about her parents. She had a younger sister named Corel Shields.

In her childhood days, Starr was known to be quite rebellious. She found pleasure in making her parents annoyed. She attended the 'Palos Verdes High School.' In 1968, she attended a music concert with friends who had dropped out of school.

Recommended Lists:

Recommended Lists:

Career & Personal Life

Sable Starr was attracted to the world of rock music quite early in her life. At 14, she was invited by to the nightclub 'Whiskey a Go Go' by one of her friends. She enjoyed the place. This was the beginning of her life as a groupie. Sable Starr claimed to have lost her virginity to guitarist Randy California at the age of 12. In the 1970s, Starr and her friends frequented several nightclubs of California, such as 'Rainbow Bar and Grill,' 'Whiskey a Go Go,' and 'Rodney Bingenheimer's English Disco.'

During her teenage years, Starr was unhappy about the way she looked. At the age of 15, she underwent a plastic surgery to fix her nose. She wore flashy and outrageous clothes and attracted attention wherever she went. Starr became highly popular in the world of groupies. Starr and the other girls in her group were known as "baby groupies" due to their tender age.

In 1973, Starr gave a candid interview to the celebrity magazine 'Star.' In the interview, she boasted that she was the best among the groupies in California. She claimed to have close acquaintances with musicians such as Iggy Pop, David Bowie, Mick Jagger, and Alice Cooper. Her favorite rock star acquaintance was Robert Plant, the lead singer of the rock band 'Led Zeppelin.'

Singer Iggy Pop mentioned the name of Sable Starr in one of his songs and thus immortalized their relationship. She was often photographed with renowned rock musicians, and her photographs appeared in magazines such as 'Creem' and 'Rock Scene.' Starr was known for getting into squabbles with other groupies such as Lori Mattix and Bianca Jagger.

Sable Starr had an intimate relationship with Johnny Thunders, who was the leading guitarist of the rock band 'New York Dolls.' At the age of 16, she ran away from home to live with him in New York. However, the relationship was short-lived. Thunders was addicted to drugs and had violent temperaments. He was jealous and possessive about Starr and tortured her physically. When Starr became pregnant, he wanted to marry her. She refused and opted for an abortion.

After ending the abusive relationship with Thunders, Starr moved back to Los Angeles. She was active in the punk rock arena for a short while. She had an affair with singer Richard Hell. In the early half of the 1980s, Starr ended her stint as a groupie. She then completely faded off from the rock music world.

Not much is known about the life of Sable Starr after her retirement from the life of a groupie. She reportedly moved to Lake Tahoe, Nevada, and worked as a table-game dealer at the 'Carson Valley Inn.' Starr suffered from brain cancer in the last days of her life. On April 18, 2009, she breathed her last at her home in Nevada. She was survived by her partner, Bill Reiner, her daughter, Allie Shields, and her son, Christian Sharpsteen.

Translate Wiki

to Spanish, French, Hindi, Portuguese

Article Title

- Sable Starr Biography

Author

- Editors, TheFamousPeople.com

Website

- TheFamousPeople.com

URL

-

https://www.thefamouspeople.com/profiles/sable-starr-45024.php

Last Updated

- June 17, 2019

---

---

---