Roza Shanina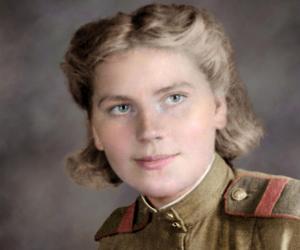 Quick Facts
Nationality: Prussian, Russian
Famous: Soldiers Russian Women
Died At Age: 20
Sun Sign: Aries
Also Known As: Roza Georgiyevna Shanina
Born Country: Russia
Born in: Arkhangelsk Oblast
Famous as: Sniper
Family:
father: Georgiy Mikhailovich Shanin
mother: Anna Alexeyevna Shanina
Died on: January 28, 1945
place of death: East Prussia
More Facts
Continue Reading Below
Roza Shanina was a Russian sniper who came to be known as "the unseen terror of East Prussia" during World War II. Her childhood was deeply impacted by the events of the war, during which she lost three of her five brothers. She volunteered and enrolled at the 'Central Women's Sniper Training School,' from where she graduated with honors. She joined the '184th Rifle Division' and was appointed as the commander of a newly raised special female-sniper platoon. She became the first Soviet female sniper to receive the 'Order of Glory 3rd Class' for her actions in the battle of Kozyi Gory, where she killed 13 enemy soldiers. Following the authorities' decision to withdraw female snipers from the frontline, she wrote to Joseph Stalin and volunteered to be attached to a reconnaissance company or a battalion. She was part of the first Russian contingent to enter East Prussia, where she was awarded the 'Order of Glory 2nd Class' for her bravery and dedication to duty in the face of the enemy. During the operations in Prussia, she was severely wounded by enemy shelling while trying to save a wounded officer and succumbed to her injuries at the tender age of 20.
Recommended Lists:
Recommended Lists:
Continue Reading Below
Childhood & Early Life
She was born on April 3, 1924, in the village of Yedma, Arkhangelsk Oblast, in Russia, to Anna Alexeyevna and Georgiy Mikhailovich Shanin. Her mother was a milkmaid, and her father, who was disabled due to a World War I injury, worked as a logger.

She was named after the Marxist revolutionary Rosa Luxemburg and grew up in a large family, with five brothers and a sister. Her parents also raised three orphans.

She was raised in a remote area and had to walk 13 kilometers from Yedma to Bereznik to attend middle school. When she was 14 years old, she walked 200 kilometers to Arkhangelsk to enroll herself at a college, where she moved into a dormitory. In 1938, she joined the Soviet youth movement known as 'Komsomol.'

In 1940, scholarships were withdrawn and a tuition fee was introduced for secondary education. Roza had to support herself by taking up a job at a kindergarten by day. She attended evening classes in college. She graduated from college in 1942, when Russia was in the grip of World War II.

Her 19-year-old brother, Mikhail, was killed during the Siege of Leningrad, and later, two more of her brothers died in the war. Arkhangelsk was bombed by the German 'Luftwaffe.' Soon, Shanina volunteered to serve in the military to save her country from the German invasion. She learnt how to shoot and was enrolled into the 'Vsevobuch' program for military training, in June 1943.

She then joined the 'Central Women's Sniper Training School,' where she performed exceptionally well and graduated with honors. She met fellow female snipers, Sasha and Kalya, at the same school. The trio came to be known as "the vagrant three."

Recommended Lists:

Recommended Lists:

Career

Shanina was selected to be an instructor at the 'Sniper Training School,' but she preferred to be on active service and joined the '184th Rifle Division' in April 1944. She was appointed as the commander of a special female-sniper platoon that had been newly raised.

She shot her first German soldier three days after joining the force and was shaken by the experience. However, she soon started believing in her cause and did not feel guilty killing fascists.

She became the first Soviet female sniper to have received the 'Order of Glory 3rd Class' for her actions in the battle of Kozyi Gory in April 1944, where she killed 13 enemy soldiers, while she was under heavy enemy fire. She was also featured on the front page of the Soviet newspaper 'Unichtozhim Vraga' that year.

Although the authorities soon decided to withdraw female snipers from the battle zone of 'Operation Bagration,' Roza volunteered to remain on the frontline and wrote to Joseph Stalin, requesting to be attached to a reconnaissance company or a battalion.

She participated in the Vitebsk–Orsha Offensive to eliminate several Germans who were encircled in June 1944. Later, she participated in the battle for Vilnius, where the German occupation forces were routed and driven back.

In August 1944, she was part of the first Russian troop to enter East Prussia. Her sniper tally crossed 50, with several kills on German soil. She was awarded the 'Order of Glory 2nd Class' for her bravery and dedication to duty in the face of the enemy.

She became one of the first female snipers to have received the 'Medal for Courage' for her actions in a battle near Schlossberg in October 1944. Later, in December the same year, she was shot in the shoulder and had to be operated upon.

Continue Reading Below

Within a month of sustaining the injury, she was back on the frontline to participate in the East Prussian Offensive. She is said to have killed 26 enemy soldiers at the East Prussian border, taking her official kill count to 59 during the war. Some sources, however, claim that her final kill count was 54.

On January 27, 1945, Shanina was severely wounded by enemy shelling while trying to save a wounded artillery officer on the frontline of East Prussia. She was evacuated but succumbed to her injuries the following day.

After the war, she became a legend when various extracts of her diary were published. Streets in Arkhangelsk, Stroyevskoye, and Shangaly were named after her, and the museum in Yedma was dedicated to her. Many shooting competitions and prizes in Russia were also named after her.

Major Works

Shanina maintained a combat diary that was preserved by a war correspondent after her death. Extracts from her diary and sniper log were published in the magazine 'Yunost' in 1965. Several of her letters written during the war have also been published.

Awards & Achievements

Roza Shanina was awarded the 'Order of Glory 3rd Class' and the 'Order of Glory 2nd Class.'

She received the 'Medal for Courage,' too.

Personal Life

Shanina enjoyed playing volleyball whenever she got the opportunity. The death of three of her five brothers in the war had a deep impact on her mind. She was a dedicated soldier and believed that she was killing for the right cause.

She was just 20 years old when she died due to enemy shelling. She had no time for boyfriends or love affairs. She was close to a man named Misha Panarin, who was killed in the war. She mentioned a boy named Nikolai, too, in her journals. However, she had no intention of getting married till the war was over, as she felt her duty toward her country was more important than anything.

Trivia

From 1941 to 1945, Russia deployed 2,484 female snipers, who accounted for an estimated 11,280 kills.

Roza was an expert in scoring "doublets," which involved shooting two targets in quick succession. She was also famous for her patience and presence of mind, due to which she could counter enemy snipers and emerge victorious in precarious situations.

Because of her excellent skills in camouflage and concealment, she was referred to as "the unseen terror of East Prussia" by the western press.

Translate Wiki

to Spanish, French, Hindi, Portuguese

Article Title

- Roza Shanina Biography

Author

- Editors, TheFamousPeople.com

Website

- TheFamousPeople.com

URL

-

https://www.thefamouspeople.com/profiles/roza-shanina-14282.php

Last Updated

- May 24, 2018

---

---

---