Rodrigo Santoro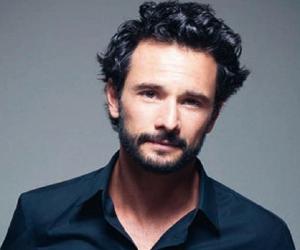 Quick Facts
Nationality: Brazilian
Famous: Actors Brazilian Men
Age: 43 Years, 43 Year Old Males
Sun Sign: Leo
Also Known As: Rodrigo Junqueira dos Reis Santoro
Born in: Petrópolis, Rio de Janeiro
Famous as: Actor
Height: 1.88 m
Family:
father: Francesco Santoro
mother: Maria José Junqueira dos Reis
Partner: Mel Fronckowiak (2013–)
City: Rio De Janeiro, Brazil
Continue Reading Below
Rodrigo Santoro is a Brazilian actor known for playing Paulo in the American television series 'Lost' and Hector Escaton in HBO's 'Westworld'. He is also known for acting in numerous successful Hollywood movies including 'I Love You Phillip Morris', 'Rio', 'Love Actually' and '300', the last of which broke various box office records throughout the world. Born to a Brazilian artist and an Italian engineer, Santoro discovered his interest in acting while he was still a teenager. He would often travel from his house to nearby Rio de Janeiro for auditions. His first break came while he was in his first semester of college when he was approached for a role in a Brazilian television project which he completed while residing in the dorms. The actor continued to work in his country, eventually transitioning to the big screen, where he earned more name and fame. Soon he was named "the Brazilian Tom Cruise" and went on to earn the Cinema Brazil Grand Prix, one of the highest cinematic honors of the Brazilian entertainment industry for his power-packed performance in 'Bicho de Sete Cabeças.' The Brazilian star later appeared in a number of Hollywood films and soap operas. Today, he is a well-known name in both USA and Brazil and has earned a massive international fan following as well.
Recommended Lists:
Recommended Lists:
Continue Reading Below
Childhood & Early Life
Rodrigo Junqueira dos Reis Santoro was born on August 22, 1975 in Petrópolis, Rio de Janeiro, Brazil. His mother, Maria José Junqueira dos Reis, is a Brazilian artist of Portuguese descent, while his father, Francesco Santoro, is an Italian engineer.

He has a sister, Flávia Junqueira dos Reis Santoro, who works as an architect.

Recommended Lists:

Recommended Lists:

Career

Rodrigo Santoro began acting in his teens. In 1993, while studying at PUC-Rio, he joined the Actor's Workshop of Rede Globo and went on to appear in many of Globo's telenovelas including 'Olho no Olho,' 'Pátria Minha', 'Explode Coração', 'O Amor Está no Ar', 'Hilda Furacão' and 'Suave Veneno'.

In 1999, he voiced the titular character in the Brazilian version of 'Stuart Little.' His breakthrough role on the big screen came in 2001 when he was cast as Wilson Souza Neto in Brazilian director Laís Bodansky's 'Bicho de Sete Cabeças' (Brainstorm). His performance in the drama film garnered him numerous awards including Cinema Brazilian Grand Prix.

In 2001, Santoro had a main role in the TV opera 'Estrela-Guia'. The following year, he reprised his voice role of Stuart Little in 'Stuart Little 2' and also featured in the opera 'Pastores da Noite'.

During the year 2003, he played the role of a transsexual prisoner "Lady Di" in the flick 'Carandiru'. The same year, the actor was featured in the movies 'Charlie's Angels: Full Throttle' as Randy Emmers and in 'Love Actually' as Karl.

In 2005, he was cast in a lead role in 'Hoje É Dia de Maria', a Brazilian miniseries based on a selection of stories derived from famous Brazilian oral storytelling tradition.

Santoro next starred as Paulo in the American drama television series 'Lost' (2006), which follows the survivors of a jet airliner after the plane crashes on a mysterious island. During this time, the Brazilian actor also played Xerxes, a Persian King, in the flick '300', based on Frank Miller's comic of the same name.

He was featured in the films 'Redbelt' and 'Che' in 2008. In 2009, he portrayed the role of Sanjay in the Brazilian miniseries 'Som & Fúria'. Co-produced by TV Globo, the series was adapted from the Canadian drama series 'Slings and Arrows'.

Continue Reading Below

In 2009, Santoro also starred as David Santiago in 'Post Grad', an American independent romantic comedy movie starring Alexis Bledel.

In 2010, he was cast as Oriol in Roland Joffé's historical epic war film 'There Be Dragons'. He then lent his voice to the character of Túlio / Soccer Announcer in the 3D animated adventure-comedy film 'Rio'. He also dubbed his voice for the film's Brazilian version.

In 2012, the artiste played the late footballer Heleno de Freitas in the Brazilian biographical drama movie 'Heleno'. His performance was highly appreciated and garnered him 'Best Actor' awards at Havana Film Festival and Lima Film Festival.

Santoro co-starred alongside Arnold Schwarzenegger in the flick 'The Last Stand'. The action movie directed by South Korean director Kim Jee-woon focuses on a tough small town government official and his gang who must stop a drug lord from escaping to Mexico.

In the ensuing years, the actor reprised his voice role of Túlio in Rio's movie sequel titled 'Rio 2' and played Garriga in Will Smith's drama film 'Focus'.

He began playing Hector Escaton in the sci-fi TV series 'Westworld' in 2016. He also played Jesus in the historical action flick 'Ben-Hur' as well as appeared in the Brazilian telenovela 'Velho Chico' the same year.

Major Works

In 2001, Rodrigo Santoro was cast as the male lead in Walter Salles' Brazilian movie 'Abril Despedaçado' (English title 'Behind the Sun'). Based on the novel of the same name, the film tells the story of the honor culture in North Albania. It was a hit and earned numerous award nominations, including the Golden Globe Award nomination under the category 'Best Foreign Language Film'.

In 2009, the actor starred in John Requa and Glenn Ficarra's directorial debut 'I Love You Phillip Morris'. The film is based on the real-life story of con artist Steven Russell who falls for his fellow inmate, Phillip Morris. Russell escapes from prison multiple times to meet Morris after the latter is released. Santoro's role as Jimmy Kemple was much appreciated.

Family & Personal Life

Rodrigo Santoro has been in a love relationship with Brazilian model/actress Mel Fronckowiak since 2013. The couple has a daughter named Nina who was born on May 22, 2017.

Santoro has also dated models Ellen Jabour and Luana Piovani in the past.

Trivia

When he was four, this actor's grandfather gifted him his favourite animal, a horse.

His favorite actors are Al Pacino and Robert De Niro.

In 2004, the actor was listed in 'People' magazine's Most Beautiful People list.

Translate Wiki

to Spanish, French, Hindi, Portuguese

Article Title

- Rodrigo Santoro Biography

Author

- Editors, TheFamousPeople.com

Website

- TheFamousPeople.com

URL

-

https://www.thefamouspeople.com/profiles/rodrigo-santoro-40255.php

Last Updated

- February 07, 2019

---

---

---