Rhett McLaughlin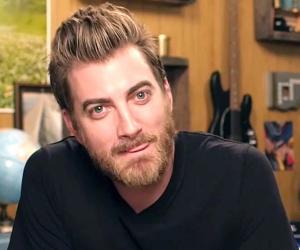 Quick Facts
Nick Name: Rhett
Birthday: October 11, 1977
Nationality: American
Age: 42 Years, 42 Year Old Males
Sun Sign: Libra
Also Known As: Rhett James McLaughlin
Born in: Macon, Georgia, United States
Famous as: YouTube star, Actor, Writer
Height: 6'7" (201 cm), 6'7" Males
Family:
Spouse/Ex-: Jessie Lane McLaughlin
father: Jim McLaughlin
mother: Diane McLaughlin
siblings: Cole McLaughlin
children: Locke McLaughlin, Shepherd McLaughlin
U.S. State: Georgia
More Facts
education: North Carolina State University
Continue Reading Below
Rhett McLaughlin is an internet sensation and one half of the famous YouTube comedy duo 'Rhett and Link,' the other half being his friend Charles "Link" Neal III. Rhett is well known for his comic timings, quirky acting, and his trendy fashion sense. He makes a powerful and distinguished style statement through his beard and hairstyle, often dyeing his hair in a variety of colors. Rhett and Link's multiple award-winning channels have a combined subscribership of over 20 million with over 4 billion total views! They are wildly popular for their comedic songs and viral low-budget local commercials. They like to call their profession as 'INTERNETAINERS', a word they coined themselves. The duo also frequently appears on talk shows and radio shows.
Recommended Lists:
Recommended Lists:
Career
In 1984, Rhett moved from his home in Macon, Georgia, to Buies Creek, NC, where he first met his childhood friend and future professional partner Charles Lincoln "Link" Neal III. They grew up together and as young men they co-created a documentary called 'Looking for Ms. Locklear' in 2008. Then they created a YouTube Channel 'Rhett and Link' and started hosting what eventually became one of the most-watched talk shows on the internet, called 'Good Mythical Morning' in 2012. Having achieved success in this venture, Rhett and Link started calling themselves 'INTERNETAINERS' – entertainers on the internet. Their followers love their funny music videos, sketches, and hilarious local commercials. Rhett also has other channels including 'Good Mythical More' and a weekly podcast channel called 'Ear Biscuits'. Apart from enjoying massive success as a YouTuber, Rhett also runs a website called rhettandlink.com which has music, merchandise, and other items. Rhett and link have appeared as a singing duo known as 'The Fabulous Bentley Brothers' on the kids show 'Jelly Telly', apart from making multiple appearances on the 'Epic Rap Battles' show. The duo has even appeared on WWE Network's series 'Legends House.'

Recommended Lists:

Recommended Lists:

Continue Reading Below

Recognition & Accolades

Rhett and Link are well-known for their high quality content production. Their show 'Good Mythical Morning' is one of the most-watched daily online show with an average of 100 million viewers per month. Over the years they have won multiple awards including Streamy Award for the Best Comedy Show for 'Good Mythical Morning' in 2016. Rhett has been a fundamental part of the entertainment community since 2008 and has been featured on various television shows like 'The Tonight Show with Jimmy Fallon,' 'Last Call with Carson Daly,' 'The Tonight Show with Jay Leno,' and 'Conan.' His work has been recognized by the magazines 'LA Weekly,' 'Wired,' and 'Business Insider.' In 2009 Rhett and Link were ranked No. 22 on the Business Insider's 'Top 25 Most Creative People in Advertising' list. In 2014, their YouTube channel 'Rhett and Link' was ranked 35 on New Media Rockstars top 100 channels.

Recommended Lists:

Recommended Lists:

Rhett and Link are also well-known for their creative brand promotions for top companies like Amazon, Amazon Echo, Gillette, Axe, Clearsil, Airheards, Hot Pockets Nesquick, Purina, and Toyota among others. In 2008, they worked as web correspondents on the Sundance Film Festival for IGotShotgun.com in partnership with Cadillac.

Best Friends for Life

They say some friendships last forever! This definitely holds true in case of Rhett McLaughlin, who met his best friend and future business partner Link Neal in the first grade. The guys even pursed studies together all the way through college. After getting their respective engineering degrees from the North Carolina State University, both men worked as engineers for some time. The duo eventually quit their engineering jobs together to pursue a separate career passion of making videos full time. The bond between these two friends is so strong that Rhett had once made a blood oath with Link when they were youngsters. They have been through multiple experiences in their lives together. Rhett has fought only once in life: in his third grade, while protecting his friend Link. The friends are sure their bond is extraordinary, almost like a karmic connection. Rhett and Link even follow the same religion–Christianity. In their interviews, the duo often makes lighthearted comments about their relationship. Rhett keeps joking about Link's sleeping habits along with how he ends any fights with Link simply by sitting on him!

Personal Life

Rhett McLaughlin was born on October 11, 1977 in Macon, Georgia to Diane and Jim McLaughlin. He has an older brother named Cole. Rhett married Jessie Lane in 2001. The couple has two children—Locke and Shepherd. Rhett and his wife Jessie adopted a maltipoo pup, Lola, from Wylder's Holistic Pet Center and Rescue in Studio City, CA. Jessie appreciates peace and privacy and has therefore consciously made a choice to not appear on her husband's social media platforms frequently.

Rhett, at a point in his life, suffered from severe back problems due to multiple ruptured discs in his back. He does stretching exercises to help his back and claims that this has improved his condition dramatically. He also suffered from psoriasis and seizure as a child, a trait which his sons have inherited. He is a self proclaimed crybaby and cries often, be it while watching a Pixar movie or while he is enjoying a circus show.The name of Rhett and Link's fandom page 'Mythical Beasts' gives a glimpse of his love for creativity and the pop-culture genre. Speaking of the things he loves, Rhett's favorite Superhero is the Hawk-man and he loves things made of wood and frequently receives wooden gift items from friends.

Last Updated : December 12, 2018

Translate Wiki

to Spanish, French, Hindi, Portuguese

---

---

---

Rhett McLaughlin Fans Also Viewed