Paul Pogba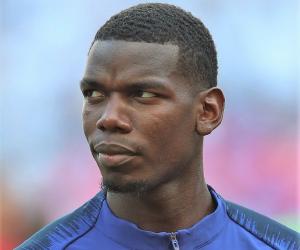 Quick Facts
Nationality: French
Famous: Football Players French Men
Age: 26 Years, 26 Year Old Males
Sun Sign: Pisces
Also Known As: Paul Labile Pogba
Born in: Lagny-sur-Marne, Seine-et-Marne
Famous as: Footballer
Height: 191 centimetre
Family:
father: Fassou Antoine Pogba
mother: Yeo Moriba
siblings: Florentin Pogba, Mathias Pogba
Grouping of People: Black Men
Continue Reading Below
Paul Pogba is a French footballer who plays for the national French team and the 'English Premier League' club 'Manchester United.' Back in 2016, when he made his return to 'Manchester United,' Paul became the most expensive footballer in the world. He began his professional football career with 'Manchester United' in 2011 and was loaned to the Italian club 'Juventus' the very next year. His roaring performance had his team embarking on a winning streak with four consecutive 'Serie A' titles, two 'Supercoppa Italiana,' and two 'Coppola Italia.' His consistently brilliant performance made him the most promising young football player, and in 2013, he was honored with the 'Golden Boy' award. He was included in the 2015 'UEFA Team of the Year,' as he played a decisive role in ensuring his team ended up as the runner-up in the 2015 'UEFA Champions League.' In 2013, he led his national French football team to the title win in the 'FIFA Under-20 World Cup.' He also went home with the 'Best Player' award at the end of the tournament. In the 2014 'FIFA World Cup,' he was named the 'Best Young Player' of the tournament.
Recommended Lists:
Recommended Lists:
Continue Reading Below
Childhood & Early Life
Paul Pogba was born on March 15, 1993, in Lagny-sur-Marne, France, to Fassou Antoine and Yeo Moriba. His parents were Guinean Muslims and lived in Conakry, Guinea, before Paul was born. Tired of poverty, the family moved to France for a better and fulfilling life. His was one of the thousands of African families that moved to Europe during the African refugee crisis in the early 1990s.

He had two elder brothers, who did not move to France with their parents and decided to stay back in Guinea for the first few years. However, they joined the family eventually. Paul's father was a distant man and never really gave enough attention to what his son did or intended to do in his life. While in school, Paul became passionate about football and decided to build a career in the sport. Soon, all three brothers became addicted to the game while their mother supported them.

At the age of 6, Paul joined his very first football club, in form of 'US Roissy-en-Brie,' which was a few miles away from his home. Under their efficient guidance, Paul's techniques improved significantly, and in the next seven years, he emerged as a highly competitive young player.

He soon joined the club 'US Torcy' and played in their 'Under-13' team as the captain, before finally joining the prestigious 'Le Havre' club. Playing for 'Le Havre' made him visible to a lot of clubs that wished to acquire him. Both of his brothers also remained active footballers and presently play for different European clubs.

In a surprising turn of events, Paul joined 'Manchester United' in 2009. 'Le Havre' was miffed and threatened to charge 'Manchester United' with bribery, to compel Paul to end his contract with them. However, Paul and 'Manchester United' were unaffected. Paul joined the youth program of 'Manchester United' in 2009 and continued with it until 2011.

Recommended Lists:

Recommended Lists:

Career

In October 2009, he made his debut with 'Manchester United' as part of their 'Under-18' team and performed well enough to maintain his place in the team throughout the season. He remained with the academy team of the club the next season, and in November 2010, he was summoned to be part of club's reserve team.

In February 2011, he was one of the four players from the reserve team to be included in the first team. He continued playing for the club's 'Under-18' team and helped his club win the 'Youth Cup.' In January 2012, he made his 'Premier League' debut against the relatively weaker team 'Stoke City.' Later that year, he made his debut in the 'UEFA Europa League.'

In 2012, controversially enough, Paul refused to sign a new contract with 'Manchester United' and received a lot of flak from the club manager. Soon, he joined 'Juventus.' In his first season with the club, he played in the 'UEFA Champions League' and the 'Serie A' and performed magnificently well in both. In December 2013, he was named the 'Golden Boy,' an honor bestowed upon the best young European player.

In January 2014, 'The Guardian' named Paul as one of the ten most promising players in Europe. He was one of the key players in the team and made more appearances on the field than any other player of his team. He secured the 'Serie A' title for his team and played a major role in making 'Juventus' break into the semi-finals of the 'Europa League.' In October 2014, he was named as one of the candidates for the prestigious 'Ballon d'Or' award. He was the youngest player in the run to win the award.

He led his team to a 'Serie A' win in 2015 and helped them reach the finals of the 'Champions League.' 'Juventus' achieved this feat for the first time in 12 years. In May 2015, 'Juventus' won the 'Coppa Italia' trophy. In July 2015, he was one of the strongest contenders in the race for the 'UEFA Best Player in Europe' award and was later accepted as a member of the 'UEFA Team of the Year.'

In August 2016, it was announced that Paul had signed a contract worth £89.3 million with 'Manchester United.' This was a new record in itself. The same month, 'The Football Association' announced that Paul would not be included in the club's team for the first leg of the 'Premier League' due to the two yellow cards that were shown to him in his previous match for 'Juventus.'

He led 'Manchester United' into the finals of 'EFL Cup,' and in May 2017, he scored the winning goal for his team in the finals of the 'Europa League.' This brought an end to the club's nine-year-long wait for the 'Europa League' title.

Paul has been representing the French national team ever since he started playing competitive football. He has been part of the team in almost all the age groups that he was eligible for. Pogba served as the captain of the first and the only French football team that won the 'FIFA Under-20 World Cup.' He was also part of French squad for the 2014 'FIFA World Cup.' By the end of the tournament, he was named the 'Best Young Player.'

He further helped his team reach the finals of 2016 'Euro Cup,' in which France lost to Portugal.

Personal Life

Paul Pogba has been in a relationship with African model Dencia. However, the couple faced quite a controversy during their stay at the 'Lowry Hotel,' as a few residents complained about the couple engaging in "very noise sex." 'The Sun' further sensationalized the story, while Paul's agent denied it completely.

Paul attended the 2017 'MTV Europe Music Awards' along with his brothers and presented an award to Canadian singer Shawn Mendes. He shared the stage with actress Natalie Dormer.

Paul is known for his aggressiveness on the field. His unique hairstyle has been imitated by thousands of his fans across the globe.

Translate Wiki

to Spanish, French, Hindi, Portuguese

Article Title

- Paul Pogba Biography

Author

- Editors, TheFamousPeople.com

Website

- TheFamousPeople.com

URL

-

https://www.thefamouspeople.com/profiles/paul-pogba-15805.php

Last Updated

- March 15, 2018

---

---

---