Olivia Wilde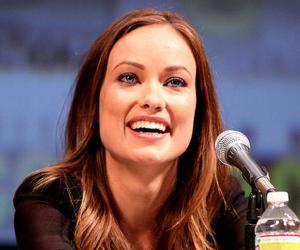 Quick Facts
Nationality: American
Famous: Vegans Humanitarian
Age: 35 Years, 35 Year Old Females
Sun Sign: Pisces
Also Known As: Olivia Jane Cockburn
Born in: New York City, New York, U.S.
Famous as: Actress, Model
Height: 5'7" (170 cm), 5'7" Females
political ideology: Democratic
Family:
Spouse/Ex-: Jason Sudeikis, Tao Ruspoli
father: Andrew Myles Cockburn
mother: Leslie Cockburn
siblings: Charlie Cockburn, Chloe Cockburn
children: Daisy Josephine Sudeikis, Otis Alexander Sudeikis
City: New York City
U.S. State: New Yorkers
discoveries/inventions: Award For Rising Star Award
More Facts
education: Georgetown Day School Phillips Academy Massachusetts, Gaiety School of Acting
Continue Reading Below
Olivia Wilde is a popular American actress, who has appeared in a number of television and film productions including 'The O.C.', 'The Black Donnellys' and 'Tron: Legacy'. She was raised in Washington D.C. during her formative years and then shifted to Massachusetts where she completed the rest of her education. This popular actress is best-known for her trademark feline-like eyebrows, lean figure and her deep, hoarse voice. She received international stardom after she appeared in television productions like 'The O.C.' and has since bagged a number of roles for both, film and television. Some of her films include, 'Cowboys & Aliens', 'In Time', 'People Like Us' and 'The Words'. Despite making great progresses on the big screen, she continues to hold more influence and power on television. She is actively involved in a number of humanitarian efforts and is a political activist as she is a contributing board member of 'Artists for Peace and Justice' and youth voter organization 18 in '08'. A rising star, Wilde set the benchmark for a number of upcoming artists on television and for film with her ravishing good looks and her inherent talent.
Continue Reading Below
Childhood & Early Life
Olivia Jane Cockburn was born on March 10, 1984 to Leslie and Andrew Cockburn in New York City. Her father was a journalist and her mother was also a producer and journalist. She has an elder sister; Chloe Cockburn.

Ever since she was two-years-old, she wanted to become an actress. The family lived in Vermont for a brief period of time and young Wilde attended Georgetown Day School in Washington D.C.

In 1995, she appeared in her debut short film as 'Magdalene' in 'Meeting Magdalene'.

She later attended Phillips Academy in Massachusetts, from where she graduated, in 2002.

She also studied at the Gaiety School of Acting, in Dublin, Ireland for a brief period of time.

Recommended Lists:

Recommended Lists:

Career

Her acting career took off as 'Jewel Goldman' in the American television series, 'Skin' - where she appeared in 6 episodes. Her acting skills got her noticed and she was cast in 'The O.C.', which was a hit American drama series, as 'Alex Kelly', in 2004.

She made her motion picture debut as 'Kellie' in the American hit film, 'The Girl Next Door' in 2004. The next year, she appeared in 'Conversations with Other Women' in a small role as a bridesmaid.

In 2006, she appeared in three films; 'Alpha Dog', 'Bickford Shmeckler's Cool Ideas' and 'Turistas'. The next year, she was seen in 'The Death and Life of Bobby Z'.

In 2007, she was back on television in 'The Black Donnellys' and in a major role as 'Dr. Remy 'Thirteen' Hadley' in one of her longest television series, 'House', in which she appeared in a total of 81 episodes.

From 2008 to 2012, she was cast in the films, 'Fix', 'Year One', 'The Ballad of G.I. Joe', 'The Next Three Days', 'Tron: Legacy', 'Cowboys & Aliens', 'The Change-Up', 'In Time' and 'Butter'. She was also seen in the television series, 'Tron: Uprising', 'Half the Sky' and lent her voice for 'Robot Chicken'.

Apart from 'Butter', she starred in a number of other films in 2012 including, 'Deadfall', 'People Like Us', 'The Words' and 'The Longest Week', which made the year an extremely busy one for the actress.

As of 2013, she was seen in an episode of the comedy series, 'The Annoying Orange' and was also cast in an episode of 'American Dad!'

Continue Reading Below

Juggling between her television assignments and her film projects, she also starred in 'The Incredible Burt Wonderstone','Drinking Buddies', 'Rush' and 'Third Person', in 2013.

Recommended Lists:

Recommended Lists:

Major Works

One of her major works till date is her role as 'Sarah Witt' in 'Bickford Shmeckler's Cool Ideas', which released in 2006. Although the movie was a small budget one, Wilde was recognized for her acting abilities and comic timing. She was lauded by critics for her performance and she even won two prestigious awards for her acting.

Recommended Lists:

Recommended Lists:

Awards & Achievements

She won the 'Best Actress' award at 'The Comedy Festival' for 'Bickford Shmeckler's Cool Ideas', in 2006.

In 2006, she won the 'Rising Star Award' at the 'Vail Film Festival' for 'Bickford Shmeckler's Cool Ideas', once again.

In 2010, she was voted as PETA's 'Sexiest Vegetarian Celebrity'.

Recommended Lists:

Recommended Lists:

Personal Life & Legacy

Olivia Wilde has a dual citizenship – of the United States and Ireland.

She is a strict vegan and is a PETA activist.

She married Tao Ruspoli, a filmmaker on June 7, 2003, in a private ceremony in an abandoned school bus. She was only 19-years-old at the time of her marriage.

She divorced Ruspoli quoting 'irreconcilable differences' on September 29, 2011. The same year, she began dating actor, Jason Sudeikis.

Apart from her acting career, she is a board member of 'Artists for Peace and Justice' and the ACLU of Southern California. She also actively supports other organizations such as '18 in '08', 'Global Poverty Project' and the 'Fair Foods Campaign'.

She appeared in a video for Gucci's 'Chime for Change', that raised awareness of women's issues in terms of justice, health and education.

Trivia

While this American actress was young, Christopher Hitchens, the famous writer, was her babysitter.

1. Rush (2013)

(Drama, Sport, History, Biography)

2. Her (2013)

(Sci-Fi, Romance, Drama)

---

3. Booksmart (2019)

(Comedy)

4. The Next Three Days (2010)

(Romance, Drama, Thriller, Crime)

---

---

5. The Words (2012)

(Romance, Mystery, Thriller, Drama)

6. People Like Us (2012)

(Comedy, Drama)

---

---

---

7. Conversations with Other Women (2005)

(Drama, Comedy, Romance)

8. Alpha Dog (2006)

(Drama, Biography, Crime)

---

---

---

---

Translate Wiki

to Spanish, French, Hindi, Portuguese

Article Title

- Olivia Wilde Biography

Author

- Editors, TheFamousPeople.com

Website

- TheFamousPeople.com

URL

-

https://www.thefamouspeople.com/profiles/olivia-wilde-5037.php

Last Updated

- July 21, 2017

---

---

---