Nostradamus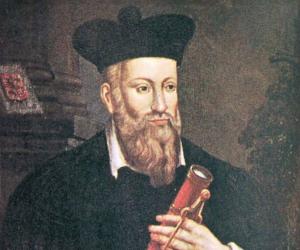 Quick Facts
Birthday: December 14, 1503
Nationality: French
Famous: French Men Tall Celebrities
Died At Age: 62
Sun Sign: Sagittarius
Also Known As: Michel de Nostredame
Born in: Saint-Rémy-de-Provence, France
Famous as: Physician
Height: 6'2" (188 cm), 6'2" Males
Family:
Spouse/Ex-: Anne Ponsarde Gemelle
father: Jaume de Nostredame
mother: Jaume de Nostredame
siblings: Jean de Nostredame
children: Andre de Nostredame, Anne de Nostredame, Cesar Nostradamus, Charles de Nostredame, Diane de Nostredame, Made­leine de Nostredame
Died on: July 2, 1566
place of death: Salon-de-Provence
More Facts
education: University of Montpellier, University of Avignon
Continue Reading Below
Nostradamus was a French physician and seer whose collection of prophesies, 'Les Propheties', has been widely credited for predicting major events throughout the world across centuries. Some of the major events that are considered to be predicted in his book include the French Revolution, the rise of Antichrists such as Napoleon and Adolf Hitler, the great fire of London, the development of the atomic bomb, September 11 terrorist attacks on World Trade Center and many more. Since the publication of the book, the number of his admirers has grown steadily, and the book has been as popular to the modern readers as it was to the people of its time. It is a well-known fact that he was a great physician who fought against plague throughout his life and cured innumerable patients; however, today he is best remembered as a great seer .While most of his followers think that his prophesies were the result of divine inspiration, critics maintain that his cryptic language makes most of his predictions vague, and a lack of a specific timeline means most of the prophesies can be associated with more than one similar incidents. They also claim that his followers retrospectively attach a fitting quatrain to a major event after the incident has already happened, which cannot be considered prophesy as such. Others think that instead of accepting them as prophesies, his works should be counted as social commentary that can fit Biblical events to the modern day catastrophes.
Recommended Lists:
Recommended Lists:
Continue Reading Below
Childhood & Early Life
Michel de Nostradame was born on December 14 (December 21 by some accounts), 1503, in Saint-Remy-de-Provence south of France, to notary Jaume de Nostradame and his wife Reyniere de St-Remy. He was one of at least nine children of his parents.

His paternal grandfather, Guy Gassonet, converted from Judaism to Catholicism in around 1460 and took up the surname Nostredame (Our Lady) to honor the saint on whose day the conversion had happened. Her mother was the granddaughter of Pierre de Saint-Rémy, a renowned physician in Saint-Rémy.

According to some sources, as a child, he was tutored by his maternal great-grandfather Jean de St. Rémy. His grandfather is also credited for teaching him classical languages and mathematics.

When he was 15, he went to the University of Avignon to study medicine for his baccalaureate. However, following an outbreak of the bubonic plague, the university was shut down and he was forced to leave only after about a year into his studies.

Recommended Lists:

Recommended Lists:

Work as a Physician

In 1521, Nostradamus embarked on an eight-year-long journey through the countryside and practiced as an apothecary for some years. He later enrolled into the University of Montpellier in 1529 to complete his degree in medicine, but his notions of astrology were looked down upon by Catholic priests.

He was eventually expelled from the university after the authorities learned about his past as an apothecary, a "manual trade" banned by the university. However, some still refer to him as "Doctor" and maintain that he had managed to complete his education and earn a degree.

In the following years, he continued to treat plague victims by travelling throughout France and Italy. He not only addressed the lack of proper treatment by experimenting with new remedies, but also cured an impressive number of patients by improving their hygiene and diet.

He is credited with creating the vitamin-C-rich herbal lozenge, "rose pill", made of rosehips, which supposedly protected the people from the plague and was able to cure mild infections. His success as a healer earned him the patronage of many affluent citizens, most notably the leading Renaissance scholar Jules-César Scaliger, who invited him to Agen, in southwestern France, in 1531.

In 1538, he drew the ire of the Inquisition after his remark about a religious statue offended the local church in Agen. Afraid of being persecuted, he left France and travelled through Italy, Greece and Turkey for the next few years.

Work as a Seer

It is believed that during his travels to ancient mystery schools Nostradamus became more interested in the occult, studying horoscopes, practicing divine meditation, even trying necromancy and good luck charms like the hawthorn rod.

According to legends, he made one of his first successful prophecies when he met a group of Franciscan monks and declared that one of them would become Pope in the future. Among them was Felice Peretti, who became Pope Sixtus V in 1585.

Continue Reading Below

Despite his occult practices, he remained a Roman Catholic, denouncing the Protestant Reformation, and was able to return back to France a few years later. In 1545, he helped the renowned physician Louis Serre in tackling a major outbreak of the plague in Marseille, and two years later, settled down in Salon-de-Provence, treating plague victims there on his own.

According to some sources, he started focusing on the occult practices after settling in Salon-de-Provence, and would often meditate for hours in front of a bowel filled with water and herbs. He claimed to have entered trance-like state in which he saw the visions that became the basis for his prophesies.

Seeing that almanacs were very popular at that time, he decided to write his very first almanac in 1550, and also Latinized his name to 'Nostradamus', following popular trends. His almanac was received with positive response, which encouraged him to write at least one almanac every year.

Over time, he included his visions in his almanacs as prophesies for the future events. Counting all his almanacs, there are at least 6338 prophesies that he wrote during this time.

Following the success of his almanacs, he decided to write a book containing one thousand French quatrains, titled 'Les Propheties' (The Prophecies), the first volume of which was published in 1555 and contained 100 quatrains. However, fearing religious persecution, he wrote the quatrains in obscure Virgilianised syntax, using words from several different languages, including Greek, Italian, Latin, and Provençal.

He claimed that his predictions were based on "judicial astrology", assessing past astrological events and projecting them to forecast future events. However, his "comparative horoscopy" has been renounced by contemporary astrologers who thought his methods were wrong.

The book gained notoriety upon its release as many thought that he served evil supernatural forces to gain the extraordinary knowledge he communicated through the book, while others considered him insane or fake. Nevertheless, the book was able to earn him many admirers among the French nobility.

Continue Reading Below

Following the publication of his almanac for 1555, which hinted at unspecific incidents harming the royal family, he was summoned to Paris by Catherine de Médicis, wife of King Henry II of France. Despite his initial fears, she turned out to be one of his ardent admirers and asked him to explain his prophesies and to create horoscopes for her children. He was eventually made Counselor and Physician-in-Ordinary to King Henry's court.

He is often credited for successfully predicting King Henry II's death in remarkable detail as quatrain I.35 of 'The Prophecies' mentioned the agonizing death of a 'lion' after being pierced in the eye in battle. In 1559, a 41-year-old King Henry II died following 10 days of suffering after his opponent's lance pieced his visor and went through his eye during a jousting match.

He wrote at least two books on medicine, first of which, the 1555 cookbook titled 'Traité des fardemens', documented his methods of treating the plague, sometimes borrowing ideas from others. Two years later, in 1557, he published a loose paraphrase of 'The Protreptic' by Galen, the prominent Greek physician of the Roman Empire.

Major Works

Despite the fact that Nostradamus has written a couple medical books, it is 'Les Propheties' that he is most famous for centuries after his death. Since its original publication, the book has had over two hundred editions and has rarely been out of print.

While his prophesies have overshadowed his work as a healer, he is often credited for successfully treating the Plague at Aix-en-Provence and at other places. He also created the "rose pill" to provide protection to the common people against the plague.

Personal Life & Legacy

After relocating to Agen in 1531, Nostradamus married a local woman, who has been identified by some as Henriette d'Encausse, and had two children with her. Ironically, his reputation as a healer suffered after he failed to save his wife and children, who died in 1534, presumably from the plague.

In 1547, he got married to a rich widow named, Anne Ponsarde, in Salon-de-Provence, with whom he had six children: three sons and three daughters. A decade later, he and his wife invested in a massive canal project organized by Adam de Craponne to relieve the dry Salon-de-Provence region of its water problems.

Nostradamus, who suffered from gout for a long time, became afflicted with edema or dropsy in 1566, which caused abnormal amounts of fluid to accumulate beneath his skin or within the cavities of his body. He summoned his lawyer in June that year to create a will leaving much of his property to his wife and children.

Some accounts maintain that he was able to predict his death as well, as he told his secretary on the evening of 1st July that he would not find him alive the next morning. He was found dead on the next morning ( 2 July 1566), following which he was buried in the local Franciscan chapel in Salon.

Trivia

While most of his predictions refer vaguely to incidents in the distant future, Nostradamus is most noted for accurately predicting the death of King Henry II, which happened during his lifetime. However, some have noted that the quatrain I.35 of 'The Prophecies' appeared on print for the first time in 1614, 55 years after the event.

Even though he was buried in the Franciscan chapel in Salon, his tomb is now located in the Collégiale Saint-Laurent as his body was re-interred during the French Revolution. His original burial spot is now part of the restaurant La Brocherie.

Translate Wiki

to Spanish, French, Hindi, Portuguese

Article Title

- Nostradamus Biography

Author

- Editors, TheFamousPeople.com

Website

- TheFamousPeople.com

URL

-

https://www.thefamouspeople.com/profiles/nostradamus-8263.php

Last Updated

- August 07, 2017

---

---

---