Nikki Haley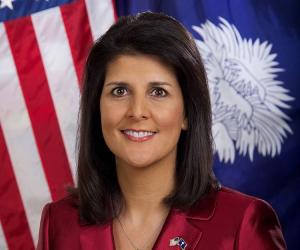 Quick Facts
Birthday: January 20, 1972
Nationality: American
Famous: Political Leaders American Women
Age: 47 Years, 47 Year Old Females
Sun Sign: Capricorn
Also Known As: Nimrata
Born in: Bamberg
Famous as: Governor of South Carolina
Height: 1.65 m
political ideology: Political party Republican
Family:
Spouse/Ex-: Michael Haley
father: Ajit Singh Randhawa
mother: Raj Kaur Randhawa
siblings: Charan Randhawa, Mitti Randhawa, Simran Singh
children: Nalin Haley, Rena Haley
religion: Sikhism, Methodism, Sikh
U.S. State: South Carolina
City: Bamberg, South Carolina
Ideology: Republicans
Net worth: $1.6 million
More Facts
education: 1994 - Clemson University, Orangeburg Preparatory Schools, Inc.
Continue Reading Below
Nikki Haley is an American Republican politician who became the first woman to serve as Governor of South Carolina, and the second Indian American governor in the United States, after Bobby Jindal of Louisiana. Before becoming the governor, she represented Lexington County in the South Carolina House of Representatives for several years. Born in South Carolina to immigrant Sikh parents from India, she grew up to be an intelligent and ambitious girl. She graduated from Clemson University with a Bachelor of Science degree in accounting and worked for sometime before joining her family business which grew to become a multimillion-dollar company over the years. She ran for a seat in the South Carolina House of Representatives, in 2004. She won the seat, becoming the first Indian-American to hold office in South Carolina. She proved to be a popular politician with her stated goals of lowering taxes and more effective management of funds allocated for public education. She was easily re-elected twice because of her stance on such issues. Ever ambitious, she successfully ran for the seat of Governor of South Carolina in 2010 and assumed office in 2011. Haley was re-elected in 2014. She has been touted as a potential vice-presidential nominee for the Republican ticket in 2016.
Recommended Lists:
Recommended Lists:
Continue Reading Below
Childhood & Early Life
Nikki Haley was born Nimrata "Nikki" Randhawa in Bamberg, South Carolina, on January 20, 1972, to Ajit Singh Randhawa and Raj Kaur Randhawa. Her parents are Sikh immigrants from Punjab, India. Her father worked as a professor while her mother managed her own shop. Nikki has two brothers and one sister.

She began helping her mother at the shop as a young girl. Her early work experience moulded her into an extremely watchful person, a trait that would help her in her future career as a politician.

After attending Orangeburg Preparatory Schools, she joined Clemson University, graduating with a Bachelor of Science degree in accounting.

Recommended Lists:

Recommended Lists:

Career

After completing her studies, she took up a position in FCR Corporation, a waste management and recycling company. Eventually she joined her mother's business, Exotica International, an upscale clothing firm, in 1994. The business soon grew on to become a highly successful multimillion-dollar company.

Married to Michael Haley by now, she became known as Nikki Haley. In 1998, she was named to the board of directors of the Orangeburg County Chamber of Commerce. She was named to the board of directors of the Lexington Chamber of Commerce, in 2003, and the same year she was made the treasurer of the National Association of Women Business Owners.

She became serious about her political career, in 2004, and ran for a seat in the South Carolina House of Representatives. She faced a challenge in the primary from incumbent Republican Larry Koon but went on to win the primary. She ran unopposed in the general election and won it to become the first Indian-American to hold office in South Carolina.

She assumed office as the Member of the South Carolina House of Representatives from the 87th district in January 2005. The same year, she was also elected chair of the freshman caucus and majority whip in the South Carolina General Assembly. She successfully ran for re-election in 2006 and 2008.

As a Republican, she assumed a fiscally conservative viewpoint on taxation. She voted for a bill that exempted sales tax on unprepared food such as canned goods and voted against a bill to override the governor's plan to place a surtax on every cigarette produced.

Being a daughter of immigrants, she believes that immigration laws should be enforced. She supports implementing legislative reforms to address issues of illegal immigration. A pro-life advocate, she consistently voted for bills that restrict abortion and protect unborn fetuses. In 2006, she voted for the Penalties for Harming an Unborn Child/Fetus law, and supported the Pre-Abortion Ultrasound law, in 2007.

Her political aspirations grew over time and she announced in 2009 that she would be running for the Republican nomination for Governor of South Carolina, in 2010. She defeated the Democratic candidate, Vincent Sheheen to become the third non-white person to have been elected as governor of a Southern state after L. Douglas Wilder and Bobby Jindal. Haley assumed office in January 2011.

As governor, she supported lower taxes and signed a law cracking down on illegal immigration in June 2011. Her popularity as a political figure continued to grow and she was sworn in for her second term in January 2015. Nikki Haley has been touted as a potential vice-presidential nominee for the Republican ticket.

Recommended Lists:

Recommended Lists:

Major Works

As the Governor of South Carolina, Nikki Haley delivered tax relief for small businesses and brought about Medicaid reform and illegal immigration reform. During her tenure, more than 58,000 jobs in 45 of 46 counties were announced and more than 25,000 South Carolinians moved from welfare to work. Another important achievement was that under her leadership the state made its largest infrastructure investment in a generation without raising taxes.

Awards & Achievements

Nikki Haley received an honorary doctorate in public service from the University of South Carolina, in May 2015.

Personal Life & Legacy

Born a Sikh, she married a Christian, Michael Haley, in both a Methodist church ceremony and a Sikh gurdwara, in 1996. Her husband is a Captain in the Army National Guard. Today, she identifies herself as a Christian. The couple has two children, Rena and Nalin.

There were rumors of her having an affair with political blogger Will Folks, in 2007, but she vehemently denied the allegation.

Net Worth

Nikki Haley has an estimated net worth of $1.6 million.

Translate Wiki

to Spanish, French, Hindi, Portuguese

Article Title

- Nikki Haley Biography

Author

- Editors, TheFamousPeople.com

Website

- TheFamousPeople.com

URL

-

https://www.thefamouspeople.com/profiles/nikki-haley-6972.php

Last Updated

- October 17, 2017

---

---

---