Neil Patrick Harris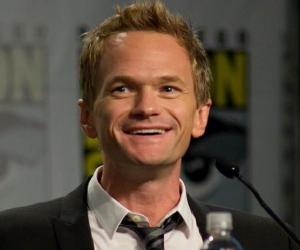 Quick Facts
Nationality: American
Age: 45 Years, 45 Year Old Males
Sun Sign: Gemini
Born in: Albuquerque
Famous as: Actor
Height: 1.83 m
Family:
Spouse/Ex-: David Burtka (m. 2014)
father: Ron Harris
mother: Sheila
siblings: Brian Harris
children: Gideon Scott Burtka-Harris, Harper Grace Burtka-Harris
U.S. State: New Mexico
Personality: ENTP
More Facts
education: La Cueva High School
Continue Reading Below
A prodigious child, Harris was bitten by the acting bug early in his life. Not the one to prolong his desires, he put his first foot into the professional world of acting right after graduating from school. Spotted by playwright Mark Medoff, he soon found himself a role in the movie, 'Clara's Heart'. His brilliance at acting and outstanding artistic effort got him roles after role. He became a household name with the ABC's show, 'Doogie Howser, M.D. It was followed by numerous films and television offers and a busy schedule. He was seen acting in 'The Next Best Thing', 'Undercover Brother', and 'Starship Troopers'. Harris not just ruled television and films, but was a star at the theatre as well with numerous Broadway stage plays and musicals. Over the course of time, he has worn the hat of the director as well and rendered his voice to various animated film. It is due to his exceptional acting skills and talent that he was awarded a star on the Hollywood Walk of Fame in September 2011.
Continue Reading Below
Childhood & Early Life
Neil Patrick Harris was born to Sheila and Ron Harris in Albuquerque, New Mexico. He was however, raised in Ruidoso New Mexico.

He attended La Cueva High School in Albuquerque. It was at school that the acting bug bit him. He was an active participant in plays and musicals. He acted as Toto in the school production, 'The Wizard of Oz'.

He graduated in 1991 with an honors degree.

Continue Reading Below

Recommended Lists:

Recommended Lists:

Career

A prodigious child, his career jumpstarted at the age of 15 when he was spotted by playwright Mark Medoff who offered him to star in the movie adaption of the novel, 'Clara's Heart'. Outstanding talent and great artistic skills earned him a Golden Globe nomination.

After the mind-blowing start to his career, he featured in a children fantasy tale, 'Purple People Eater' released in 1988.

The fantastic start to his career continued as he bagged a lead role in ABC's show, 'Doogie Howser, M.D.' The show was a major hit and cemented his position as an actor. It also made him famous among the small-screen viewers.

Running for four seasons, 'Doogie Howser, M.D' earned him a second Golden Globe nomination. Though he was offered a number of guest roles in various television series, none levelled the success of 'Doogie Howser MD'

His first major film as an adult was the 1995 release feature, 'Animal Room' in which he played a teenager. Subsequently, he was seen in the movies, 'The Next Best Thing', 'Undercover Brother', and 'Starship Troopers'.

While his film career was going on, he did not give up on television and for a year, from 1999 to 2000 was seen in the NBC sitcom 'Stark Raving Mad' along with Tony Shalhoub.

Additionally, he appeared in the made-for-television features, 'Snowbound: The Jim and Jennifer Stopla Story', 'My Antonia', 'The Christmas Wish', 'Joan of Arc', 'The Wedding Dress and 'The Christmas Blessing'.

Continue Reading Below

He also made a mark on stage acting for both Broadway musicals and dramatics. His first ever tryst at on-stage acting was playing Tobias Ragg in the 2001 concert performance of Sweeney Todd.

The following year, he performed alongside Anne Heche in 'Proof'. In 2003, besides Deborah Gibson and Tom Bosley, he took on the role of an emcee in Cabaret. It was his top-notch acting skills that earned him much critical acclaim and made him amongst the op-drawing headliner.

In 2004, his acting skills came to test as he was entrusted with the task of playing dual characters of Ballader and Lee Harvey Oswald in the Broadway musical, Stephen Sondheim's 'Assassins'. Furthermore, he portrayed the role of Charles on the Nonesuch recording of Sondheim's Evening Primrose.

The same year, he switched to the big screen wherein he played a fictionalized character of himself in Harold and Kumar stoner comedy films, 'Harold & Kumar Go to White Castle', 'Harold & Kumar Escape from Guantanamo Bay' and 'A Very Harold & Kumar 3D Christmas'.

In 2005, he was first seen playing the role of Barney Stinson, a serial womanizer in the CBS sitcom, 'How I Met Your Mother'. He has been continuing to play the character till now. From 2007 until 2010, he earned nomination at the Primetime Emmy Awards for Outstanding Supporting Actor in a Comedy Series.

In 2009, the musical episode of 'Batman: The Brave and the Bold' was premiered in which he was seen playing the villainous character of Music Meister. His character was conceptualized in a way that he could make anyone do his bidding by singing. He sang several songs all throughout.

In 2010, he gave the voice over for the role of Dick Grayson in the animated film, 'Batman: Under the Red Hood' and for Lou in the film 'Cats & Dogs: The Revenge of Kitty Galore'. The same year, he played the role of a protagonist in the comedy film, 'The Best and the Brightest'.

Continue Reading Below

In 2010, he directed the rock musical 'Rent' at the Hollywood Bowl. The following year, he was the lead actor in the Stephen Sondheim's stage show, 'Company'. The same year, i.e. in 2011, he directed The Expert at the Card Table in Santa Monica, California.

In recent years, he was spotted in the Smurf's movie series including, 'Smurfs' and 'The Smurf 2', 'The Muppets', 'American Reunion' and 'Cloudy with a Chance of Meatballs 2'.

His recent projects include 'A Million Ways to Die in the West' and 'Gone Girl'.

Recommended Lists:

Recommended Lists:

Awards & Achievements

For his exceptional acting skills and artistic talent, he has been felicitated with numerous awards and honors including, Young Artists Award, People's Choice Award, Bravo A List Award, Streamy Award, Golden Icon Award and Spike Video Game Award.

He has won the Emmy Award thrice, twice in the category of Outstanding Special Class Program and once in Outstanding Guest Actor in a Comedy Series.

In 2010, he was named one of the 100 most influential people by Time magazine. The following year, he received a star on the Hollywood Walk of Fame.

Recommended Lists:

Recommended Lists:

Personal Life & Legacy

He openly and explicitly announced his sexual preference of being a gay in November 2006.

Since 2004, he was in a committed relationship with David Burtka. In 2010, he announced of having twin children via surrogacy, a son named Gideon Scott and a daughter named Harper Grace. They got married on September 6, 2014.

Trivia

This star actor of the 'How I Met Your Mother' fame is such an avid drinker of Red Bull that the company has gifted him a lifetime supply of the drink along with a mini refrigerator for the amount of free advertisement that he has provided.

1. Gone Girl (2014)

(Crime, Mystery, Thriller, Drama)

2. Starship Troopers (1997)

(Sci-Fi, Thriller, Adventure, Action)

---

3. Harold & Kumar Go to White Castle (2004)

(Comedy, Adventure)

4. The Muppets (2011)

(Adventure, Family, Musical, Comedy)

---

---

5. American Reunion (2012)

(Comedy)

6. Harold & Kumar Escape from Guantanamo Bay (2008)

(Adventure, Comedy)

---

---

---

7. A Very Harold & Kumar 3D Christmas (2011)

(Comedy, Adventure)

8. Clara's Heart (1988)

(Drama)

---

---

---

---

| | | |
| --- | --- | --- |
| 2014 | Outstanding Special Class Program | The 67th Annual Tony Awards (2013) |
| 2013 | Outstanding Special Class Programs | The 66th Annual Tony Awards (2012) |
| 2012 | Outstanding Special Class Programs | The 65th Annual Tony Awards (2011) |
| 2010 | Outstanding Guest Actor in a Comedy Series | Glee (2009) |
| 2010 | Outstanding Special Class Programs | The 63rd Annual Tony Awards (2009) |

| | | |
| --- | --- | --- |
| 2012 | Favorite TV Comedy Actor | Winner |
| 2011 | Favorite TV Comedy Actor | Winner |
| 1990 | Favorite Male Performer in a New TV Series | Winner |

Translate Wiki

to Spanish, French, Hindi, Portuguese

Article Title

- Neil Patrick Harris Biography

Author

- Editors, TheFamousPeople.com

Website

- TheFamousPeople.com

URL

-

https://www.thefamouspeople.com/profiles/neil-patrick-harris-5018.php

Last Updated

- July 25, 2017

---

---

---