Naz Norris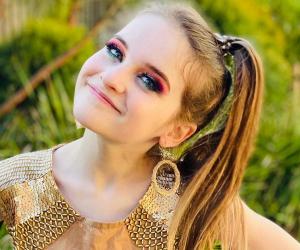 Quick Facts
Birthday: November 11, 2010
Nationality: Australian
Age: 8 Years
Sun Sign: Scorpio
Born in: Australia
Famous as: YouTuber
Family:
father: Justin Norris
mother: Brooke Norris
siblings: Biggy, Disco, Sabre, Sockie
Continue Reading Below
Naz Norris is a well-known child YouTuber hailing from Australia. She is notable for appearing on her family channel called 'The Norris Nuts' alongside her siblings Sabre, Sockie, and Biggy. The daughter of former Olympic swimmer Justin Norris, Naz Norris hails from a popular family. She is an extremely talented girl who is quite creative and intelligent. Confident in front of the camera, Naz is featured in vlogs related to kids' games, skits, adventures, challenges, and more. Each of her family's YouTube channels, 'The Norris Nuts,' 'Norris Nuts Do Stuff', 'NN Play Time' and 'Norris Nuts Squad,' has accumulated hundreds of thousands of subscribers. The child YouTuber is a charming young girl and her very presence makes the family vlogs more interesting. Besides YouTube, she is quite famous on Instagram as well.
Recommended Lists:
Recommended Lists:
Continue Reading Below
Rise to Stardom
Naz Norris' parents started the family channel, 'The Norris Nuts,' in 2014. This channel features Naz, her parents, and her siblings. With skits, challenges, and personal vlogs, this channel has a lot to offer to families with young kids. As of December 2018, the channel has accumulated over a million subscribers.

Recommended Lists:

Recommended Lists:

Naz Norris is also a part of the collaborative channel 'Norris Nuts Squad,' which is a kids' adventure channel. It has lots of fun videos for children of all age groups. The child YouTuber routinely features on the channel 'Norris Nuts Do Stuff' as well. This channel, which was launched on October 4, 2018, is dedicated to family-friendly games, challenges, skits, slime videos, and other fun content. Norris is also a member of her family's fourth collaborative channel. This channel, 'NN Play Time,' features content for children in the age group of two to five years. UnlistedLeaf, a famous online Pokémon gamer, was once featured in a vlog on her family vlogging channel. The most popular vlogs by the Norris family include 'Baby Gender Reveal "Emotional" 4 Kids Eat Gender Reveal Cake,' 'Our First Time Home Alone,' and 'Norris Nuts - We The #Legends (Official Music Video).'

Recommended Lists:

Recommended Lists:

Continue Reading Below

Family & Personal Life

Naz Norris was born on November 11, 2010 in Australia to Justin and Brooke Norris. Her father is a former Olympic swimmer who is known for his butterfly style and individual medley swimming. He was once affiliated with Hunter Swimming Club. He is a former student of Australian Institute of Sport.

Naz has four siblings named Sabre, Sockie, Disco, and Biggy, all of who are YouTube personalities who regularly feature on their family YouTube channels. She enjoys making craft items, surfing, and sewing in her leisure time.

Last Updated : December 06, 2018

Translate Wiki

to Spanish, French, Hindi, Portuguese

---

---

---

Naz Norris Fans Also Viewed