Michael Kors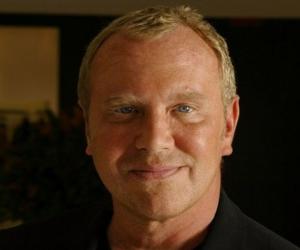 Quick Facts
Nationality: American
Famous: Gays Business People
Age: 59 Years, 59 Year Old Males
Sun Sign: Leo
Also Known As: Michael David Kors, Karl Anderson Jr.
Born in: Long Island, New York
Famous as: Fashion Designer
Height: 1.65 m
Family:
Spouse/Ex-: Lance LePere (m. 2011)
father: Karl Anderson Sr.
mother: Joan Hamburger
U.S. State: New Yorkers
More Facts
education: Fashion Institute of Technology
Continue Reading Below
Michael Kors is a renowned American fashion designer best known for designing women's fashion wear and sportswear. Kors became famous after serving as a judge on the popular TV show, 'Project Runway.' He owns the multinational company, 'Michael Kors Holdings Limited.' He is also the chief creative officer of the company. The company sells clothes and fashion accessories, such as watches, footwear, and jewelry. Kors was interested in fashion and glamor, right from his childhood. His mother was a model, which got him a lot of exposure to the fashion industry. At the age of five, Kors designed the wedding dress for his mother's second marriage. In the early days of his career, Kors worked as a designer for the French fashion house, 'Celine.' Kors played a major role in reviving the brand. Later, he started his own fashion label, 'Michael Kors,' which became a world-wide success. The brand has exclusive stores around the world. Celebrities such as Jennifer Lopez, Heidi Klum, and Michelle Obama, have appreciated dresses designed by Kors. He married his longtime partner, Lance La Pere, after gay marriage was legalized in New York.
Recommended Lists:
Recommended Lists:
Continue Reading Below
Childhood & Early Life
Michael David Kors was born Karl Anderson Jr., on August 9, 1959, in Long Island. His mother, Joan Hamburger, was a former model. His father, Karl Anderson Sr., was still a college student, when he married Joan. Kors is of Jewish and Swedish descents. His parents divorced when he was very young. His mother remarried Bill Kors, and the young boy received a new name as well as surname.

Kors was inclined towards fashion right from his childhood. When his mother remarried, Michael designed her wedding dress. As a teenager, Kors designed clothes, and sold them under the brand name, 'Iron Butterfly.' He sold the clothes from his parents' basement.

Kors grew up in Merrick, New York. He graduated from the 'John F Kennedy High School,' in Bellmore. He took acting lessons for a brief period, but gave up later to concentrate on fashion designing. Kors attended the 'Fashion Institute of Technology,' in New York. He dropped out after nine months, and started working at a boutique called 'Lothar's.' Kors started as a salesman but was later promoted to become the visual display head for the store.

Recommended Lists:

Recommended Lists:

Career

Michael Kors started his career at Lothar's boutique in Manhattan, which was close to the luxury goods store, 'Bergdorf Goodman.' He was noticed by Dawn Mello, the fashion director at 'Bergdorf.' In 1981, Kors launched his women's label, 'Michael Kors,' at 'Bergdorf Goodman.' In 1984, Kors held his first eponymous catwalk show.

In 1990, 'Bergdorf Goodman' launched 'KORS' as a licensee. In 1993, the brand was put on hold, due to the closure of one of its licensing partners. In 1997, Kors launched another low-priced clothes line.

In 1997, Kors was appointed as the designer for women's ready-to-wear clothes, by the French fashion house, 'Celine.' He played a phenomenal role in reviving the brand, and his ready-to-wear collections were widely accepted by customers.

In 2003, Kors left 'Celine' to concentrate on developing his own eponymous brand. He launched his menswear collection too. In 2004, the 'MICHAEL Michael Kors' fashion brand was launched. The brand showcases women's bags, shoes, and apparel. The brand became world-wide success, and today, it has more than 770 stores, in cities such as Paris, Milan, London, Cannes, and Tokyo.

In 2004, Michael Kors was selected as one of the judges for the TV show, 'Project Runway.' It was a reality show that focused on fashion designing. The contestants were required to design dresses based on the materials and design provided by the judges. Kors was one of the main judges of the show. It was aired on the 'Bravo' network for five seasons, and subsequently on the 'Lifetime' network. Kors quickly gained reputation during his tenure as the judge, for his quick-wit, and blunt comments. In 2012, he quit the show.

In 2016, Kors celebrated the 35th anniversary of his business. Several celebrities have worn dresses designed by Kors. Michelle Obama wore a 'Michael Kors' outfit, for her first official portrait. Kate Hudson and Olivia Wilde wore Kors' collection to the 'Golden Globe Awards,' in 2016. The sportswear designed by Kors have attained immense success.

In 2013, Kors was part of the 'Time 100,' an annual list of 100 most influential people, selected by the 'Time' magazine. In 2015, he was named the 'Global Ambassador Against Hunger,' for the 'United Nations World Food Programme.'

Personal Life

Michael Kors is a homosexual. In August, 2011, he married his longtime partner, Lance La Pere, who is the Vice President of 'Michael Kors' women's design. This marriage took place shortly after gay marriage was legalized in New York.

In 2014, Kors was reported to have a personal wealth of more than $1 billion. Kors currently lives in New York.

Trivia

When Kors' mother remarried, he had to change his surname from Anderson to Kors. His mother gave him the option to change his first name too, so he chose 'Michael' as his first name, and 'David' as his middle name.

When Kors was selected as a judge for the 'Project Runway,' he was very doubtful of its success. He was under the impression that showing fashion on TV was not a good idea. But against his predictions, the show turned about to be a big success.

Kors faced a trademark infringement case filed by the estate of designer Tony Duquette. Kors filed a case against the multinational corporation, 'Costco,' for false advertisements involving his brand.

Translate Wiki

to Spanish, French, Hindi, Portuguese

Article Title

- Michael Kors Biography

Author

- Editors, TheFamousPeople.com

Website

- TheFamousPeople.com

URL

-

https://www.thefamouspeople.com/profiles/michael-kors-42023.php

Last Updated

- September 05, 2018

---

---

---