Levi Morales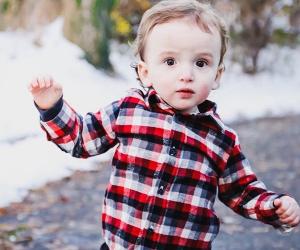 Quick Facts
Birthday: October 18, 2015
Nationality: American
Age: 4 Years
Sun Sign: Libra
Also Known As: Levi Teague Morales
Born in: Montana
Famous as: YouTuber
Family:
father: Oscar Morales
mother: Kyra Sivertson
siblings: Alaya Renee Morales
U.S. State: Montana
Continue Reading Below
Levi Morales is the son of American YouTube vlogger couple, Oscar Morales and Kyra Sivertson. Levis, nicknamed as 'Bug,' is the second youngest member of his family vlog channel, 'OKbaby.' Born in 2015, Levi registered his presence right from the moment his mother conceived him. His parents kept their viewers updated on everything related to Levi. His parents even launched a merchandise line under the name of their vlog channel, where they sell cute items with Levi's name. The family channel, 'OKbaby,' has over a million subscribers.
Recommended Lists:
Recommended Lists:
Continue Reading Below
The YouTube Story
Kyra Sivertson and Oscar Morales are a young couple vlogger and own a YouTube channel titled 'OKbaby.' They became parents for the first time when Kyra conceived Levi. She was just nineteen then! The teen-couple vlogger did start vlogging before Levi happened to them, but made it their full-time job after a few moths Levi was born. Oscar and Kyra are now a regular vlogger and upload a new video every Tuesday and Thursday. They have covered and celebrated every moment of Levi's arrival. From Kyra's first sonography to gender detection to her C-section, Oscar has captured every single moment of his son. Levi's name reveal video was also quite unique. Kyra and Oscar very creatively used scrabble letter cubes to reveal the name of their first bundle of joy. Levi was diagnosed with Jaundice after a few days of his birth. The infant had an excess of bilirubin in his blood which caused little blood clots throughout his body. That could prove dangerous and life-threatening if a clot developed in his brain. To prevent Levi from any brain damage, the doctors put him under a purple light to help break down the bilirubin which was later removed from his body through urination. Levi had a grand welcome back at his home.

Recommended Lists:

Recommended Lists:

A year later, the vlogger couple welcomed their second child, a baby girl this time. In one of their vlogs, they captured Levi's reaction on seeing his sister getting all the love and care that he was getting before. He was jealous of the newborn and looked sad in the video.

Levi's second birthday was celebrated at his grandparent's place, in Los Angeles. His parents threw a grand party on that occasion. They kept the tractor theme for the party and dressed Levi as a tractor driver.

In 2016, Oscar and Kyra created a separate channel under Levi's name, but there too they post vlogs from their channel. The channel is yet to be picked up by the viewers.

For more of Levi's cuteness, one can check OKbaby's official Instagram feed where his numerous pictures have captivated more than 360 thousand followers. Levi's parents have launched a merchandise line, which they sell on the website, 'The Loyalist.' The website has a wide range of merchandise like t-shirts, mugs, caps etc. with 'OKbaby' family's name written on them.

Continue Reading Below

Personal Life

Levi was born on October 18, 2015, in Montana, United States. His full name is Levi Teague Morales and was nicknamed as 'Bug.' He has a sister Alaya Renee Morales, who was born a year later his birth. She looks like Levi. She is nicknamed 'Little Bug.'

Last Updated : April 07, 2018

Translate Wiki

to Spanish, French, Hindi, Portuguese

---

---

---

Levi Morales Fans Also Viewed