Duncan Ballinger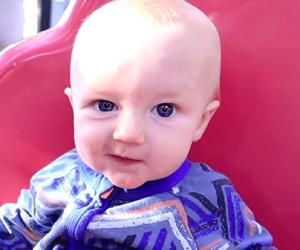 Quick Facts
Birthday: May 12, 2017
Nationality: American
Age: 2 Years
Sun Sign: Taurus
Born in: California, US
Famous as: YouTube Star
Family:
father: Chris Ballinger
mother: Jessica
siblings: Bailey, Jacob, Parker
U.S. State: California
Continue Reading Below
Duncan Ballinger is an American 'YouTube' star. He shot to fame soon after his birth, as part of the famous Ballinger family. His parents, Jessica Ballinger and Chris Ballinger, run the hugely popular 'YouTube' channel 'Ballinger Family.' The channel focuses exclusively on creating and posting adorable family vlogs and has earned a huge number of followers. Duncan became part of the ever-growing channel when his parents announced that they were pregnant with him, in the video 'Pregnancy Announcement.' His debut on 'YouTube' happened with the video 'Welcome Duncan Ballinger! (Birth Vlog) Best Mother's Day Ever!!!' Since then, the little bundle of joy has become popular with videos such as 'Duncan's First steps!' and 'Duncan's 2 Year Old BIRTHDAY SPECIAL!' His older siblings, sister Bailey and brothers Jacob and Parker, have also grabbed the limelight as "YouTubers," while his aunts, Rachel Ballinger and comedian, actor, singer, and writer Colleen Ballinger, are also noted American 'YouTube' stars.
Recommended Lists:
Recommended Lists:
Continue Reading Below
Birth
Duncan Ballinger became part of the famous 'YouTube' channel 'Ballinger Family' even before his birth, when his parents posted the video 'Pregnancy Announcement,' announcing that they were expecting their fourth child together. The video was posted on October 26, 2016, and has so far amassed over 404 thousand views. Since then, his parents have posted several other fascinating videos, sharing their amazing journey during different phases of the pregnancy. Some such videos are 'Mommy's PREGNANT! - Family Reacts to New Baby,' 'Listening to Baby's Heartbeat at Home!!! 13 weeks,' 'Baby's First Kicks!?,' 'Baby Name Reveal - Ballinger Family,' and 'Crazy Baby Kicks in Mommy's Pregnant Tummy!'

Recommended Lists:

Recommended Lists:

After Duncan's birth, the proud parents posted the video 'Welcome Duncan Ballinger! (Birth Vlog) Best Mother's Day Ever!!!,' offering the first glimpse of the little bundle of joy and Duncan's debut on 'YouTube.' The video was posted on May 14, 2017 and has since gained over 1.3 million views. Jessica and Chris informed that Jessica had had a normal delivery. They also informed their fans that because of the legal policies of the hospital, they were not permitted to film the birth. With time, Duncan won hearts by featuring in several other adorable videos posted by his parents. These include videos such as 'Bringing Baby Home From the Hospital!,' 'Newborn Baby Umbilical Cord Falls Off ~ Brand New Belly Button!,' 'Baby's First Bath!!!,' 'Baby's First Trip to Disneyland!,' 'Duncan's 2 Year Old BIRTHDAY SPECIAL!,' and 'Baby Doctor Appointment - A Big Day!' Some of them have garnered hundreds of thousands of views. The family channel of Duncan, which has been instrumental in his meteoric rise as a 'YouTube' star, was launched on January 7, 2013. It features adorable family videos that include all members of the family. Over time, it has become hugely popular with viewers. The channel has already managed to earn more than 1.3 million subscribers and a whopping count of over 401 million views, as of July 4, 2019.

Continue Reading Below

Family & Personal Life

Duncan Ballinger was born on May 12, 2017, in California, US. He is the fourth child of Jessica and Chris Ballinger. His parents were high-school sweethearts who dated each other for around 5 years before getting married on June 19, 2004. Chris is a magician, video blogger, and social-media personality, better known as a 'YouTube star,' whereas Jessica has gained fame as an 'Instagram' sensation. Both of them run the 'YouTube' channel 'Ballinger Family.' Earlier, Chris would upload magic videos on 'YouTube' for a company. He did this for 7 years. In 2014, after getting laid off by the company, Chris decided to create his own daily videos and started posting vlogs on 'Ballinger Family.'

Duncan has an older sister named Bailey and two older brothers named Jacob and Parker, all of whom are 'YouTube' stars. Duncan's father has also written a bestselling book with his aunt Colleen Ballinger (aka Miranda Sings), a comedian, actor, singer, writer, and "YouTuber." His other aunt, Rachel Ballinger, too, is a famous 'YouTube' star, who has gained immense fame for posting humorous videos. Duncan and his family are all set to welcome the newest member of their family, as his parents announced in April 2019 that they were expecting their fifth child together.

Last Updated : July 10, 2019

Translate Wiki

to Spanish, French, Hindi, Portuguese

---

---

---

Duncan Ballinger Fans Also Viewed