Leonardo da Vinci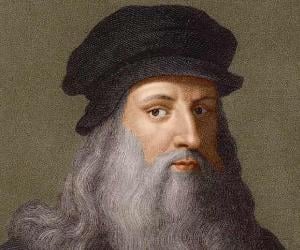 Quick Facts
Birthday: April 15, 1452
Nationality: Italian
Famous: Quotes By Leonardo Da Vinci Left Handed
Died At Age: 67
Sun Sign: Aries
Born in: Vinci
Famous as: Painter, Sculptor, Architect, Engineer, Scientist
Family:
father: Piero da Vinci
mother: Caterina
siblings: Bartolomeo da Vinci
Died on: May 2, 1519
place of death: Clos Lucé
Diseases & Disabilities: Dyslexia
Personality: ENTP
discoveries/inventions: Viola Organista, Double Hull
Continue Reading Below
Leonardo di ser Piero da Vinci is known to the world as a polymath, architect, mathematician, musician, sculptor, engineer, inventor, anatomist and writer. Da Vinci is considered to be a true Renaissance man who earned a great deal of proficiency in many subjects. He is revered today because of his artistic contributions that defined and molded the world of art and also because of his countless achievements in other notable fields. He helped unravel the sciences, developed new art techniques and was also one of the first people to dissect a human body. Da Vinci was also an accomplished musician and, for the fetes, ballets, intermezzi and sonnets—of which the Renaissance period was so fond—Leonardo was beyond compare. He was an embodiment of the spirit of Renaissance and was known for his feverishly inventive imagination and unquenchable curiosity. Very few artists of his time possessed the qualities and the vehemence to accomplish what he did. Today, his art is priceless and his science is accredited. There are only about 15 of his paintings that survive today and the 'Mona Lisa' is by far the most valuable one. To learn more about this great personality, scroll further.
Recommended Lists:
Recommended Lists:
Continue Reading Below
Early Years
Very little is known about Leonardo di ser Piero da Vinci's early life and, for many years, it has been the subject of historic surmise.

It is believed that he spent the first five years of his life in Anchonio, a hamlet, and, from 1457 onwards, he lived with uncle, Francesco, in the town of Vinci and received formal education in Latin, mathematics and geometry.

He was greatly inspired by the unique and bizarre incidents that took place in his life when he was a boy such as, discovering a cave in the mountains where he believed a great monster lived. This went on to inspire many of his paintings and works in the later years.

Continue Reading Below

Recommended Lists:

Recommended Lists:

The Workshop Of Verrocchio

At the age of 14, Leonardo da Vinci became an apprentice to one of the greatest painters of the time, Andrea del Verrocchio. He learned to paint and sculpt under him and was also taught the basics of metallurgy, drafting, chemistry, botany, cartography and carpentry at his workshop.

Although he was a star student and a thorough all-rounder, Da Vinci chose art as his main profession but also pledged to use all that he learned from the workshop, in his life.

He collaborated with Verrocchio on a number of paintings such as 'The Baptism of Christ'. It was while painting this piece that Verrocchio was stunned with the boy's sheer talent and vowed never to use the paint brush again because Da Vinci's work, he believed, was far too superior.

By 1472, Leonardo qualified as a master in the Guild of St. Luke, an association of artists and doctors. Da Vinci was so attached to Verrocchio, that he abandoned the workshop that his father set-up and continued to collaborate with his master on a number of pieces.

One of his earliest drawings is 'Arno Valley', a sketch of the valley of the same name, which was made on August 5, 1473, with the help of Verrocchio.

Recommended Lists:

Recommended Lists:

Paintings, Sculptures & Architecture

In 1478, he received two important painting commissions viz., 'St. Jerome in the Wilderness' and 'Adoration of the Magi', both of which were never completed.

Continue Reading Below

From 1478 to 1480, he painted 'Madonna of the Carnation', an oil painting, with the central motifs of Young Mary and Baby Jesus on her lap and a carnation in her left hand. Originally, the painting was believed to have been created by Verrocchio, but historians later agreed that it was purely one of Leonardo's early works.

The next important works were 'The Virgin of the Rocks' and 'Madonna of the Rocks' which were similar in style but differed in composition. The former version, made from 1483 to 1486, is housed in the Musee du Louvre and the latter, made from 1495 to 1508, is a darker version and was transferred to the National Gallery of London.

He was commissioned to create a massive horse statue for a patron and over seventy tons of bronze was sent to him for the purpose however, it was never used. Finally, the structure was made of clay and completed in 1492 and became known as the 'Gran Cavallo'.

One of his greatest paintings, 'The Last Supper', was commissioned to him by the Duke Lodovico Sforza and Leonardo worked on it from 1495 to 1498.

In the year 1500, Leonardo was appointed as the military architect and engineer and was asked to devise a plan to defend the city of Venice, from naval attack.

In 1502, he entered the service of Cesare Borgia, the son of Pope Alexander VI, and created a map of Cesare's city at a time when maps were not very common. Around the same time, he also created a town plan of Imola in order to win the dignitary's patronage.

The same year, he produced another map, this time of Chiana Valley so as to give his benefactor a better strategic position during war. He created the map in combination with another project involving the construction of a dam for sustainable water supply in the same city.

Continue Reading Below

In 1503, Leonardo went to Florence and began painting a mural of 'The Battle of Anghiari', which took him two years to complete. He started painting his masterpiece 'Mona Lisa', also called 'La Gioconda', around the same time and completed it in 1506.

In 1506, he returned to Milan and many of his prominent pupils began to work with him, including Bernardino, Luini, Giovanni, Antonio, Boltraffio and Marco d'Oggione.

Recommended Lists:

Recommended Lists:

Journals, Scientific Observations & Inventions

In the Renaissance period, both science and art were considered important and Leonardo was vastly ahead of his time. His works in science and engineering were as impressive as his art.

His approach to science was more observational than theoretical. He used his background knowledge in Latin and mathematics to formulate and prepare a series of skeletal figures, which helped him in his scientific inventions.

The contents of his journals made many historians believe that he was planning a series of treatises to be published on a variety of subjects, including a lucid treatise on the human anatomy.

A man of many inventions, he was obsessed with flight and had plans for building something similar to a helicopter in 1502. He even created musical instruments and hydraulic water pumps, most of which were considered irrational at the time and were never made.

He wrote several books throughout his lifetime, including 'Codex on the Flight of Birds' in 1505, a scientific palimpsest containing 18 folios.

Continue Reading Below

Leonardo's formal training of the human anatomy began with the apprenticeship under Verrocchio. His precision as a sculptor helped him dissect human corpses with finesse which enabled him to draw as many as 15,000 visible anatomical features in over 200 pages.

He also sketched various diagrams of the human skeleton, muscles, sinews, the vascular system and genitalia, along with a couple of postscripts. Apart from studying the human anatomy, he dissected and studied the structure of amphibians, birds and a couple of mammals like horses and cows.

Major Works

The 'Virgin of the Rocks', as well as its variation 'Madonna of the Rocks', was painted during 1483-1508 and is considered one of his greatest works for its significant detailing and style. Of the two versions, the former is housed in the National Gallery of London while the latter can be seen in the Musee de Louvre.

The 'Vitruvian Man' is a drawing created by Leonardo Da Vinci in 1490 and depicts two superimposed positions of a male figure. The drawing is often referred to as the 'Canon of Proportions' and was drawn in the honor of the architect, Vitruvius. Considered one of his important scientific-mathematical contributions, it described the correlation of ideal human proportions with geometry, based on Vitruvius' Classical orders of architecture.

'The Last Supper', painted in 1498, is one of his legendary paintings and was made for the diner of the Convent of Santa Maria della Grazie, Milan. It is believed that Leonardo worked on this from dawn to dusk without stopping to eat and considered it his masterpiece due to its characterization and design. Although the original painting is now almost ruined, it still remains one of his highly reproduced works of art.

The 'Mona Lisa' is considered Da Vinci's magnum opus and, although never completely satisfied with the work, he was extremely attached to it and never delivered it to its commissioner. For him, the 'Mona Lisa' was his attempt at excellence and he carried it with him wherever he travelled, keeping it with him till the end of his life. Today, the painting is housed in the Musee de Louvre and is regarded as a priceless national treasure.

Continue Reading Below

Leonardo da Vinci maintained diaries which contained a whopping 13,000 pages of scientific notes and drawings on natural philosophy, life and travels. These diaries, that contain everything about Da Vinci's life and exploits, are still preserved in major collections at Windsor Castle, the Louvre, The British Library and the Biblioteca Nacional de Espana.

Personal Life

It is said that Leonardo first learned to play the musical instrument, the lyre, when he was a child and began to compose his own tunes. It is also believed that the Duke of Milan preferred Leonardo's musical performances over his own court musicians', because his techniques, talent and skill were matchless.

Leonardo Da Vinci had many friends and patrons, such as Luca Pacioli, Cesare Bogaria, Isabelle d'Este and Niccolo Machiavelli, who were now renowned in their respective fields.

Leonardo was a nature enthusiast mainly because he was surrounded by trees, mountains and rivers as a child. This may have also inspired many of his landscape works.

He was not attracted to women, but developed a close friendship with his patrons Cecilia Gallerani and the two Este sisters, Isabella and Beatrice.

His sexuality was often the subject of speculation for many and though the curiosity died in the 16th century, it was revived once again by Sigmund Freud. It is believed that he developed passionate feelings for his male pupils and friends and these relationships were mostly erotic in nature. This eroticism has been exhibited in a couple of his last paintings like 'John the Baptist' and 'Bacchus'.

Court records of 1476 show that Leonardo and three other men were charged with sodomy in an incident involving a notorious male prostitute. It is also believed that one of the men involved in the incident was related to the affluent Medici family.

Continue Reading Below

He is described by early biographers as a man with great personal appeal, kindness and generosity and was well-loved by his contemporaries.

He passed away at Clos Luce in a manor house, where he spent the last three years of his life.

Legacy

Leonardo Da Vinci's legacy lies in the diversity of his knowledge and his broad range of disciplines that set him apart from the rest of his contemporaries. Today, more than his paintings, it is his notebooks that have documented everything he saw in the cosmos that give us valuable insights into his life and times.

All of his drawings were exported to England by Charles II and have been kept in the Royal Collection since the late 17th century. Of his paintings, only 15 survive till today and are dispersed around the world.

Leonardo treated his pupils with great indulgence and after his death many of them, like Count Francesco Meltzi, Gian Giacomo Caprotti and Marco d'Oggione, inherited his artistic works and scientific manuscripts.

Countless books have been written in his honor, such as 'The Literary Works of Leonardo Da Vinci', 'Leonardo Da Vinci', 'Drawings of Leonardo da Vinci', and 'Masters in art. Leonardo Da Vinci'.

Many movies and historical documentaries based on this great personality were also made. 'Da Vinci: The Lost Treasure', 'The Life of Leonardo da Vinci' and 'Great Artists with Tim Marlow- Leonardo' are some of the few.

Continue Reading Below

The 'Leonardo da Vinci Award', was established in 1975 by the Rotary Club of Florence and is presented to young people involved in the study of arts, technology, literature and the sciences.

The 'Leonardo da Vinci' World Award of Arts was established as a means of acknowledgement to those who offer a confident message to mankind through art.

Trivia

This famous Renaissance man was one of the first artists to use oil paints for his art works instead of the usual, egg tempera.

For the era he lived in, this renowned painter, sculptor and polymath was quite an exception as he chose to be a vegetarian for humanitarian reasons.