Lawrence Welk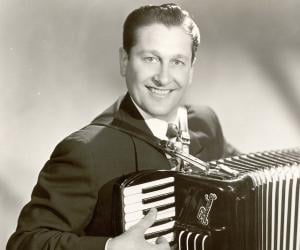 Quick Facts
Nationality: American
Famous: American Men Male Musicians
Died At Age: 89
Sun Sign: Pisces
Born in: Strasburg, North Dakota
Family:
Spouse/Ex-: Fern Renner
father: Ludwig Welk
mother: Christiana Welk
children: Donna Welk, Jr., Lawrence Welk, Shirley Welk
religion: Roman Catholic
place of death: Santa Monica, California
U.S. State: North Dakota
epitaphs: Keep a song in your Heart
Continue Reading Below
Lawrence Welk was an American bandleader and accordion player. He earned money at the age of 13 by playing accordion and later formed two groups namely 'The biggest little bands in America' and 'The Hotsy-Totsy Boys'. His long-running TV show, 'The Lawrence Welk show', was a hit in its time and continues to be much-loved in reruns. His 1065 episodes show was a musical ensemble of some brilliant artists forming his 'Musical family'. He was quite insightful towards his audience's wishes and never failed to offer them a wide variety of melodies entwined in an assorted fashion. Throughout this, he never lost his fondness for 'Jazz', his first-love. He was an uncompromising disciplinarian as far as the quality of his show was concerned. He disapproved of the appearance of comedians on the show and declined the sponsorship of alcohol and cigarette companies. He had a prolific career as a recording artist. The reruns of his show display their high popularity even after his passing away. Apart from this, he was a first-rate businessman with investments in real estate & musical publishing, and a regular at many celebrity golf tournament programs.
Recommended Lists:
Recommended Lists:
Continue Reading Below
Childhood & Early Life
He was born in a small German town of Strasburg, North Dakota. His parents had immigrated to America in 1892, escaping the strife going on in Alsace-Lorraine. They lived in a homestead in ND which is a tourist attraction today.

He learned to play polka music on his father's accordion and began performing at local music events in his early teenage years. After four years, he persuaded his father to buy him his own accordion and promised his father to work on the Family's farm until he was 21 to repay the cost incurred on accordion.

In 1927, he graduated from the MacPhail Centre for Music in Minneapolis, Minnesota.

Continue Reading Below

Recommended Lists:

Recommended Lists:

Career

Upon turning 21 he took up music as a full-time career playing with various polka style bands around the area. Soon, he formed his own quartet: 'The Lawrence Welk Novelty Orchestra'. His band was also the Station band for popular radio station WNAX in Yankton, South Dakota.

The band underwent a lot of transformation including name change for instance, 'The Hotsy-Totsy Boys', 'The Honolulu Fruit Gum Orchestra', and 'The Biggest Little Band in America'.

In November, 1928 he recorded a remarkable song in a ragtime style for Indiana-based 'Gennett Records'. He recorded four sides, out of which one side was rejected.

In 1937, he moved the group to Omaha where they gained expertise in dance tunes and 'sweet' music. The band traveled around the country by car as they were too poor to afford high traveling and accommodation expenses.

In 1938, during their concert at William Penn Hotel in Pittsburg, a fan linked their light, rhythmic and bubbly music to champagne; this earned the band its tag, describing its sound as 'champagne music'.

In 1940, he booked his group at Trianon ballroom in Chicago which proved to be a big achievement, regularly pulling out a huge crowd. Therefore, he moved his family to Chicago and lived there for the next ten years. He signed with 'Decca' and recorded for 'Mercury' and 'Coral'.

Meanwhile, his orchestra also performed at Roosevelt Hotel in New York City and after five years he collaborated with Western artist Red Foley to record a version of Spade Cooley's 'Shame on you' which went on Billboard's September 15 'Most played juke box Folk Records' listing.

Continue Reading Below

From 1949-1951, the band had its own National radio program on ABC sponsored by 'The Champagne of Bottle Beer' Miller high life, a well-known brewing company.

In 1951, he took part in a late-night TV show in Los Angeles. Its success inspired him to move to LA the same year and led him to produce 'The Lawrence Welk Show' on KTLA television station. This show made its national debut in 1955 on ABC as a midseason replacement and drew together one of the largest fan following.

Major Works

In 1931, he recorded eight sides for 'Paramount' which were distributed to the 'Broadway' and 'Lyric' labels. These records are now hard to find and extremely invaluable.

In 1966, he recorded an album on 'Ranwood Records' label with Johnny Hodges, an America alto saxophonist, bringing out a number of Jazz standards including 'Someone to watch over me', 'Misty', and 'Fantastic, that's you'. The album is highly esteemed but has been out of print for many years.

His famous show, 'The Lawrence Welk Show' amassed the best known performers including accordionist conductor Myron Floren, ragtime pianist Joe Ann Castle, singing group 'The Lennon Sisters', Dixieland clarinetist Pete Fountain, Irish style singer Joe Feeney, tap dancer Arthur Duncan, dancer Bobby Burgess, and a featured female singer christened as 'The champagne lady'.

He had a good number of instrumental hits in his name including a cover of the song 'Yellow bird', originally released by the Norman Luboff choir in 1957. In 1961, he released his chartbuster record 'Calcutta' which became a big hit instantly. It was recorded in a single take. It gained the topmost position in U.S. pop charts between 13 and 26 February; the album also surpassed all the levels of glory.

Awards & Achievements

In 1961, he was admitted as a charter member of the 'Theodore Roosevelt Rough Rider Award' from his native place, North Dakota.

In 1994, he was welcomed into the International Polka Music Hall of Fame for his noteworthy contribution to the advancement and promotion of Polka music.

He has a star for recording in 'Hollywood Walk of Fame' located at Hollywood boulevard and a second star at Vine Street for television.

Personal Life & Legacy

He was married to Fern Renner and had three children from her. He has many grandchildren and great-grandchildren as well.

His band continues to appear in the theatre in Branson, Missouri. Besides, the TV show has been repackaged for broadcasts on PBS stations. The production rights are with Oklahoma Educational Television Authority.

A resort community, 'The Welk Group', developed by him in California is open to the public. It has a theatre group which performs live Broadway musicals all the year round; it also owns broadcasting rights and record labels.

The 'Live Lauren Welk show' makes concert tours every year across the United States and Canada introducing stars from the television series.

He titled two of his autobiographies after his trademark phrases, 'Wunnerful Wunnerful!' (1971) and 'Ah-one Ah-two!' (1974).

Translate Wiki

to Spanish, French, Hindi, Portuguese

Article Title

- Lawrence Welk Biography

Author

- Editors, TheFamousPeople.com

Website

- TheFamousPeople.com

URL

-

https://www.thefamouspeople.com/profiles/lawrence-welk-3296.php

Last Updated

- November 03, 2017

---

---

---