Kim Zolciak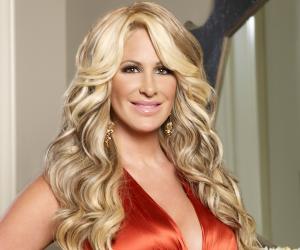 Quick Facts
Nationality: American
Famous: Singers American Women
Age: 41 Years, 41 Year Old Females
Sun Sign: Taurus
Also Known As: Kimberleigh Marie Zolciak, Kim Zolciak-Biermann, Kimberleigh Marie
Born in: Pensacola, Florida, United States
Famous as: Television personality
Height: 5'9" (175 cm), 5'9" Females
Family:
Spouse/Ex-: Daniel Toce, Kroy Biermann
father: Joe Zolciak
mother: Karen Zolciak
children: Ariana Biermann, Brielle Biermann, Jr., Kaia Rose Biermann, Kane Ren Biermann, Kash Kade Biermann, Kroy Jagger Biermann
U.S. State: Florida
City: Pensacola, Florida
More Facts
education: University of Connecticut, 1996 - East Catholic High School
Continue Reading Below
Kimberleigh Zolciak-Biermann better known as Kim Zolciak is a popular American television artist. She rose to fame with her appearance in the reality show 'The Real Housewives of Atlanta' spanning five seasons. She was launched in her own show titled 'Don't Be Tardy for the Wedding'. She released several singles on the show which became huge hits and were placed on music charts, such as 'Tardy for the Party' and 'Love Me First'. Kim also has an eye for fashion and latest trends. As a mother of six, she knows exactly how to grab the attention of the paparazzi with her slick and elegant trends. Amongst the numerous accessories that she loves flaunting, the most controversial has been the blonde wigs that she sports. She began her career as a practicing nurse, but after a few years she turned towards the entertainment industry with skills of a country artist and soon became a television star. In 2015, she joined the dance reality show 'Dancing with the Stars' as a contestant. She has gone on to live her dream by launching her own beauty brand called 'Kashmere'. In fact, she personally helped formulate the beauty products along with cosmetic chemist, Susan Goldberry for her brand's 'Kashmere Kollections' range.
Recommended Lists:
Recommended Lists:
Continue Reading Below
Childhood & Early Life
She was born Kimberleigh Marie Zolciak on 19th May, 1978 at Pensacola in Florida to Karen and Joseph Zolciak. Her father worked with the military and thus she grew up in Connecticut.

Kim spent most of her childhood with her brother, Michael Zolciak. Her parents were Roman Catholics of Italian and Polish descent.

She attended 'East Catholic High School in Manchester' and graduated in 1996. After completing high school, she took up nursing and attended training at the 'University of Connecticut'.

When she was twenty one she moved with her family to Atlanta after completing her degree in nursing in 1999. She earned a license as a practical nurse or an LPN in both Connecticut and Atlanta.

Recommended Lists:

Recommended Lists:

Television & Music Career

She worked as a nurse in Georgia for more than five years until she landed her first reality show on 'Bravo' titled 'The Real Housewives of Atlanta' also called RHOA in 2008.

The show is centred on the personal and professional lives of several women in Atlanta, Georgia. Kim was a part of the show from the first to its fifth season. The show is currently running its ninth season, in which she has appeared as a guest.

In 2008, she also took to country music. On the reality show, she released her debut single 'Tardy for the Party' in 2009. The song has been downloaded over a hundred thousand times and became the most successful song of any cast in 'The Real Housewives'.

After the completion of a successful fourth season Kim was cast in a spin-off of the reality show, which was titled 'Don't Be Tardy for the Wedding'. The show was based on her wedding preparations with NFL player, Kroy Biermann.

Following her second reality show success, she and fellow 'Real Housewives' star Ne Ne Leakes were to have another show of their own on 'Bravo' network called 'Ne Ne and Kim'. However, the show was cancelled.

She also released some more hit singles such as 'Google Me' in 2011 and 'Love Me First' in 2012 on the 'RHOA' show.

Recommended Lists:

Recommended Lists:

Controversy Surrounding 'Tardy for the Party'

The song 'Tardy for the Party' was written by Kandi Burruss, Joel Bowles, Darnell Richard and Kim. However, Kim claims that the song was originally written by her daughter, Brielle and was later worked on by Kandi Burruss.

Continue Reading Below

The song was remixed in 2009 and 2010, but what spurred controversy was the on-going dispute between Kim and Burruss throughout the second and third season of the RHOA show relating to copyright issues.

Burruss accused Kim of avoiding some payments during the production of the song. Her accusation also reflected pending profits earned from the song. In 2013, she filed a lawsuit against Kim, stating that Kim had made profit from the song "without plaintiffs' authorization, license or consent".

However, after seven months the lawsuit was dismissed as the judge declared that Kandi Burruss had not provided sufficient evidence for the charges against the accused.

Recent Work

'Don't be Tarry' is one of her most successful shows. Though she had gained fame from her appearance in RHOA, she is the lead in the 5 season reality show. The first season was launched in 2012 and the fifth season aired on 14th September, 2016.

In 2015, she was also part of ABC's reality show 'Dancing with the Stars'. She was paired with Tony Dovolani, but owing to health reasons she withdrew from the show after putting up two performances.

In 2016, she turned an entrepreneur and launched her own line of skin-care products under the brand name 'Kashmere'. Later that year, she also began working on a new perfume for her upcoming 'Kashmere' beauty-products line.

Major Works

Her hit single 'Tardy for the Party' was received well by adults ranging from 18 – 45 years old. The song was downloaded over twenty nine thousand times in its first week and even made its way to radio lists.

Continue Reading Below

Her presence on the show 'The Real Housewives of Atlanta' has been appraised. The 'Common Sense Media' stated that the show was both "successful and entertaining". The New York Times revealed that RHOA was a popular show in the US.

Owing to its first season – nine episode success in 2012, her own show 'Don't Be Tardy for the Wedding' was retitled to 'Don't Be Tardy' after her wedding with her NFL beau. The show has been premiered for four more seasons ever since, though it was originally slated to run for only one season.

Personal Life & Legacy

She gave birth to her first child, Brielle on 25th February 1997. She was just 18 years old at the time of the birth of her daughter. Kim has never disclosed the name of Brielle's father.

In 2001, she married Dan Toce. Their marriage lasted for two years and the couple split in 2003. Before they split they became proud parents of Ariana on 18th October, 2002. Dan Toce was later accused of molesting a teenager several years after his divorce with Kim.

Following her divorce, she kept her relationships away from public eye, until 2010 when she announced that she was a bi-sexual and was then in a relationship with DJ Tracy Young. However, the same year she met the NFL footballer of 'Atlanta Falcons' Kroy Biermann at a charity event. The two hit it off and apparently began dating even though Kroy was already rumoured to be in a relationship.

In May, 2011 she gave birth to her third child, and named him Kroy Jagger Jr. On 11thNovember, 2011 she married her fiancé Kroy Biermann in an episode on her show for the world to witness. The following year, her fourth child Kash Kade came along.

At the age of thirty five she gave birth to twins – Kaia Rose and Kane Ren on 25th November, 2013. The same year, her husband Kroy filed for the adoption of Kim's daughters Brielle and Ariana, who later received their step father's surname.

Trivia

At sixteen, Kim had an affair with a police sergeant form Windsor Locks, who had 24 years of experience in the department. Apparently, he had interviewed her as a witness for a crime investigation. When the department learnt of the affair, the sergeant was removed.

Translate Wiki

to Spanish, French, Hindi, Portuguese

Article Title

- Kim Zolciak Biography

Author

- Editors, TheFamousPeople.com

Website

- TheFamousPeople.com

URL

-

https://www.thefamouspeople.com/profiles/kim-zolciak-15553.php

Last Updated

- August 23, 2017

---

---

---