Justin Jedlica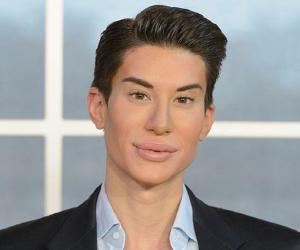 Quick Facts
Nationality: American
Famous: American Men Leo Men
Age: 38 Years, 38 Year Old Males
Sun Sign: Leo
Also Known As: Human Ken Doll, Ken, Justin William Jedlica
Born in: Poughkeepsie, New York
Famous as: Plastic Surgery Consultant
Family:
mother: Tanya Marsik
siblings: Christina Jedlica
U.S. State: New Yorkers
More Facts
education: Apex High School
Continue Reading Below
Justin William Jedlica is an American television personality and plastic surgery consultant. He has gained popularity for drastically changing his own appearance through multiple plastic surgeries. The media has dubbed him the "Human Ken Doll" for his plastic-like features. A native of New York, Jedlica was raised in a Roman Catholic family of Slovak background. His parents raised him and his siblings in a conservative and strict environment. Despite his father's conventional ideas about what a man should be, Jedlica was interested in arts, music, and performing. He was also intrigued by body contouring and cosmetic surgery, considering them to be the visual expression of wealth and affluence. He wanted to get a rhinoplasty when he was still a teenager but his parents refused to give their consent. Not long after his 18th birthday, Jedlica underwent the nose reconstruction surgery. In the ensuing years, he has gone under the knife for over 300 surgeries.
Childhood & Early Life
Jedlica was born on August 11, 1980, in Poughkeepsie, New York. His mother's name is Tanya Marsik. He has three younger siblings, including two brothers and a sister named Christina. They were raised in a very conservative household, first in Fishkill, New York, and later in Cary, North Carolina. His parents were extremely strict, especially his father. According to Jedlica, his father had certain ideas about masculinity and wanted his first-born son to emulate him in every way. However, Jedlica could not adapt well to school life. He did not like sports, was "totally nerdy", plucked his eyebrows, and had long hair. Since he was a child, he has harboured a deep interest in arts, music, and performing. He also aspired to live an affluent life. He loved sketching and making sculptures of the human form.

Jedlica's father was neither a drunkard nor a drug addict but he sometimes got extremely angry. Breaking rules in that household often resulted in physical punishment. However, his father treated Tanya even worse than he treated his children. As Jedlica grew up, he learned to protest against his father's actions and sometimes even contacted the authorities. His mother's initial attempts to leave her husband failed because of their orthodox religious values. She also did not have the financial ability to live on her own at the time. Tanya ultimately did divorce her husband, after Jedlica turned 18.

As he grew up, he became more and more enthralled by the lives of the rich and the famous. He watched the likes of Michael Jackson, Joan Rivers, Elvis Presley, Andy Warhol, and Donald Trump on television and started to believe that these celebrities expressed their success and fame through body contouring and cosmetic surgery. He was also inspired by Greek, Roman, Egyptian, and renaissance art.

Continue Reading Below

Career, Marriage & Multiple Surgeries

Justin Jedlica was extremely self-conscious about his nose since he was a teenager and wanted to undergo a rhinoplasty. However, his parents denied him their support and he was compelled to wait until he was legally able to make his own decisions. A few days after he celebrated his 18th birthday, he went under the knife for the first time.

After moving out of the house he had grown up in, he found another place to reside in North Carolina. Jedlica is gay and used to dress up in drag to perform at places like Legends Nightclub in Raleigh. He also owned a company that provided faux paint finishes for interior designers.

He relocated to New York City to find love. In July 2014, he married an older businessman and moved to Chicago with him. They lived in the Trump Tower and Jedlica got the opportunity to play a "house husband." His partner financed most of his cosmetic surgeries until their divorce in 2016. He has spent over $500,000 on cosmetic surgeries. Besides rhinoplasty, he has gotten chest implants, shoulder implants, biceps implants, triceps implants, brow shaving and lifts, cheek augmentations, sub-pectoral implants, thigh implants, gluteoplasty, lip augmentations and calf implants. Most of these implants were customized to fit Jedlica's personal preferences.

In 2012, Jedlica started to garner media attention following his appearance in a book titled 'A New Kind of Beauty' by photographer Phil Toledano. ABC's '20/20' was one of the first television programs to reach out to him. He was subsequently featured in the October 2012 episode 'Going to Extremes'. In the following years, he has appeared in several other TV shows, including 'My Strange Addiction' (2014), 'Oprah: Where Are They Now' (2014), 'Botched' (2015), and 'Million Dollar Matchmaker' (2016).

He currently resides in Los Angeles, California and works as a part-time plastic surgery consultant. He not only provides valuable information to his clients as they design their customized implants but also serves as a source of moral support by being in the operating room with them. While many of his critics say that he is addicted to plastic surgeries, Jedlica considers himself as an artist utilizing his own body as his canvas.

Translate Wiki

to Spanish, French, Hindi, Portuguese

Article Title

- Justin Jedlica Biography

Author

- Editors, TheFamousPeople.com

Website

- TheFamousPeople.com

URL

-

https://www.thefamouspeople.com/profiles/justin-jedlica-43438.php

Last Updated

- January 10, 2019

---

---

---