Judith Sheindlin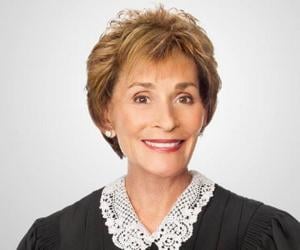 Quick Facts
Birthday: October 21, 1942
Nationality: American
Famous: Judges Reality TV Personalities
Age: 76 Years, 76 Year Old Females
Sun Sign: Libra
Also Known As: Judith Susan
Born in: Brooklyn, New York City, New York, United States
Famous as: Judge, Reality TV Personality
Height: 1.55 m
Family:
Spouse/Ex-: Jerry Sheindlin, Ronald Levy
father: Murray Blum
mother: Ethel Blum
siblings: David Blum
children: Adam Levy, Gregory Sheindlin, Jamie Hartwright, Jonathan Sheindlin, Nicole Sheindlin
City: New York City
U.S. State: New Yorkers
Notable Alumni: Washington College
More Facts
education: 1965 - New York Law School, 1963 - American University, James Madison High School, Washington College of Law
Continue Reading Below
Judith Sheindlin is a famous American prosecution lawyer, family court judge, and reality television star. She is most popular for her television courtroom series, 'Judge Judy'. Judith Sheindlin started her journey as a lawyer in a family court and became well-known for her straightforward nature, interactive attitude, and positive personality. She earned a reputation as one of New York's most efficient judges for handling cases dealing with extreme abuse and violence with sensitive judgment. She is known as a pioneer of 'open court policy' that allows common people and media to witness and understand the family court process. With regular appearances in reality shows, Judith has become a popular icon in the legal world. Her powerful onscreen presence has made her shows highly successful. Besides being a famous judge and television star, she is also the author of many books about decision making, parent-child interaction, moral values, etc. She has been the subject of many interviews in prominent journals like 'USA Today', 'New York Times', 'Wall Street Journal' and many more. Judge Judy was also profiled on shows like 'Good Morning America', 'Archive of American Television', 'Today', 'Larry King Live', 'Dateline NBC', 'Entertainment Tonight', 'The View', 'The Tonight Show', 'Jimmy Kimmel Live' and 'Ellen'.
Recommended Lists:
Recommended Lists:
Continue Reading Below
Childhood & Early Life
Judith Susan Blum was born to Murray Blum and Ethel Silverman in Brooklyn, New York City, U.S., on October 21, 1942. She fondly refers to her father as 'the greatest thing since sliced bread' and her mother as 'a meat and potatoes kind of gal'. She has three siblings.

She did her schooling from James Madison High School, Brooklyn. Judith then earned a Bachelor of Arts degree, majoring in government, from American University, Washington D.C. in 1963. There she was the only woman in her class of 126 students.

She completed her law degree at the New York Law School in New York City. She was bestowed with a J.D (Juris Doctor) in 1965 and passed the New York bar exam as well.

Apart from her academic degrees, she also holds honorary Doctor of Law Degrees from Elizabethtown College in Pennsylvania, University at Albany SUNY, and New York Law School.

Recommended Lists:

Recommended Lists:

Career

In 1965, Judith Sheindlin joined a cosmetic firm as a corporate lawyer and started practicing. She left her job within two years as working as a corporate lawyer was dissatisfying for her and she wanted to devote her time to raise her two children.

She restarted her law career in 1972 in a family court. After a few years, New York Mayor Edward Koch designated her as a criminal court judge in the Bronx branch of the family court in 1982.

In 1986, she was designated the Supervising Judge in the Manhattan branch of the family court. Judge Judith possessed a straightforward nature and was able to attract the attention and respect of common people with her no-nonsense attitude.

In February 1993, a 'Los Angeles Times' article profiled Judge Judith, hailing her as a legal super heroine. The story grabbed the attention of people on a massive scale. As a result, she was featured on the iconic TV news magazine show named '60 Minutes'.

The CBS news program, '60 Minutes' was a hit show, making Judge Judith a popular one in the legal world. In 1996, she published her first book 'Don't Pee On My Leg and Tell Me It's Raining'. In the same year, she retired after 25 years of practicing in family court and hearing more than 20,000 cases throughout her career.

Owing to her public popularity, she was invited to host her own reality TV show, 'Judge Judy' which aired in national syndication from September 1996. The show marked an important milestone in her evolving career.

In February 1999, Judge Judy published her second book, 'Beauty Fades, Dumb Is Forever' which became a 'New York Times' best seller. In early 2000, Judith published her third book, 'Win Or Lose By How You Choose'. It was a book for parents on how to guide their children about decision-making. It was her first book for children.

Continue Reading Below

She then authored the book named 'You Can't Judge A Book By Its Cover'. Both the books were meant to teach parent-child interaction and moral values. In 2000, she released another book on solving everyday family disagreements, named 'Keep It Simple, Stupid: You're Smarter Than You Look' which was also a New York Times best seller.

Judge Judy has been featured on 'Saturday Night Live,' 'Nightline', 'CBS Sunday Morning', 'Celebrity Profile', MSNBC's 'Headliners & Legends', A&E's 'Biography' and 'Intimate Portrait' from Lifetime Television.

In the 2010s, she published books named 'What Would Judy Say: A Grown-Up Guide To Living Together With Benefits' and 'What Would Judy Say: Be The Hero Of Your Own Story'.

Recommended Lists:

Recommended Lists:

Major Works

Judith Sheindlin is famous for many productive works throughout her career but the highlight of her career is the show, 'Judge Judy'. The series has been one of the most successful shows on daytime television and won the No. 1 slot for syndicated shows in 1999. Sheindlin has extended her contract to continue with the series through its 22nd season which commenced in September 2017.

Recommended Lists:

Recommended Lists:

Awards & Achievements

In 2000, Judith Sheindlin received the 'Distinguished Alumni Award' from New York Law School.

In 2006, she received a prestigious Star on the Hollywood Walk of Fame. She got the 'Gracie Allen Tribute Award' from American Women in Radio and Television as well.

In 2010, Judge Judy became a recipient of the 'Brandon Tartikoff Legacy Award'.

Continue Reading Below

In 2012, she received the prestigious 'VP/LAW Society' award from the University College Dublin.

In June 2013, her show, 'Judge Judy' won a 'Daytime Emmy Award'.

In 2014, Judge Judith grabbed 'The Mary Pickford Award'.

In 2015, she received the 'Woman of the 21st Century Award' from the Women's Guild. In the same year, the famous judge received a 'Guinness World Record' title for her 'longest career as a Television Judge'.

Personal Life

In 1964, Judge Judy married her first husband, Ronald Levy, and became the mother of two children, Jamie and Adam. After 12 years, the couple ended their relationship with a divorce in 1976.

She chose Judge Jerry Sheindlin, a former Judge of the Supreme Court of New York, as her second husband and tied the again knot in 1977. The couple divorced in 1990 while going through a stressful period.

Soon the couple realized that their divorce was a mistake and remarried in 1991; this marriage is going strong till date. Judith has three step children from Sheindlin, two sons and one daughter named Gregory, Jonathan, and Nicole respectively. The happy couple also has 13 grandchildren together.

Trivia

'Judge Judy' ranked No.1 for syndicated shows in February 1999 and garnered an average 7 million viewers per week.

In 2003, Judith was named one of the '200 Greatest Pop Culture Icons' by VH1 and in 2004 she became the International Spokesperson for North Shore Animal League America to make people aware about pet adoption throughout the World.

In 2006, she and her stepdaughter, Nicole Sheindlin founded 'Her Honor Mentoring' to charge up young women's world with wisdom and positive thoughts.

In 2007, Forbes enlisted her in 'Celebrity 100 List'.

Judge Judith was profiled as one of The Hollywood Reporter's 'Power 100.' Reader's Digest named her in its list of '100 Most Trusted Americans' according to a survey in 2013.

Translate Wiki

to Spanish, French, Hindi, Portuguese

Article Title

- Judith Sheindlin Biography

Author

- Editors, TheFamousPeople.com

Website

- TheFamousPeople.com

URL

-

https://www.thefamouspeople.com/profiles/judith-sheindlin-11293.php

Last Updated

- December 11, 2017

---

---

---