Josh Stewart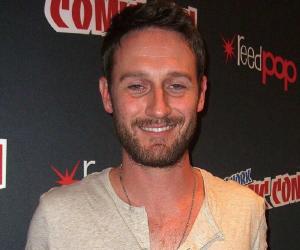 Quick Facts
Birthday: February 6, 1977
Nationality: American
Age: 42 Years, 42 Year Old Males
Sun Sign: Aquarius
Also Known As: Joshua Regnall Stewart
Born in: Diana, West Virginia
Famous as: Actor
Height: 5'10" (178 cm), 5'10" Males
Family:
Spouse/Ex-: Deanna Brigidi (2007 - Sep. 2016)
father: Charles Regnall Stewart
mother: Margie Stewart
children: River Jacob Stewart, Ryan Justine Stewart
U.S. State: West Virginia
Continue Reading Below
Joshua Regnall Stewart, better known as Josh Stewart, is an American actor who is best known for his performance as 'Holt McLaren' in the 'FX' media drama 'Dirt.' He is also known for his portrayal of 'Detective William LaMontagne Jr.' in the long-running, popular 'CBS' crime series 'Criminal Minds.' His portrayal of 'Bane's right-hand man in 'The Dark Knight Rises' was considered remarkable. His debut project as a writer-director, 'The Hunted,' might not be considered a sensation but is definitely a proof of the actor's keen sense of cinema. Before making a name for himself in Hollywood, the 42-year-old actor spent a considerable amount of time honing his skills on stage. Stewart got divorced after being married for over 10 years. The actor's net worth is estimated to be somewhere close to $2 million.
Recommended Lists:
Recommended Lists:
Continue Reading Below
Childhood & Early Life
Josh Stewart was born on February 6, 1977, in Diana, West Virginia. His mother, Margie Regnall Stewart, is a sixth-grade teacher at 'Webster Springs Elementary.' His father, Charles Regnall Stewart, was a physical education teacher who later joined the 'First Baptist Church' in Webster Springs and the 'Holly River Baptist Church' as a pastor. Currently, he is with the 'Redeeming Grace Baptist Church.'

Stewart went to the 'West Virginia Wesleyan College' for a while, before transferring to 'West Virginia University.' He graduated with a business degree, before moving to New York, and dedicated all his time toward building a career in acting. However, he was not a complete novice when he moved cities.

Recommended Lists:

Recommended Lists:

Career

Stewart was associated with local theater in Sutton, at the 'Landmark Theatre,' before moving to New York to study at the 'T. Schreiber Studios.' He later became a member of the '13th Street Repertory Theatre' company in New York City. He continued working in theater after moving to Los Angeles, performing in productions with actors such as Robert Forster and Brooke Shields in 'Light Bulb' and 'Beacon.'

Stewart had a slow start. His first TV appearance was in 'Dawson's Creek,' as an "extra," in 2000. He did not make any TV appearances for the next 2 years but returned in the pilot of 'ABC's Western 'Then Came Jones' in 2003. His first notable appearance was in the popular TV series 'CSI' in 2004. He was signed by 'Levi's,' the same year, for their '501 Original Jeans' TV ad campaign.

'NBC's cop series 'Third Watch' (1999–2005, 2004–2005) was the first big project of Stewart's acting career. He was cast in the final season of the show, as 'Brendan Finney,' son of 'IAB Captain Cathal Finney.' The show was canceled in 2005, after being on air for 132 episodes.

Stewart was part of 'Lenexa, 1 Mile,' an independent movie made by Jason Wiles, his co-star from 'Third Watch.' It was Wiles's directorial debut. The film was later released on DVD under a different title, 'Full Count.'

His wait for a breakthrough role came to an end in 2007, with 'FX Network's 'Dirt.' Stewart was cast in the lead role of 'Holt McLaren,' opposite Courteney Cox. The show lasted for only two seasons, before being canceled in 2008. Stewart joined the ensemble cast of the 'CBS' crime series 'Criminal Minds' in 2007, in the recurring role of 'Det. William LaMontagne Jr.' The character has been part of the show ever since and has appeared in 17 episodes overall.

Stewart played 'Joshua' in 'ABC's seasonal science-fiction comedy 'No Ordinary Family' between 2010 and 2011. The show was telecast by 'CTV' in Canada. In 2017, he was the lead in 'USA Network's thriller 'Shooter.' He played 'Solotov' in the second season of the show. In 2019, he joined the cast of the 'Netflix' original series 'The Punisher,' in a series-regular role. The show was in its second season at the time.

Stewart has also made several guest appearances in popular TV series such as 'Raising the Bar' (2008), 'The Mentalist' (2009), 'Southland' (2009), and Grimm (2012). He appeared in four episodes of 'The Walking Dead: Cold Storage' (2012).

Continue Reading Below

Stewart's first major motion picture was the award-winning film 'The Curious Case of Benjamin Button' (2008), a movie loosely based on F Scott Fitzgerald's short story of the same name. He played 'Pleasant Curtis,' 'Benjamin's crewmate, in the film. He became part of the 'Batman' franchise with Christopher Nolan's 'The Dark Knight Rises' in 2012. The movie featured him as 'Barsad,' 'Bruce Bane's second-in-command mercenary. Stewart lent his voice to 'CASE,' the tactical robot in Christopher Nolan's blockbuster science-fiction film 'Interstellar' (2014).

Stewart has worked in several other movies, such as 'The Haunting of Molly Hartley' (2008), 'Beneath the Dark' (2010), and 'The Hunted' (2013). Some of his recent movies are 'The Finest Hours' (2016), 'Insidious: The Last Key' (2018), and 'The Mustang' (2019).

'The Hunted' (2013), in which Stewart played the lead role, was also his debut as a writer-director. He had also produced the movie. The film was screened at the 'Toronto International Film Festival.'

Recommended Lists:

Recommended Lists:

Family & Personal Life

Josh Stuart married his long-term girlfriend, Deanna Brigidi, in 2007. They have two children: daughter Ryan Justine, born in 2008, and son River Jacob, born in 2010. Stewart and Deanna parted ways amicably in 2014.

On February 27, 2012, Josh Stewart suffered a cardiac arrest after contracting salmonella. He wears an implantable cardioverter-defibrillator in his chest after the unfortunate incident.

Recommended Lists:

Recommended Lists: