Josh Ostrovsky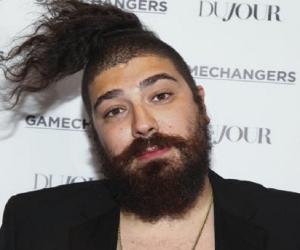 Quick Facts
Birthday: February 18, 1982
Nationality: American
Age: 37 Years, 37 Year Old Males
Sun Sign: Aquarius
Also Known As: The Fat Jew
Born in: New York City, New York, US
Famous as: Instagram Star
Family:
Spouse/Ex-: Katie Sturino (m. 2014–2017)
father: Saul Ostrovsky
mother: Rebecca Ostrovsky
children: Janeathan (daughter)
City: New York City
U.S. State: New Yorkers
More Facts
education: University at Albany, SUNY
Continue Reading Below
Josh Ostrovsky is an American social media personality, businessman, vintner, and writer. He is more popularly known by his social media moniker 'The Fat Jew'. A Manhattan native, he was a moderately active child actor and appeared in several television commercials. As he wanted to continue being an actor as an adult as well, he took performance art classes in college. In 2004, he founded the comedic hip-hop band Team Facelift with three others. The group carved a niche for itself with its bizarre theatrics and antics. They released one album and five mixtapes before their break-up in 2012. Ostrovsky set up his Instagram account in 2009 and initially the response was nothing beyond lukewarm. However, it all changed in June 2013 when his video about teaching homeless people soul cycle classes on parked Citi Bikes went viral. After witnessing a meteoric rise to fame, these days he has over 10 million followers on Instagram, the social media platform he primarily uses as the medium for his comedy.
Recommended Lists:
Recommended Lists:
Continue Reading Below
Career
While still a student at SUNY Albany, Josh Ostrovsky formed the comedy group Team Facelift with two other MCs, Machine and Alden Fonda, and one producer, Tommy Mas. During this period, he started to go by the name 'The Fat Jew'. The group put out their only album 'Mixed Emotions' through their independent label Facelift Records in 2006. They also released the mixtapes 'Famous In Japan' in 2003, 'Mixtape Vol. 1' in 2005, 'Fancy/Sleazy' in 2007, 'Passion Cove' in 2008, and '6 Grams' in 2010.

Recommended Lists:

Recommended Lists:

While still a student at SUNY Albany, Josh Ostrovsky formed the comedy group Team Facelift with two other MCs, Machine and Alden Fonda, and one producer, Tommy Mas. During this period, he started to go by the name 'The Fat Jew'. The group put out their only album 'Mixed Emotions' through their independent label Facelift Records in 2006. They also released the mixtapes 'Famous In Japan' in 2003, 'Mixtape Vol. 1' in 2005, 'Fancy/Sleazy' in 2007, 'Passion Cove' in 2008, and '6 Grams' in 2010.

In 2009, he set up the Instagram account named 'TheFatJewish'. It went viral due to the soul cycle video posted in 2013 and got suspended in the same year for publishing inappropriate content. Ostrovsky, joined by his supporters, held a protest rally outside Instagram's office in New York City with Vice.com live-streaming the gathering. His account was restored after just 15 minutes.

In 2015, he was listed by Time magazine as one of the 30 most influential people on the internet as well as picked by Seamless as their spokesperson. These days his social media posts are sponsored by some of the top international brands, including Virgin Mobile, Apple, Budweiser, Stella Artois, and Burger King.

He served on 'The Daily 10' on E! as an entertainment reporter, conducting numerous celebrity interviews. He also hosted the popular web series 'An Intimate Conversation'. He was supposed to have his own show on Comedy Central but that deal fell through in 2015. That year, he entered into a modelling contract with One Entertainment. As an actor, he has appeared in the animated web series based on his life, titled 'Story Time with Fat Jew' (2015) and films 'Zoolander 2' (2016) and Nerve (2016). He is set to appear in the action-comedy 'The Peach Panther' and comedy 'Status Update'.

Ostrovsky debuted as an author in 2015 with the book 'Money, Pizza, Respect'. He is also the founder and the owner of the American wine brand Swish Beverages.

Continue Reading Below

Controversies & Scandals

Josh Ostrovsky was at the receiving end of heavy criticism in 2015 when it was discovered that he was posting other comedians' jokes on Twitter and Instagram without their permission and after editing out the credits. Responding to the denunciation, including those by high-profile comedians such as Kumail Nanjiani, Norm Macdonald, Chelsea Peretti, Patton Oswalt, and Michael Ian Black, Ostrovsky started to leave in the credits on his posts on both social media platforms.

Personal Life

Josh Ostrovsky was born on February 18, 1982, in New York City, New York to parents Rebecca and Saul Ostrovsky. His father was a radiologist who had immigrated from Russia while his mother was a nutritionist. He has a younger brother who is presently an amateur bodybuilder and employed at the Pentagon.

As a child actor, he made appearances in several commercials, including the ad campaign for Hershey's. He studied at Trevor Day School in the Upper East Side. He was suspended from Skidmore College and left New York University before graduating from the State University of New York at Albany with a degree in journalism in 2004.

Ostrovsky married his long-time girlfriend designer Katie Sturino in 2014. The couple divorced in 2017, after three years of marriage. In January 2017, he appeared on Wendy Williams' show and announced that he was having a daughter with another woman and asked Williams to choose a name for her. She picked Janeathan.

Last Updated : January 09, 2018

Translate Wiki

to Spanish, French, Hindi, Portuguese

---

---

---

Josh Ostrovsky Fans Also Viewed