John Forsythe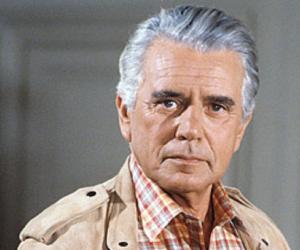 Quick Facts
Birthday: January 29, 1918
Nationality: American
Famous: Actors American Men
Died At Age: 92
Sun Sign: Aquarius
Also Known As: Jacob Lincoln Freund
Born in: New Jersey
Famous as: Actor
Height: 5'11" (180 cm), 5'11" Males
Family:
Spouse/Ex-: Julie Warren (m. 1943–1994), Nicole Carter (m. 2002–2010), Parker McCormick (m. 1939–1943)
father: Samuel Jeremiah Freund
mother: Blanche Forsythe (née Blohm)
children: Brooke Forsythe, Dall W. Forsythe, Page Forsythe
U.S. State: New Jersey
Continue Reading Below
John Forsythe was an American actor known for his work on the stage, television, and the big screen. He was also a producer, drama teacher, narrator, and a philanthropist. He is best remembered for his lead role in the TV soap opera 'Dynasty', for which he received several Golden Globe nominations, winning two. Throughout his career, he also appeared as a guest on many talk shows and variety shows. He had acted as a panelist on several game shows as well. As a young man, he was more interested in sports than in the show business. However, he took up acting at the suggestion of his father. His first credited work on the big screen was a minor role in the war film 'Destination Tokyo'. Other films he has appeared in important roles include 'The Captive City,' a crime film, where he played the main lead. He lived a long life and enjoyed an extensive career spanning over six decades. He had many other interests besides acting; he was also an owner and breeder of thoroughbred racehorses. He was a member of the Board of Directors of Hollywood Park Racetrack as well. He passed away at the age of 92, due to pneumonia..
Recommended Lists:
Recommended Lists:
Continue Reading Below
Childhood & Early Life
John Forsythe was born as Jacob Lincoln Freund on 29th January 1918 in Penns Grove, New Jersey. His parents were Blanche Forsythe and Samuel Jeremiah Freund. Raised in New York, he completed his schooling from Abraham Lincoln High School after which he studied at the University of North Carolina.

Recommended Lists:

Recommended Lists:

Career

John Forsythe began his acting career at the suggestion of his father. His first credited role on the big screen was in the film 'Destination Tokyo', a 1943 war film. For some time, he also served in the military during the World War II. He made his return to acting with a role in the play 'Winged Victory', which was based on the US Army Air Corps.

He played the lead role in the 1952 crime film 'The Captive City'. The film was directed by Robert Wise. The next year, he played a lead role in the comedy film 'It Happens Every Thursday'. Other films he appeared in over the next few years include 'The Glass Web' (1953), 'The Trouble With Harry' (1955), 'The Ambassador's Daughter' (1956) and 'Dubrowsky' (1959).

From 1957, he played the lead role in the TV series 'Bachelor Father'. The show aired for five seasons, covering 157 episodes. He was seen in many TV shows over the next few years, such as 'See How they Run', 'Shadow on the Land', 'Murder once Removed,' and 'The World of Survival'. Meanwhile, he also continued his film career, appearing in films like 'Kitten with a Whip' (1964), 'Madame X' (1966), 'Marooned' (1969), 'Goodbye & Amen' (1978) and 'Scrooged' (1988).

He had a significant role in the crime drama TV series 'Charlie's Angels'. It aired from 1976 to 1981, covering five seasons. Though the show earned huge popularity among the audience, it received negative reviews from critics for lacking substance.

From 1981 to 1989, he played the lead role in the TV series 'Dynasty'. The role, which won him the Golden Globe Award, can be also considered the most significant work of his career.

During his later television career, he appeared in shows, such as 'The Colbys', 'Dynasty: The Reunion,' 'The Powers That Be,' and 'People's Century'. His last works on the big screen include 'We Wish You a Merry Christmas' (1999), 'Charlie's Angels' (2000) and 'Charlie's Angels: Full Throttle' (2003).

Major Works

'Escape from Fort Bravo', a 1953 film, is one of the early works in John Forsythe's career. Directed by John Sturges, the film also starred William Holden, Eleanor Campbell, William Demarest, William Campbell, and Polly Bergen. The film did well commercially, earning around twice its budget. The story revolved around how a few soldiers escape from a prison camp with the help of a pretty woman named Carla Forester.

Continue Reading Below

Forsythe's role in the American soap opera 'Dynasty' can be regarded as his most important work on TV. Directed by Irving J. Moore, the story revolved around the Carringtons, a rich family residing in Denver, Colorado. Forsythe played the lead role of Blake Carrington, an oil magnate. The role eventually won him the Golden Globe Award twice. Other actors who starred in the series include Linda Evans, Joan Collins and John James. The series was nominated for twenty four Emmy Awards, out of which it won one.

Another important work in Forsythe's career was his main role in the 1988 Christmas comedy film 'Scrooged'. Directed by Richard Donner, the film also starred Bill Murray, Karen Allen, Bobcat Goldthwait and Carol Kane. The film did well commercially, earning nearly twice its budget. The story was about a cynical and selfish TV executive, who is visited by ghosts who help him regain his Christmas spirit.

Awards & Achievements

John Forsythe was nominated for the Golden Globe six times, for his brilliant performance in the TV series 'Dynasty'. He won twice in the category of 'Best Performance by an Actor in a TV series' (1983 and 1984). He was also nominated for three Emmy awards for his work in the series.

Other awards won by him include a Golden Apple Award (1984), a Soap Opera Digest Award (1984) and two TV Land Awards. He also has a star on the Hollywood Walk of Fame (Television—1960).

Personal Life

John Forsythe actress Parker Worthington in 1939 and had one child with her. They divorced shortly after. He then got married to actress Julie Warren in 1943. They had two daughters. Warren passed away in 1994. He got married again to Nicole Carter in 2002.

He was diagnosed with colorectal cancer in 2006 but the cancer went into remission following treatment. He passed away due to pneumonia on 1st April 2010.

1. In Cold Blood (1967)

(Biography, History, Crime, Drama)

2. ...and justice for all. (1979)

(Thriller, Crime, Drama)

---

3. Destination Tokyo (1943)

(History, Adventure, War)

4. The Trouble with Harry (1955)

(Comedy, Mystery)

---

---

5. Madame X (1966)

(Drama)

6. Everything But the Truth (1956)

(Comedy)

---

---

---

7. Escape from Fort Bravo (1953)

(Western)

8. Northern Pursuit (1943)

(Adventure, War, Drama, Romance)

---

---

---

---

| | | |
| --- | --- | --- |
| 1984 | Best Performance by an Actor in a Television Series - Drama | Dynasty (1981) |
| 1983 | Best Performance by an Actor in a Television Series - Drama | Dynasty (1981) |

Translate Wiki

to Spanish, French, Hindi, Portuguese

Article Title

- John Forsythe Biography

Author

- Editors, TheFamousPeople.com

Website

- TheFamousPeople.com

URL

-

https://www.thefamouspeople.com/profiles/john-forsythe-32074.php

Last Updated

- March 15, 2018

---

---

---