Jennie Garth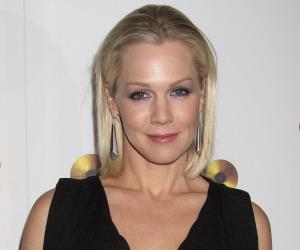 Quick Facts
Nationality: American
Famous: Actresses American Women
Age: 47 Years, 47 Year Old Females
Sun Sign: Aries
Also Known As: Jennifer Eve Garth
Born in: Urbana, Illinois, United States
Famous as: Actress
Height: 5'5" (165 cm), 5'5" Females
Family:
Spouse/Ex-: Dave Abrams (m. 2015), Daniel B. Clark (m. 1994–1996), Peter Facinelli (m. 2001–2013)
father: John Garth
mother: Carolyn Garth
siblings: Cammie Garth, Chuck Garth, Johnny Garth, Lisa Garth, Lynn Garth, Wendy Garth
children: Fiona Eve Facinelli, Lola Ray Facinelli, Luca Bella Facinelli
U.S. State: Illinois
Continue Reading Below
Jennie Garth is an American actress well known for her decade long stint on the television series 'Beverly Hill, 90210' that changed her life for the better. She dropped out of high school at the age of 15 to pursue a career in acting, and shifted from Phoenix to Los Angeles. Before 'Beverly Hills 90210', she landed a role on the television series 'Brand New Life', which abruptly ended after the first season. However, the sudden demise of the show proved lucky for her, as she soon landed the role of Kelly Taylor in 'Beverly Hill, 90210' that became a household name. After 'Beverly Hills' concluded after its ten-year run, Jennie took the conscious decision to move on to TV movies, and earned a few roles in films like 'The Street' and 'What I Like About You'. She also produced a few TV movies, and appeared on 'Dancing with the Stars', where she reached the semifinals. Her popularity resulted in her own reality show, 'Jennie Garth: A Little Bit Country on CMT'. Her role in the television drama 'Lies of the Heart: The Story of Laurie Kellogg', which addressed domestic abuse, was appreciated. Her performances in the HBO feature film 'Power 98' and the political drama 'My Brother's War' were also critically recognized.
Recommended Lists:
Recommended Lists:
Continue Reading Below
Childhood & Early Life
The only child of John and Carolyn Garth, Jennie Garth was born on April 3, 1972, in Urbana, Illinois. She has six half-siblings who are elder to her. She grew up at a horse ranch in Illinois. For some time she stayed in Tuscola, Illinois, but when she was 13, her family settled in Glendale, Arizona.

As a teen she studied dance and started doing modeling. At the age of 15, she was discovered by a Hollywood scout at a local talent competition; he advised her to pursue a career in acting.

She went to Greenway High School as a freshman, and did her sophomore year at Apollo High School. Taking the scout's advice seriously, she dropped out of school and shifted to Los Angeles when she received an audition offer. She later gained her high school diploma in California. In the meantime, she took acting classes and went for auditions almost daily.

Recommended Lists:

Recommended Lists:

Career

In 1989, Jennie Garth appeared as Erica McCray in the television series 'Brand New Life', which ended after its first season. However, she soon landed the role of Kelly Taylor on 'Beverly Hills, 90210', which made her a household name. She performed in the series for the next ten years. The show highlighted different teen issues including cocaine addiction, breakups, and many other serious themes. She also directed two episodes of the show.

Her success in 'Beverly Hills, 90210' opened several opportunities for her. She moved to TV films and appeared in 'Danielle Steel's Star' in 1993. The following year, she was featured in 'Lies of the Heart: The Story of Laurie Kellogg, which highlighted domestic abuse and 'Without Consent'.

She also starred in 'Falling for You' in 1995 and 'An Unfinished Affair' in 1996. She was also active in launching the spin-offs 'Melrose Place' and '90210', where she reprised the role of Kelly Taylor.

She appeared in three feature films—the HBO feature film 'Power 98' in 1996; a political drama 'My Brother's War' in 1997; and 'Stewie Griffin: The Untold Story' in 2005.

After 'Beverly Hills, 90210' ended in 2000, she landed a role on the show, 'The Street' the same year. But unfortunately, the show was canceled after the first season. She then starred in the TV movies, 'Watching the Detectives' in 2001, 'Secret Santa' and 'The Last Cowboy', both in 2003.

She landed the role of Valerie Tyler on the TV series 'What I Like About You' in 2002, a role she played till 2006. She appeared in all the four seasons. The show was about the relationship between the Tyler sisters, their friendships, romances, and the challenges they faced. After the show ended, she appeared on season 5 of 'Dancing with the Stars' in 2007, where she made to the semifinals. In the same year, she also starred in the TV film 'Girl, Positive', where she played a teacher who was HIV positive.

In September 2008, she performed the role of Kelly Taylor again on the CW's spin-off series '90210'. In the new series, she played the character of a guidance counselor.

Continue Reading Below

In 2009, she portrayed Natasha in Candace Bushnell's web series 'The Boardroom'. She was also featured in a cameo role in one episode—'Mary Mary Quite Contrary'—of the children's television show 'Sesame Street'. In 2010, she appeared in a web series 'Garden Party', that was about farm life, fresh food, and healthy eating, which was aired on NBC Universal.

She again returned to TV movies, and appeared in 'Accidentally in Love' and 'A Christmas Wedding Tail' in 2011, 'Village People' and 'The Eleventh Victim' in 2012, and 'Holidaze' and 'Community', a television sitcom in 2013.

In 2014, she starred in her own reality show on HGTV, 'The Jennie Garth Project'. The ten-episode reality show centered on Jennie while she renovated her home 'Hollywood Hills' in California for herself and her three daughters. That year, she reteamed with '90210' co-star Tori Spelling in the ABC series 'Mystery Girls'.

In 2014, she released her first memoir—Deep Thoughts From a Hollywood Blonde—with New American Library (NAL), a division of Penguin Group.

In May 2017, she launched MomGiftBox.com, an online subscription box of products to inspire and pamper mothers. The same year, she was the guest judge in the season 9 of 'RuPaul's Drag Race', a reality show produced by World of Wonder for Logo TV. The show documents RuPaul's search for America's next drag superstar.

Recommended Lists:

Recommended Lists:

Major Works

For her role in the popular series, 'Beverly Hills 90210,' Jennie Garth was nominated for a Teen Choice Award for her strong performance. Her portrayal of the female lead Kelly Taylor became her signature role and earned her recognition from critics and co-stars.

Awards & Achievements

In 1992, Jennie Garth won the Young Artist Award in the category Best Young Actress Co-starring in a Television Series for 'Beverly Hills, 90210'.

For the Christmas family drama 'Secret Santa', she and the cast members won the 2004 CAMIE Award.

In 2008, she received the Prism Awards for Outstanding Performance in a Miniseries, for 'Girl, Positive.'

Personal Life

Jennie Garth married musician Daniel B. Clark in 1994, but was divorced in 1996. In 1995, she met her second husband, actor Peter Facinelli, while she was filming 'An Unfinished Affair'. They married on January 20, 2001. The couple has three daughters— Luca Bella, born in 1997; Lola Ray, born in 2002; and Fiona Eve in 2006. Jennie and Peter divorced in June 2013.

She started dating actor David Abrams in 2014, got engaged in April 2015, and married him on July 11, 2015.

She supports various charities, including People for the Ethical Treatment of Animals, and the Rape, Abuse & Incest National Network, Kids Vision for Life, Stand Up to Cancer, The American Heart Association, Autism Speaks, Lollipop Theater Network and Water4.

Trivia

She was ranked No. 59 on the FHM 100 Sexiest Women of 2000, and No. 93 on the magazine's 100 Sexiest Women of 2001.

Translate Wiki

to Spanish, French, Hindi, Portuguese

Article Title

- Jennie Garth Biography

Author

- Editors, TheFamousPeople.com

Website

- TheFamousPeople.com

URL

-

https://www.thefamouspeople.com/profiles/jennie-garth-31078.php

Last Updated

- November 27, 2017

---

---

---