Jared Kushner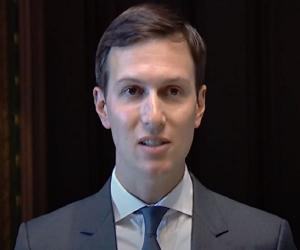 Quick Facts
Birthday: January 10, 1981
Nationality: American
Famous: Publishers Real Estate Entrepreneurs
Age: 38 Years, 38 Year Old Males
Sun Sign: Capricorn
Also Known As: Jared Corey Kushn
Born in: Livingston
Famous as: Senior Advisor to the President of the United States
Height: 1.91 m
Family:
Spouse/Ex-: Ivanka Trump (m. 2009)
father: Charles Kushner
mother: Seryl Kushner
siblings: Dara Kushner, Joshua Kushner, Nicole Kushner
U.S. State: New Jersey
More Facts
education: New York University School of Law, NYU Stern School of Business, Harvard University, Frisch School, New York University
Continue Reading Below
Jared Kushner is a former real-estate mogul and publisher who currently serves as a senior advisor to US President Donald Trump. Jared is the son of another real estate guru, Charles Kushner, who owned 'Kushner Companies' before he was imprisoned for 2 years. Jared was in his early 20s when he took over his father's business. He was the chief executive officer of the company and of 'Observer Media,' publisher of the 'The New York Observer.' After owning a successful business in publishing, Jared also co-founded 'Cadre,' an online real-estate investment platform. He is the husband of Ivanka Trump, President Trump's daughter and advisor. He spearheaded Trump's media campaign while managing media promotions and digital strategy. He used the best technology from Silicon Valley for the political campaign. He used the "lean-start up" strategy for promotions. He also used 'Google Map APIs' and 'Facebook's ad-targeting tools to identify and target the voters according to their location density. Apart from successfully operating the media strategy for Trump, Jared also became a senior 'White House' advisor on January 9, 2017.
Recommended Lists:
Recommended Lists:
Continue Reading Below
Childhood & Early Life
Jared Kushner was born on January 10, 1981, in Livingston, New Jersey, to Seryl and Charles Kushner. His father was a real-estate developer and owned the real-estate company 'Kushner Companies.'

He belongs to a modern orthodox Jewish family and attended a modern orthodox school named 'Frisch School.' He was an honor student and participated in debates, hockey, and basketball.

Jared has a younger brother, Joshua, and two sisters, Nicole and Dara. He joined 'Harvard University' in 1999 and studied arts there.

'Pulitzer-Prize'-winning journalist Daniel Golden alleged that Jared was able to study at 'Harvard' because of his father's donations and cordial relationship with the university. The allegation was denied by a spokesperson for 'Kushner Companies.'

After graduating from 'Harvard' in 2003, Jared attended 'New York University.' In 2007, he graduated with dual JD/MBA degrees. As an intern, he worked at Robert Morgenthau's office. Morgenthau was a district attorney in Manhattan. He also worked at 'Paul, Weiss, Rifkind, Wharton & Garrison LLP.'

Recommended Lists:

Recommended Lists:

Early Career

While in college, he bought and sold properties in Somerville, Massachusetts, as the vice president of 'Somerville Building Associates,' a division of his father's company.

The division made a profit worth $20 million before it was dissolved in 2005. He later bought 'The New York Observer' from the profit he had made with 'Somerville Building Associates.'

Recommended Lists:

Recommended Lists:

Career

In 2008, Jared took control of 'Kushner Companies' after his father's arrest and imprisonment for tax fraud, witness tampering, and illegal campaign donations. Barely 2 years after completing college, he was running a huge business and handling a big responsibility.

Jared became the CEO of the company and came fully prepared to deal with its debts. Before joining the organization as its CEO, Jared made headlines when he bought his Manhattan office building at '666 Fifth Avenue' for a record sum of $1.8 billion.

After selling its retail footage to 'Stanley Chera' for $1 billion, the company brought in 'Vornado Reality Trust' as a 50% equity partner in the building's ownership. Interestingly, by that time, his company had already lost more than $90 million.

He has always been close to his father and continues to remain so. He once stated that he had dropped the idea of becoming an attorney after his father was arrested for 2 years.

He stated that he had left his aspiration to be a prosecutor after he saw his father's position. He thought the way his father had been pursued was unjust and also claimed that he would never want to be on the other side if this was the kind of pain he had to cause to families, for right or wrong.

Continue Reading Below

Nonetheless, he continued building the empire that his father had started in 1935. By 2014, he, as the CEO of his company, had acquired more than 11 thousand units in New York, New Jersey, Baltimore, and nearby areas.

He had also owned a three-building apartment portfolio in Maryland, for $38 million, along with 'Aion Partners.' In 2015, he bought half of the 'Times Square Building' for $295 million.

Meanwhile, he also started an online real-estate investment company named 'Cadre,' with his brother, Joshua, and Ryan Williams. Now known as 'RealCadre LLC,' the company has partnered with billionaires such as George Soros and organizations such as 'Goldman Sachs.'

His online firm was funded by 'Soros Fund Management,' although Jared had not mentioned it in his January 2017 disclosure from. Following in his father's footsteps in the real-estate game, Jared has been tremendously successful in the business.

In 2006, even before he completed his college, Jared bought 'The New York Observer,' a weekly New York City newspaper, for $10 million. He thus used the money from the profit he had made by selling lands via his business in college.

After entering the domain of publishing, he published 'The Observer' in its tabloid form. Following his introduction of the paper in this form, the online presence of the newspaper generated a lot of traffic.

However, he did not have any experience in journalism. Perhaps, that was the reason behind his not-so-pleasant relationship with the then-editor-in-chief of the newspaper, Peter W Kaplan. After a few differences, Peter quit his position.

Continue Reading Below

Jared had a hard time finding a permanent editor but eventually found one named Elizabeth Spiers in 2011. Elizabeth quit in 2012, and a year later, Ken Kurson was hired as the new editor-in-chief.

It was observed that 'The New York Observer' had lost a lot of its popularity under Kushner. However, it had made quite a lot of profit during this time, due to constant traffic generation. In April 2016, the paper officially endorsed Donald Trump as a 'Republican' presidential candidate.

However, it ended its endorsement after the paper decided not to back any presidential candidate at all. In January 2017, Kushner left his job as a publisher to work for the US president.

His brother-in-law, Joseph Meyer, took over Kushner's role in the newspaper.

In spite of being a supporter of the 'Democrats,' Kushner decided to spearhead Trump's digital and social-media campaigns and promotions. He brought the best people from Silicon Valley to run 'Project Alamo.'

He succeeded Corey Lewandowski, Trump's campaign manager, who was dismissed on the advice of Kushner. The best thing about his work was that Kushner had run his campaign with limited, or according to 'Google' CEO Eric Schmidt, no essential resources at all.

In 2016, Kushner wrote a letter to 'The New York Observer,' defending Trump, when he "tweeted" a meme of Hillary Clinton, labeling her as highly corrupt. Trump was then termed anti-Semitic. Jared simply wrote that the action was not anti-Semitic or racist, and that the words seemed to have become meaningless, as they were being thrown around carelessly.

Continue Reading Below

In 2017, after Trump's win, Kushner was named his senior advisor. His appointment invited another controversy that questioned Trump's act of appointing his relative to his office.

An opinion was issued by the 'Department of Justice Office of Legal Counsel,' stating, "The President may appoint relatives to his immediate staff of advisors." Kushner resigned as a publisher and a real-estate developer to join Trump's administration.

He was sworn in on January 22, 2017. He was given the responsibility of restarting and improving US relations with the Middle-Eastern countries. In March 2017, he was given the responsibility of leading the 'White House Office of American Innovation.'

His responsibilities included improving governmental efforts with regard to "veterans affairs," information technology contracting, and the opioid crisis. He also played a central part in the creation of the 'Formerly Incarcerated Reenter Society Transformed Safely Transitioning Every Person Act' (FIRST STEP Act).

The 'House Judiciary Committee' endorsed the act on May 9, 2018. On July 24, 2017, he released an 11-page statement before his meeting with the 'Senate Intelligence Committee' staff, to explain his situation with Russian interference in the 2016 elections.

In his statement, he clearly denied any illegal involvement with the Russian government. He also denied any improper contact with any Russian committee or figures during his four meetings with the Russians.

In November 2017, Kushner was again questioned by investigators from Robert Mueller's office about National Security Advisor Michael Flynn's acceptance of having lied to the 'FBI' as part of a plea bargain that probably involved Jared ordering Flynn to contact Russia.

He has been involved in various other political controversies from time to time but continues his job as a senior advisor to the president.

Awards & Achievements

He earned a place in 'Time' magazine's 'The 100 Most Influential People' issue in 2017. The issue had a homage written by actor Henry Kissinger.

Family & Personal Life

Kushner married Ivanka Trump, daughter of President Trump, on October 25, 2009, in a Jewish ceremony. They have three children: a daughter named Arabella Rose Kushner and two sons named Joseph Frederick Kushner and Theodore James Kushner.

Translate Wiki

to Spanish, French, Hindi, Portuguese

Article Title

- Jared Kushner Biography

Author

- Editors, TheFamousPeople.com

Website

- TheFamousPeople.com

URL

-

https://www.thefamouspeople.com/profiles/jared-kushner-32035.php

Last Updated

- January 16, 2019

---

---

---