James McAvoy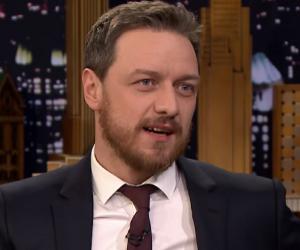 Quick Facts
Nationality: Scottish
Famous: Actors Scottish Men
Age: 39 Years, 39 Year Old Males
Sun Sign: Taurus
Also Known As: James Andrew McAvoy
Born in: Glasgow, United Kingdom
Famous as: Actor
Height: 1.7 m
Family:
Spouse/Ex-: Anne-Marie Duff
father: James McAvoy Sr.
mother: Elizabeth Johnstone
siblings: Donald McAvoy, Joy McAvoy
children: Brendan McAvoy
religion: Atheist
Net worth: $17 million as of jan 2017
More Facts
education: St. Thomas Aquinas Secondary School, Glasgow, Royal Conservatoire of Scotland
Continue Reading Below
James McAvoy is a well-known Scottish actor who appears in films, TV, as well as on stage. Born in Glasgow, Scotland, McAvoy made his film debut as a teenager in 'The Near Room' where he played a minor role. He came to popularity after his role in 'Bollywood Queen' a British Indian remake of 'Romeo and Juliet,' where he played a lead role. He has appeared in several TV shows as well. However his most significant work on TV was in the British adult comedy drama 'Shameless' where he played one of the main roles. The series did quite well and even won a 'British Academy Television Award' for Best Drama series. He has also appeared in several significant plays such as 'Three Days of Rain'. He has received nominations for the 'Laurence Olivier Award for Best Actor' three times. McAvoy also gained prominence for his role in three films of the X-Men series where he played Professor Charles Xavier, a mutant with the ability to read and control minds. He was latest seen in the American spy thriller 'Atomic Blonde' in a lead role. McAvoy is known for his charitable works. He is involved with the British Red Cross with whom he has travelled to Uganda to help raise awareness about their projects.
Recommended Lists:
Recommended Lists:
Continue Reading Below
Childhood & Early Life
James McAvoy was born on April 21st, 1979, in Glasgow, Scotland. His mother Elizabeth worked as a psychiatric nurse, while his father James McAvoy Sr. worked as a builder. He has a sister named Joy and a half-brother named Donald.

His parents divorced when he was only seven, and because of his mother's poor health, he was sent to live with his maternal grandparents instead. Since his childhood, he has had no contact with his father.

McAvoy attended a Catholic school named St. Thomas Aquinas Secondary. For a brief period, he had considered becoming a priest and joining the Catholic priesthood.

Recommended Lists:

Recommended Lists:

Career

James McAvoy made his acting debut at the early age of fifteen in the 1995 film 'The Near Room'. Though he had very little interest in acting at the time, he decided to learn more about the field as he developed feelings for a co-star Alana Brady. He was also a member of PACE Youth theatre at the time.

After completing his graduation from the 'Royal Scottish Academy of Music and Drama' in 2000, he began appearing in several TV shows, mostly in guest appearances, as well as in movies. His first significant role on the big screen was in the 2001 German film 'Swimming Pool' where he played the lead role.

He also made guest appearances in TV shows, such as 'Band of Brothers', and 'Foyle's War'. His first significant role on TV was in the political thriller series 'State of Play' which aired in 2003. The series, which was created by Paul Abbot and directed by David Yates, became a hit, and also brought McAvoy to popularity.

The same year he also played a main role in 'Bollywood Queen' which was a British Indian take on the famous play by William Shakespeare, 'Romeo and Juliet'. The film was directed by Jeremy Wooding who won a nomination for The British Independent Film Award for the movie.

Soon, he started appearing in 'Shameless', a British adult comedy-drama series created by Paul Abbott. The show did quite well and after only one series, it won the British Academy Television Award for Best Drama series in April 2005.

He continued his work in films and appeared in several films in lead roles as well as supporting roles. Some of them were 'Wimbledon' (2004), 'Inside I'm Dancing' (2004), 'The Last King of Scotland' (2006), 'Becoming Jane', (2007), 'Atonement' (2007) and 'Wanted' (2008). In 2009 he earned a nomination for Laurence Olivier Award for Best Actor for his remarkable performance in the award winning play 'Three Days of Rain'.

He gained worldwide popularity after he started appearing in the X-Men series. He first appeared in the 2011 movie 'X-Men: First Class' where he portrayed Professor Charles Xavier, a telepath who could read and control minds. The film did quite well commercially and also received several awards.

Continue Reading Below

After appearing in films such as 'Welcome to the Punch' (2013) and 'Muppets Most Wanted' (2014), as well as in a stage production of 'Macbeth' the famous play by Shakespeare, he appeared in 'X-Men: Days of Future Past', his second film in the X-Men series. The film was a huge success, grossing over $700 million worldwide.

In 2015, McAvoy appeared in a stage production of 'The Ruling Class' for which he earned a nomination for 'Laurence Olivier Award for Best Actor' for the third time. He was latest seen in the films 'X-Men: Apocalypse' (2016), 'Split' (2016), and 'Atomic Blonde' (2017).

Major Works

'The Last King of Scotland', is one of the hit films James McAvoy has appeared in during his career. The film was directed by Kevin Macdonald and it starred McAvoy in a lead role. Other actors included Forest Whitaker, Kerry Washington, Simon McBurney and Gillian Anderson. The film revolves around the story of a young adventurous doctor, who travels to Uganda, and becomes the personal physician of the new president. The film shows the brutality of the new ruler, through the eyes of McAvoy's character. The film was a commercial success.

'X-Men: First Class' is one of the most important and successful works in McAvoy's acting career. Directed by Matthew Vaughn, the film was the fifth movie of the X-Men film series. The film featured McAvoy in a lead role, where he portrayed Professor Charles Xavier, a powerful telepath. Other actors in the film include Michael Fassbender, Rose Byrne, Jennifer Lawrence, and January Jones. The film was a commercial success and also won a few awards. Reviews were mostly positive.

One of McAvoy's most recent works was in the 2017 spy thriller 'Atomic Blonde,' where he played a main role. The film was directed by David Leitch, and along with McAvoy, the film also starred actors such as Charlize Theron, John Goodman, Eddie Marsan, Sofia Boutella and Toby Jones. The film received mostly favorable reviews.

Awards & Achievements

For his amazing performance in the film 'The Last King of Scotland', James McAvoy won the BAFTA rising Star Award, as well as the BAFTA Scotland Award in 2006.

His performance in the 2007 romantic war drama 'Atonement' won him an Empire Award and a London Film Critics Circle Award, for 'Best Actor' and 'Best Supporting Actor' respectively.

Continue Reading Below

His role in 'X-Men: First Class' won him the IGN Award for 'Best Ensemble Cast' in 2011.

He won the 'London Film Critics Circle Awards' three times for British Actor of the Year, for his role in the films 'Welcome to the Punch', 'Trance' and 'Filth', all in 2013. His performance in the film 'Filth', won him three more awards as well, including the 'British Independent Film Award', 'The Empire Award', and the 'BAFTA Scotland' Award, all three for Best Actor.

Personal Life

James McAvoy started dating Anne-Marie Duff, his co-star in the TV series 'Shameless', who also played his love interest. They got married in 2006 in a quiet ceremony. They have one son, Brendan, who was born in 2010. In 2016, the couple announced that they would be divorcing.

Though he was brought up a Catholic, he has stated that he no longer practices this religion. However, he still considers himself a spiritual person.

He is well-known for his charity works. He is involved with the British Red Cross.

McAvoy is also a huge football fan.

Net Worth

He has a net worth of $17 million.

1. X-Men: Days of Future Past (2014)

(Thriller, Adventure, Sci-Fi, Action)

2. Inside I'm Dancing (2004)

(Drama, Comedy)

---

3. X: First Class (2011)

(Adventure, Sci-Fi, Action)

4. Deadpool 2 (2018)

(Adventure, Comedy, Sci-Fi, Action)

---

---

5. Atonement (2007)

(Drama, War, Mystery, Romance)

6. The Last King of Scotland (2006)

(Thriller, Drama, Biography, History)

---

---

---

7. Split (2016)

(Thriller, Horror)

8. Becoming Jane (2007)

(Biography, Drama, Romance)

---

---

---

---

Translate Wiki

to Spanish, French, Hindi, Portuguese

Article Title

- James McAvoy Biography

Author

- Editors, TheFamousPeople.com

Website

- TheFamousPeople.com

URL

-

https://www.thefamouspeople.com/profiles/james-mcavoy-15298.php

Last Updated

- August 17, 2018

---

---

---