James J. Hill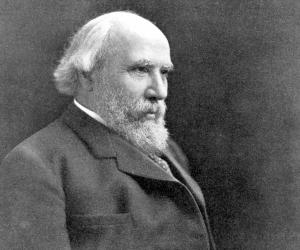 Quick Facts
Birthday: September 16, 1838
Nationality: American, Canadian
Famous: American Men Canadian Men
Died At Age: 77
Sun Sign: Virgo
Born Country: Canada
Born in: Eramosa Township, Ontario, Upper Canada
Famous as: Canadian-American railroad executive, Businessman
Family:
Spouse/Ex-: Mary Theresa Mehegan (m. 1867)
children: Charlotte Hill Slade, Clara Hill Lindley, Gertrude Hill Gavin, James N. Hill, Katherine, Louis W. Hill, Mary Hill Hill, Rachel Hill Boeckmann, Ruth Hill Beard, Walter Jerome Hill
place of death: St. Paul, Minnesota
More Facts
education: Rockwood Academy (1852)
Continue Reading Below
James Jerome Hill, a Canadian-American railroad executive and the greatest pioneer in the field of transcontinental railroads, was a visionary who transcended the dreams of a common man and went on to become 'The Empire Builder.' It was his relentless hard work and business prowess that led to further railroad development in Northwest America. Born into an impoverished family, he reshaped his own destiny with sheer dedication and foresight. Connecting junctions almost all over North America, it is to his merit that trade and occupations saw a leap in U.S.A. Holding on to his vivid ambition, he climbed up to the helm of America's transportation business from being the son of a hired peasant. In an interview during his last few years, he was questioned on what led him to rule the railway empire, to which he diligently replied, "Work, hard work, intelligent work, and then more work." Certainly, nothing came easy for him; he overcame the toughest challenges life could fling at him and yet went on to establish the 'Great Northern Railroad.' His life is the perfect example of a journey from obscurity to fame.
Recommended Lists:
Recommended Lists:
Childhood & Early Life
On 16 September 1838, James J. Hill was born to Anne Dunbar Hill and James Hill. His father was a hired farmer, who received employment occasionally at Ontario in Canada.

As a child he encountered a serious accident, where he was struck by an arrow in his right eye that blinded his eye forever. This incident however did not cause much hindrance in his future career.

At nine, he started receiving formal education.His father could not afford to pay his school fees, but a benevolent head master at the 'Rockwood Academy' let him receive free education.

It was there that he studied algebra, mathematics, geometry, land surveying and English. Thus, the knowledge he amassed in the academy was put to use in order to establish his business later in life.

He may have considered himself fortunate to receive good education, but destiny spat misfortune his way, when his father passed away. James Hill was only fourteen years old when this demise occurred.

After his father's death, his mother found it difficult to provide for her children by the means of only running a small inn. Hence, Hill left school in 1852, and began working at a grocery store to aid in supporting his family.

Recommended Lists:

Recommended Lists:

Initial Climb to Entrepreneurship

In 1856 at seventeen, James Hill found work as a clerk in Minnesota, for a firm of shipping agents who traded and worked with steamboats. The skill of book-keeping he had acquired as a clerk at Kentucky, before moving to Minnesota helped augment his knowledge and had landed him this job.

In 1860 he was already managing cargo transfers by railway and steamboats for wholesale grocers. He observed and learnt and came up with shrewd ideas. He gradually began working for himself.

It was in the season of winter that the Mississippi River froze and trading via steamboats was hindered. Thus, with his experience in cargo business he began bidding for other contracts and won quite a few.

He tactfully entered the coal business during the time of the Civil War in 1867, where he supplied coal instead of wood, which was undergoing heavy shortage. This business brought good profit in five folds by 1879, consolidating his monopoly in the anthracite coal industry.

In 1870 he partnered with a few acquaintances and began his own 'Red River Transportation Company', which offered steamboat freight shipping between St. Paul and Winnipeg.

He also partnered with several banks and became a member of the board of directors in several of them. He bought out plenty of bankrupt businesses during this time, reformed them and sold them off at great profit.

Purchase of St. Paul and Pacific Railroad

It was only in the 1870s that the possibility of a railway system through the Red River Valley dawned on him. He realised the colossal development and opportunities it would bring to the northwest region.

Continue Reading Below

During the Panic of 1873, 'St. Paul and Pacific Railroad' encountered huge losses and was bankrupt. Seizing this opportunity, he collaborated with Norman Kittson, Donald Smith, George Stephen and John Stewart Kennedy, and bought off 'St. Paul and Pacific Railroad.

With his astute judgments and haggling skills, he managed to recover it from bankruptcy and even expanded the rails. He was soon made the General Manager of the newly formed St. Paul, Minneapolis, and Manitoba Railway Co.

Hill recruited hundreds of immigrants and developed mini homesteads in Dakota and Montana that helped in building markets; he used the railways as a means of commuting immigrants from one place to another. The net worth of the company jumped from $728,000 in 1880 to $25,000,000 in 1885.

He knew that the multiplying profits would soon find its way under the Federal Government's scanner, and so he used his profits wisely. He invested a considerable amount of profit back into the business, further expanding and upgrading the business, earning his position as president of the company.

At the peak of his success he met with the disapproval of President Theodore Roosevelt for his railway monopoly. His massive success kindled envy in many people as his story was a real-life rags-to-riches fairy tale. His discernment and flexibility at the time of grave financial losses were tremendous. He was the only businessman to make a hefty profit even during the time of depression.

Major Works

What was initially considered "Hill's folly" by many turned into his biggest success. During the late 1880s,he aimed to build a rail route through the Rockies to the Pacific. The task seemed impossible without government land grants.

Yet, he was adamant to build the straightest route, with the shortest distance across the Northwest. In 1889 John F. Stevens, the lead engineer of his company, found the 'Marias Pass', which was the lowest crossing region of the Rocky Mountain.

Continue Reading Below

The following year James J. Hill built a rail along the 'Marian Pass' without constructing a tunnel and altered the name of the company from 'St. Paul and Pacific Railroad' to the 'Great Northern Railway Company'.

He was eyed as a great competitor by the successful and dominant E.H Harriman, who owned 'Union Pacific Railway'. Both opponents wanted the Chicago, Burlington and Quincy railroads to add to their flourishing businesses. Then Harriman quickly began buying stock in Northern Pacific with the aim of eventually gaining control over it.

Therefore, Hill turned to his confidant and esteemed financer J.P Morgan. Now both Morgan and Hill started rampantly buying shares of Northern Pacific causing the stock market at Wall Street to come unbound.

A truce had to be called between the warring teams following which Hill and Morgan joined hands to stabilise the share market. The duo acquired the three rails and formed the 'Northern Securities Company.

These events led him to be acclaimed as a headstrong businessman who had overcome the 'Panic of 1893' and stood like a pillar through America's financial turmoil.

Personal Life & Legacy

He fell in love with a waitress, Mary Theresa Mehegan, at Merchant's Hotel, where he often dined. She was the daughter of an Irish immigrant and was a pious catholic. She received education at St. Mary's Institute of Notre Dame.

The couple tied the knot in 1867, their marriage brought ten children into the world, of which one (Katherine) died in infancy. The rest of their children were – Mary, James, Lewis, Clara, Charlotte, Ruth, Rachel, Gertrude and Walter.

Continue Reading Below

Hill was known to be blunt with occasional humour. He loved reading and also took to poetry. He was quick witted and had an animated way of speaking. It is also true that he used to survey the areas where rails were to be laid himself on horseback.

In 1907 he made his son the owner of his business, yet his grit and determination led him to work daily, until just a week before he died.

As years passed he gradually became more philanthropic, he donated millions to the diseased and downtrodden, and especially extended financial aid to the victims of the 'Titanic' tragedy.

As Hill started getting older, he suffered from several painful ailments. Even with treatment from the best of doctors, he found no relief. His pains turned unbearable and his health deteriorated.

He died on 29 May1916 and his body was buried at 'North Oaks Farm' but on account of vandalism his coffin was moved to 'Resurrection Cemetery' in St. Paul, where his grave was guarded.

Today Hill's house has been preserved as a museum. Though a protestant by faith he made generous donations to St. Paul Seminary. He also contributed to the establishment of 'Marquette University School of Medicine.

In honour of his legacy, his heirs founded the James J. Hill Reference Library, which provides practical business information to businesses in the entire nation.

Trivia

Hillwas acknowledged for his discreet business skills but he also had a deep regard for art. He had a massive collection of French landscape paintings whichspanned two floors of his 'Summit Avenue' mansion.

Translate Wiki

to Spanish, French, Hindi, Portuguese

Article Title

- James J. Hill Biography

Author

- Editors, TheFamousPeople.com

Website

- TheFamousPeople.com

URL

-

https://www.thefamouspeople.com/profiles/james-j-hill-138.php

Last Updated

- December 20, 2016

---

---

---