Jaliyah Manuel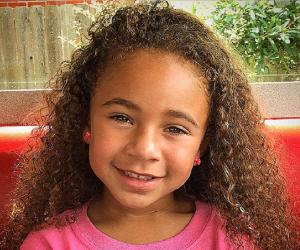 Quick Facts
Birthday: September 6, 2009
Nationality: American
Age: 9 Years
Sun Sign: Virgo
Born in: New Orleans, Louisiana
Famous as: Instagram Star
Family:
father: Javon Manuel
mother: Tracey Manuel
U.S. State: Louisiana
City: New Orleans, Louisiana
More Facts
education: Belle Chasse Elementary
Continue Reading Below
Jaliyah Manuel is an American social media star, who is popular for her amazing basketball skills. The young basketball sensation has garnered attention for her unbelievable dribbling and shooting skills on the court. She started playing basketball at an extremely young age, and under the able guidance of her father-cum-coach she could soon dribble with both hands, hit three-pointers and dribble while catching tennis balls. The basketball prodigy shot to fame when her father uploaded videos of her basketball skills on his Facebook account. She was only six years old at that time, but had been honing her skills since she the age of four. Jaliyah is very popular on Instagram. She also has her own apparel line and has modeled for several brands too. She has acted in a movie, been a part of a YouTube series and appeared on a talk show as well. Several colleges, who want to train her to be a national player, have already approached her. She wants to be a doctor and a basketball player in the future.
Recommended Lists:
Recommended Lists:
Continue Reading Below
Career
As per some reports, Jaliyah Manuel started playing basketball at the tender age of just 15 months. She would shoot foam balls through a hoop and that is when her parents first saw a glimpse of her basketball potential. She started training and sharpening her basketball skills with her father, who is also her coach, at the age of four. In February 2016, when Jaliyah was six years old, her father uploaded two separate videos of her on Facebook showing off her basketball skills. The videos showcased her incredible talent, and she instantly shot to fame with more than 60 million views of the videos.

Recommended Lists:

Recommended Lists:

The basketball prodigy can do splits while dribbling with both hands; she can easily hit three-pointers and also dribble while catching tennis balls. Her insane training sessions with her father also showcase her stamina, speed and strength. At the age of eight years, she was doing hill sprints and 30-inch box jumps to train harder and get better at her game. In one of the videos, she is seen running with a lawn mover tied to her waist. Her agility at handling the ball is masterful and not something that would easily come to a nine year old.

She trains for 30 hours every week with her father. The father-daughter duo is often seen training together in her videos. She is a basketball fanatic and is said to eat, sleep, think, dream, live and breathe basketball. Reportedly, she records college games during the day that she watches with her dog at night, before going to bed. The young basketball phenomenon has often been described as the 'next Steph Curry' by her fans. Legendary basketball player, LeBron James, is her idol and she was once invited to meet him.

Besides basketball, Jaliyah Manuel also likes to take an active interest in her subjects at school and is a straight-A student. She participates in talent shows at school, and needless to say, often walks away with the first prize. Her parents fully support her basketball aspirations, but place equal importance on her studies as well. The young star agrees with her parents' line of thought, and states that she wants to be a doctor and a basketball player when she grows up. She also aspires to be the first female NBA player. She has piqued the interest of several top sports training schools in the USA, including 'IMG Academy' and 'UConn (University of Connecticut)' which has the country's premier women's college basketball team.

Jaliyah Manuel has her own Instagram account that is handled by her parents, and has more than 133,000 followers on it. She also generates a lot of income for herself through various partnerships and endorsements. She had her own apparel line called 'Team Liyah' and has partnered with 'Unconfined Apparel' to sell t-shirts, shorts, caps, bags, etc. She has also modeled for brands like 'Nike' and 'Jordan', and does sponsorships for several basketball-related product brands too. She was once featured on 'The Steve Harvey Show' and has acted in the 2017 movie 'She Ball' starring Nick Cannon. She was also part of the 2017 YouTube 'Whistle' series 'No Days Off'.

Continue Reading Below

Family & Personal Life

Jaliyah Manuel was born on September 6, 2009, in New Orleans, Louisiana, USA, to Javon Manuel and Tracey Manuel. Her father is her coach and is often seen in her basketball videos. Not much is known about her mother, but she seems to be in the medical profession. Jaliyah also has a younger brother, Jakobe Jett, who is also a good basketball player.

Jaliyah studies at Belle Chasse Elementary in New Orleans. She is a very good student and consistently scores 'A' grades in all subjects. She states that her parents do not allow her to practice basketball unless she consistently keeps her grades up. She currently lives in New Orleans, Louisiana.

Last Updated : June 11, 2019

Translate Wiki

to Spanish, French, Hindi, Portuguese

---

---

---

Jaliyah Manuel Fans Also Viewed